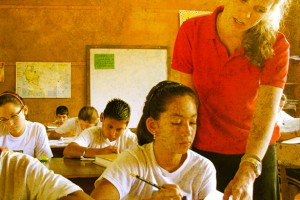 5:40. I get up. One of my housemates is already hogging the only bathroom. Cheap cigarette smoke blankets the air. I am going to choke.
6:40. Just learned that I have to make a paper star to give out to my "star pupil of the week." Since I haven't even started teaching yet, I'm not sure what to do. If I draw a blue star with stripes, little eyeballs, and a smiling mouth, that should make a fifth grader happy, right?
7:15. School assembly begins. Two little girls bring a large flag of Honduras to the center of the stage. Everyone else starts singing the national anthem.