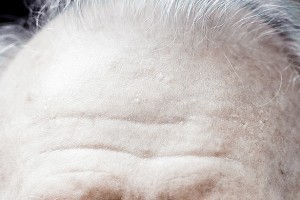 "The screen is pitch black.
In the moment before Creation we begin to hear a faint, heterophonic melody. It becomes louder and louder, harmonious still, but a violent undercurrent begins. The melody divides in two. They alternate until they transform into a violent polyphonic cacophony.
At the pitch of the battle, a pulsating diminutive DOT OF LIGHT appears in the center of the screen. It grows and shrinks as if pulled by both melodic lines with each alternation. The ball of light is now stable, engulfing almost the whole screen. The music ceases.
Faintly the music resumes. Both polyphonic melodies are now a single, harmonious whole. The ball of light contracts to its original size as the music swells up, the ball expands and finally engulfs the whole screen.
Silence."