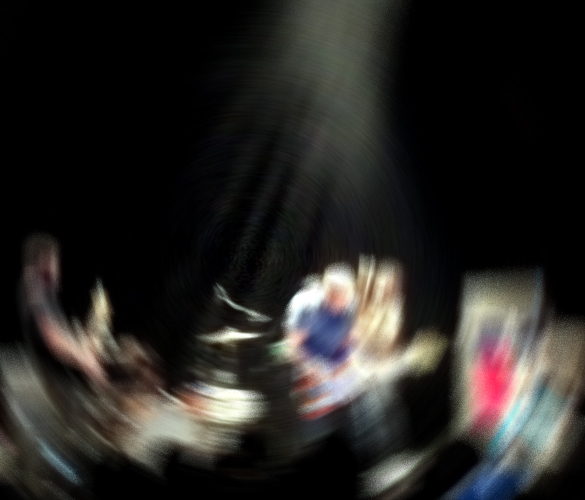 Explosions in the Sky Concert Review
June 22, 2012 at the Jefferson Theater, Charlottesville, Virginia
Having never possessed any music by Explosions in the Sky, I went to the Jefferson Theater last Friday compelled only by their reputation as a great live act. The show had sold out a week before, and with most sold-out shows at small, indoor venues, I expect little to no room to move around, a small amount of claustrophobia and a lot of unified crowd participation—singing along, waving of the hands and from side to side, dancing and whatnot. However, an Explosions in the Sky show is a more interesting animal, or at the very least an odd one.
Their music straddles the two categories laid out very eloquently by our own Sean Shultz last week when he reviewed Balam Acab. "On the one hand we have music suitable for public presentation," and on the other "there is music that pulls the listener deeply inward." Looking just casually at the popularity of their music as soundtrack seems to imply that their sounds are at least somewhat suitable for public presentation, that the experience of listening to Explosions in the Sky can be an exterior, shared one.
Yet there also exists a deeply introspective quality to that three guitar sound. The music of Explosions in the Sky soars and crashes spectacularly, always taking itself seriously, never feeling  enjoyable so much as vital. In the absence of lyrics, the listener can color the sonic dramas with the specifics of his or her own experience. This perhaps gives a clue as to why their music gets used as soundtrack for mediocre television shows and movies like One Tree Hill, Paul Blart: Mall Cop and Ghosts of Girlfriends Past. Since they have no compelling tension of their own, it is simply siphoned away from the music.
No one danced at the Jefferson on Friday night. From my position about twenty yards back and to the left of the stage, I could only see people swaying, nodding, bobbing and/or banging their heads up and down to the music, following the lead of the elastic-necked guitarists on stage. Nobody looked around, and we all generally stared at the stage, entranced as they condensed life into narrative instrumental songs, but just as a group of people can take the same psychedelic drug and have wildly different trips, no two concert goers have the same Explosion in the Sky experience. "Your Hand in Mine" might inspire, consume or bore the hell out of a person, depending on what one expects and is used to.
So yes, this music is indeed fit for public display, and though their songs are emotionally draining, it's sublime to see put together live. During each song, my friends and I didn't say much to each other, but after every third or fourth song, someone would ask the group if more drinks were needed—and they almost always were. So while I dwelt on my own concerns and hopes, there was certainly a communal sense of exhaustion and intoxication by show's end. At the end of the set they gave no signs of coming back for an encore, and nobody cheered for one. The house lights came on, we settled our tabs and filed out into the night.