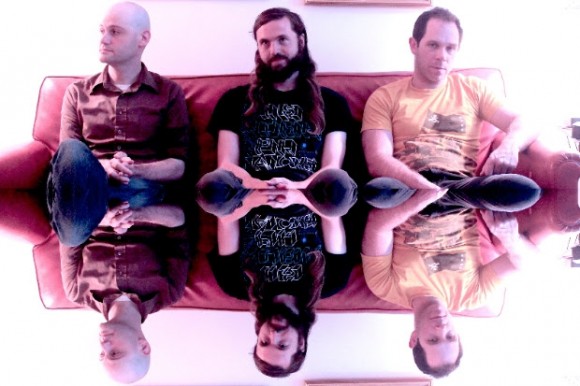 Get to know Trades, a New York based band who has recently announced their upcoming fourth album, About Above Across. Each member of the band brings his own experience, his own musical taste, his own story to the band's sound. Trades is a piano-focused trio, but incorporates drums and vocals to create a unique instrumental blend. They have a self-described "raw, unfiltered honesty" in their sound that they hope resonates with listeners. Read more about Trades in the following interview and be on the lookout for their upcoming album!
Gadfly Online: Can you provide us with some background? Where are you from? What made you pursue a career in music?
Bob (drums) is from New Jersey; Chris (piano) is from Connecticut; Matt (bass) is from Maine.  Trades was formed in Boston, where Chris and Matt lived for a while.
Chris: I think a lot of bands are made up of people who started playing music at a young age and just never stopped. This band started years ago, and while we've taken some breaks from full-on activity here and there, we were always working on the band in some way: planning the next thing or writing music. We've continued to have music-based lives outside of our band. Bob works as a sound engineer, doing live sound as well as recording; Matt has worked at some labels and distros; I'm a music teacher, and I worked for years at a record store.
GO: How would you characterize your music? Do you fit into a stock genre or create a fusion of genres?
Chris: I usually characterize our music as "loud piano/bass/drums music." I'm not sure about the genre for this band.  I would say that a huge defining aspect of our music is the fact that each of us has been intensely active as a musician both before and outside of this band, playing different styles of music, and touring quite a bit. Bob has played in some great metalcore bands. Matt studied a lot of jazz in college. I've toured in bands and a free jazz/improv group. And while we don't necessarily share all personal musical tastes as listeners, we have a common ground for the music we make in this band, and hopefully it's always expanding.
Bob: Our music is made from a combination of musical tastes.  Mine personally have always steered toward darker, heavier music, but that does not necessarily mean screaming and distorted guitars.  Raw, unfiltered honesty is probably a better way to describe it.  And that could be any genre, really.
Matt: We have a wide range of influences that shape our sound and I'd like to think that we don't fit snugly into any single genre. I'd always prefer for the listener to make their own decisions about genres.
GO: Who would you cite as your musical influence?
There are a lot, but some primary ones are:
Matt: Sonic Youth, Pavement, and Mike Patton
Chris: Cecil Taylor, Jim O'Rourke, Don Caballero, Dinosaur Jr
Bob: Helmet, Mars Volta, Refused, Secret Chiefs 3
GO: What project are you promoting right now? How does this fit into your overall career arc?
Chris: We just finished our fourth record, About Above Across. It's the first album that we recorded on our own.  Bob moved his recording gear into our rehearsal space and oversaw the recording. It was important to us that we take the time on this record to experiment, not just in trying different arrangements, but exploring different sounds – for example, I think I ran my piano through more effects pedals on this record than the previous three combined. I also played some synths here and there on this record, which I had never done in this band.
GO: What do you hope to communicate to listeners through your music? What does music mean to you?
Matt: I try to honor the song above all else when writing new material.  I hope the thoughtfulness and deliberate nature of how we work is apparent to the listener.
Bob: Music is like a conversation to me.  Hopefully there are people who understand what we are trying to say.  It's open to interpretation to some degree but we try to give people layers of sound that they can find new things in after listening to it over time.
Chris: As a listener I like to be challenged – not in a way where I'm pulling out my metronome in order to follow the band, but in a way where the performer is taking a step, and trusting in me as an audience member to do the same. And we like performers that challenge themselves, and that's something that we are always doing in our music, and which probably comes across to listeners.
GO: What can we expect from you in the future?
Chris: About Above Across will be released on January 13.  In the meantime we have a video for one of the songs, "Sharp," which can be seen this Fall.  We're wrapping up a second video and may make some more.  In the Spring we'll be on a U.S. tour. And in the more immediate future, we're playing a benefit for Art For Progress at Bowery Electric on October 15.  Art For Progress is a wonderful organization that we're happy to give to in any way we can.
For more information about Trades visit www.tradesmusic.com