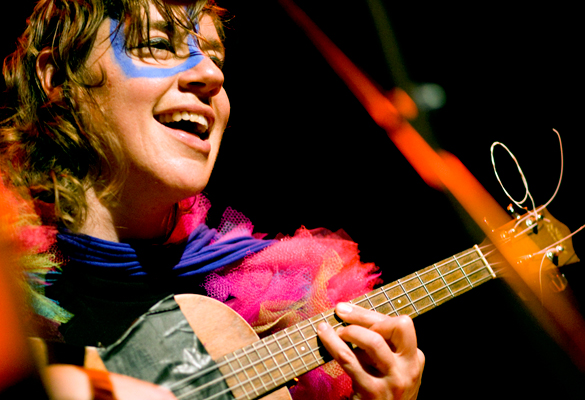 "Ladies and Gentlemen, Merrill is performing at the…"
Thus begins "My Country," the first song on w h o k i l l the tUnE-yArDs sophomore album. As the driving creative force behind the band that can't be pinned down (the music of  tUnE-yArDs has been described variously as Afro-beat, lo-fi, experimental, and even 'wonky pop'), Merrill Garber seems to be performing everywhere, yet is nowhere to be seen.
Before going to catch her show at the Jefferson Theater in Charlottesville, Virginia, I didn't know who Garber was going to be. For having such a strong vocal presence in her music, her persona remains distinctly obscured. Her face is largely absent from music videos, and when it does appear, it is always part of a larger group of people (she tends to have children represent her). In interviews, she comes across as being humble and inherently in touch, which belies how sonically brazen most of her songs are. The opening to "My Country" suggested she would be performing, but what exactly would that entail?
After a raucous show by opening band Mariachi El Bronx (please, please check them out – they party well), Merrill walked directly to the front of the stage, put her head down and began looping her voice onto itself until she had generated an amalgam of pulsing, soaring tones. Then came the drums, receiving the same looping construction until they were booming heavily and the entire building was reverberating to the intense stratum of sounds. It was breath taking, bliss attack, booty shakin' music. Then she suddenly cut the loop, held out her drumstick defiantly, and demanded, "DO YOU WANNA LIVE?!?!" So, this is Merrill Garber.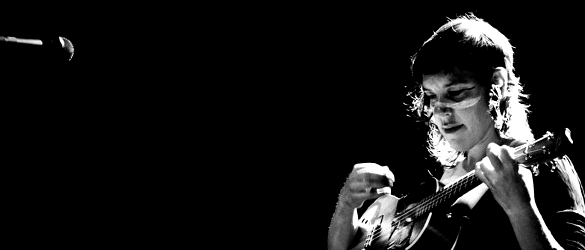 It was a unique pleasure to witness her create and tear down such wild sound-scapes. She wailed, talked, rapped, crooned, crowed, squawked, yelled, echoed—all while smiling serenely. Outside of the sheer amount of noise that she created, her dialogue with the crowd was minimal, and served only to highlight recent projects (such as her cover of Femi Kuti's "Lady" to benefit AIDS organizations) and to express her gratitude to the nearly full house. There was no bravado or wild dancing, and she generally conducted herself with unostentatious simplicity, gently swaying and bopping her head, seeming to be totally present in her music.
While she began the concert with "You Yes You," chanting "Now that everything is gonna be okay / Now that everything is gonna be alright," Garber didn't hold back on the prickly issues that underlie her music; her songs revolve around themes of gender, race, and violence. Her lyrics became more discernable above the music on the slower songs, bringing that questioning into focus (from her guilty conscience in "My Country" to power struggles within relationships in "Powa").
She split time between janky funkin' melodies and a cacophonous mayhem, where she chopped and screwed beats and the wind section staggered and fell into disparate, clashing pieces, and Perhaps this dichotomy is what made her show so profound in feeling. Her hit "Gangsta" became emblematic of this division, as she played the first half faithful to the album version, but was wailing away and cross-hatching souped-up loops by the end, making it difficult to discern what was up and what was down. Throughout, she remained self-assuredly faithful to this individualistic inaccessibility.
I was intrigued by what version of Garber I would encounter, but in the end, I encountered what might be the one and only Merrill: a perfect mixture of elevated energy and graceful consciousness. The music I heard that night was authentic, sincere, passionate, and humble to its core. It seems that Merrill doesn't perform, she just is, and that makes her show not merely compelling, but also intensely moving. I walked away drenched in sweat, more alive in body and in mind.