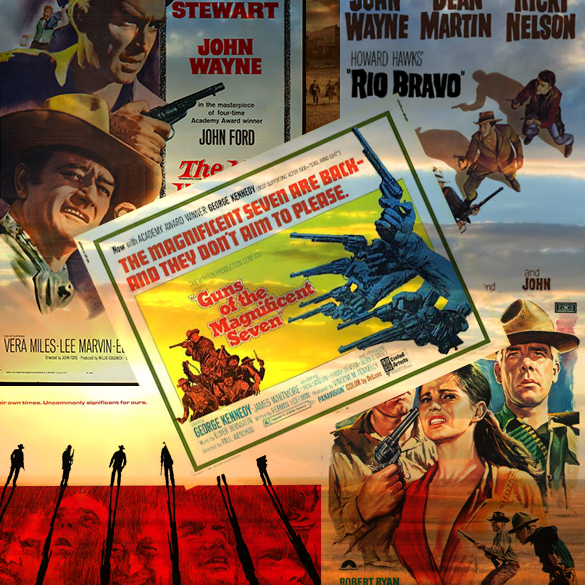 "If you're not loyal to your fellow man, you're an animal."—Pike, The Wild Bunch
"America doesn't have many myths. The one myth we have is the Western."—film director John Carpenter
As long as there are movies, there will be Westerns. A love letter to a time in America when heroes loomed large and men (and women) lived and died by a strict code of ethics, the Western genre never seems to wear out its welcome, re-appearing in the box office in one form or another every few years. Sometimes it's a remake of a classic, as was the case with the Coen brothers' 2010 nod to True Grit. Sometimes it's a comic send-up to the best of the Wild West, as offered up by Mel Brooks in Blazing Saddles or the animated Rango. And then there are the movies that disguise themselves as sci-fi or horror but are Westerns at heart, such as the Star Wars epics and many of the films of John Carpenter, an avowed fan of the Western whose influence can be seen in everything from his The Thing to Vampires.
Clearly, the Western is here to stay. Even this year's crop of Oscar nominees includes a Western, Django Unchained directed by Quentin Tarantino. Unlike Django, however, some of the best Westerns to hit the big screen were passed over by the Academy Awards. So as a tribute to the classic Western, the ones that stay with you long after the credits have faded and tell a tale that, at the end of the day, resonates because it speaks to the things most people care about at a visceral level—family, honor, truth, values, loyalty—here are ten of my favorite Western classics: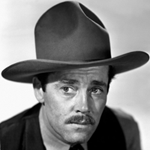 My Darling Clementine (1946). Recounting the events leading up to and including the gunfight at the OK Corral, this is one of the best Westerns ever made. Directed by the legendary John Ford and with Henry Fonda as Wyatt Earp, the film has plenty of true grit and old-fashioned values. Great cast, including Victor Mature and Walter Brennan. No Academy Awards.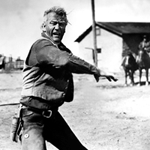 Red River (1948). This classic Howard Hawks film is an epic that focuses on a grueling cattle drive which foments a battle of wills between father (John Wayne) and son (Montgomery Clift). A great film and cast, including Walter Brennan. Wayne should have won the Oscar for best actor hands down. No Academy Awards.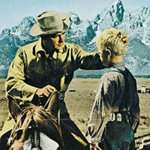 Shane (1953). A retired gunfighter (Alan Ladd) helps a homestead family. Considered by some to be the best Western ever made, Ladd's performance was Oscar worthy (he wasn't even nominated). Great supporting cast, including Jack Palance and Van Heflin. Remade by Clint Eastwood in 1985 as Pale Rider. One Oscar for cinematography.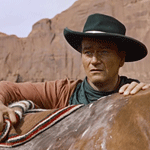 The Searchers (1956). Another great John Ford film starring John Wayne as a hard-driving man who pursues his niece who has been kidnapped by the Indians. A much-imitated film and remade in various forms such as Paul Schrader's Hardcore (1979). Another great performance by John Wayne, with Jeffrey Hunter strong in support. No Academy Awards.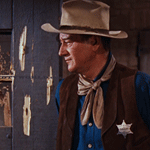 Rio Bravo (1959). This revered and much-imitated Howard Hawks film centers on a sheriff (John Wayne) who takes a murderer into custody and faces a siege of the jail by a powerful cattle baron. Great acting, especially by Walter Brennan. A fine moment in the film is the duet by Ricky Nelson and Dean Martin. A favorite of Quentin Tarantino and remade in different forms over the years, most notably by John Carpenter in 1976 with Assault on Precinct 13. No Academy Awards.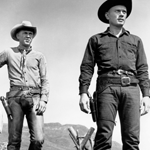 The Magnificent Seven (1960). This epic Western is a remake of Akira Kurosawa's classic The Seven Samurai (1954). Mexican villagers hire gunmen to protect them from bandits who ravage their homes. Most of the actors, who at the time were unknown, became film legends—Steve McQueen, James Coburn and Charles Bronson. This film is replete with interesting characters, including Coburn as a knife-wielding cowboy. No Academy Awards.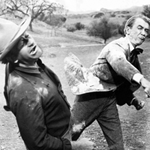 The Man Who Shot Liberty Valance (1962). A tough cowboy (John Wayne) and an idealistic lawyer (James Stewart) join forces to battle a vicious outlaw (Lee Marvin) and his gang. At heart a love story, this is the last great Western by John Ford. Strong on values and sacrifice. Oscar-worthy performance by Lee Marvin. No Academy Awards.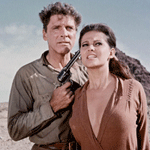 The Professionals (1966). This precursor to The Wild Bunch is an action-packed ride. Four mercenaries are hired by a cattle baron to rescue his young wife from Mexican kidnappers. An amazing cast of Lee Marvin, Burt Lancaster, Jack Palance and Robert Ryan, but Woody Strode steals many scenes as a bow-and-arrow-wielding sharpshooter. No Academy Awards.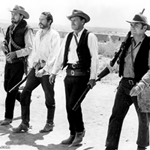 The Wild Bunch (1969). One of the most influential films ever made. A group of aging outlaws, being true to their code, take on a Mexican gang that greatly outnumbers them in order to save a comrade. Highly influential and much-analyzed film that helped open the door to realistic violence in movies. Another great cast, including William Holden, Ernest Borgnine and Warren Oates, among others. This assured director Sam Peckinpah a place in film history. Remade by Walter Hill in 1980 as The Long Riders. No Academy Awards.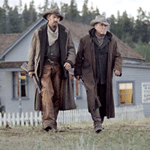 Open Range (2003). Kevin Costner, as director and actor, revives the glory of the classic Western. Two cowboys peacefully graze their cattle on the open range until they run up against a land-grabbing cattle baron. Old-fashioned values and a love for the Western genre make this the best modern adaptation of Western genre. Fine cast, including Robert Duvall and Annette Bening. No Academy Awards.
"There's things that gnaw at a man worse than dying," declares Costner's character, Charley Waite, in Open Range. And really, that's what the Western is all about: knowing what's worth living and dying for, and then taking your stand. Certainly in our day and age of few heroes, and even fewer individuals who would sacrifice it all rather than forfeit their values or their freedoms, and where those who do take a stand (whether it be for principle, honor, freedom or the right to hold onto one's property) are rarely commended, the Western is a powerful reminder that once we were such a people. Time alone will tell if we can ever regain that intrepid, indomitable, heroic spirit that conquered the Wild West and has become the stuff of legends.