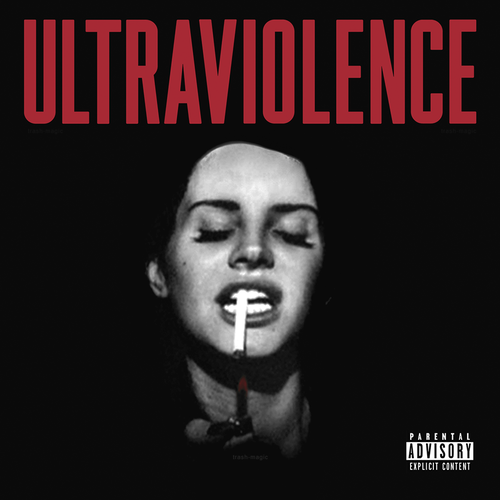 Lana Del Rey stares moodily out of the cover of her latest album, Ultraviolence, similar to The Ramones' classic Rocket to Russia album art. The cover and the album as a whole represent a throwback to vintage rock n' roll; Del Rey traditionally romanticizes and mystifies old styles but the new, more vibrant direction was probably created by album producer and contributor Dan Auerbach of The Black Keys. The two make an impeccable pair, mixing Del Rey's sugary party-girl persona with Auerbach's alternative, edgy musical background, but Del Rey's usual talent is by no means obscured by his presence. She's a little more distant, a little less enthusiastic, and a little more disillusioned with the world than on previous albums, creating an experience that isn't just sad, but beautifully poignant.
Opening track "Cruel World" details Del Rey's reaction to a break-up, hinting at parties and drinking. The psych rock influences and trippy echoing voices sweep listeners into her heady world of sadness and freedom; a perfect introduction to the album and to what Lana Del Rey is all about.
Title track, "Ultraviolence," shows Del Rey's affinity for morbidity, as well as her fantastically Wonderland-ish ability to sensualize it. The singer revealed in two separate interviews that the song is a direct reference to her time spent as the member of an underground cult in NYC.
"Shades of Cool" gives listeners a delicious taste of Del Rey's serious vocal talent as she begins the song uninhibited by too much background noise. The singer feels equally awed and frustrated with her lover's aloof manner, producing a great deal of turmoil in the sound and atmosphere. Fans should check out this cover of The Beatles' "Helter Skelter."
"Brooklyn Baby" was supposedly written in preparation for a collaboration with Lou Reed, and he even gets a mention in the lyrics, but Reed passed away before he could contribute. Pop influences are more apparent here than in most of Del Rey's other material, particularly in the amiable guitar that produces much of the melody. Paying homage to her own life growing up in New York City and "the freedom land of the seventies," this track holds personal significance to the artist, and it certainly shows in her emotional treatment of it.
Previously released "West Coast" comes out swinging with a more traditional, predictable melody, but a wildly revitalized rhythmic structure. Driven by her breathy voice, listeners get a true sense of the exhilaration of love and freedom that naturally thrive in warm summer nights along the Cali coast.
The content takes an explicit turn in "Sad Girl," which outlines the emotional struggles of a mistress who feels like her man's second choice. Perhaps more figuratively than literally, Del Rey speaks for many who feel unworthy or unloved, a theme that gives the album depth and makes this track a wonderful addition.
Another track with a hidden message, "Pretty When You Cry" is about accepting and loving yourself when friends and lovers leave you out in the cold. Stringent guitar riffs add a bitter edge that give depth to the slowly rolling melody. "Pretty" is an album standout for its palpable emotional value and experimental sound.
Del Rey's 2012 album Born to Die is resurrected in "Money Power Glory" with a muted beat and husky vocals. Indeed, the song is driven by her sensual, angelic voice and a guitar solo that is not, surprisingly, played by Dan Auerbach, although there's no doubt it was influenced by his old-timey rock n' roll style.
"F**ked My Way Up to the Top" was written angrily and sarcastically, as Del Rey opens the song murmuring apathetically, "Life is awesome, I confess." The song supposedly refers to another female recording artist who criticized Del Rey's material, only to use the very same components in music of her own after passing judgment; indeed Del Rey makes no attempt to hide the situation or her feelings surrounding it: "I am a dragon, you're a whore…mimicking me is a f**king bore."
Del Rey croons sentimentally about "blue hydrangea, cold cash divine/ cashmere, cologne, and white sunshine" in standout track "Old Money." Such heavenly imagery, coupled with her rich, honey-like voice, sets a beautifully tragic tone for the piece; as a die-hard fan, the delicate string instruments and unrelenting, throaty vocals brought a tear to my eye.  The wild-and-free party girl façade is long gone; Del Rey slows down in this track and reveals how vulnerable a young woman can be in the face of love.
Del Rey embodies the sexy spirit of Marilyn Monroe singing "The Other Woman," a perfect blending of Del Rey's own dark, trembling vocals and Auerbach's affinity for blues-influenced instrumentals. The narrative lies in the rising and falling of the melody itself, not just the lyrics, ending the song with a catharsis that speaks to the soul and the mind.
The synthesized static buzzing underneath the instrumentals of "Black Beauty" lends the track an apocalyptic atmosphere that fits Del Rey's devil-may-care attitude and her obvious ideas about love. Another track about the type of guy she adores, "Black Beauty" calms the album's atmosphere with its lilting soprano vocals and soft instrumentation.
"Guns and Roses" flows like lava: slow and sexy. Joint efforts from synthesizer and electric guitar are just one of a few homages to 1980s-era fluff rock in this track; another glares obviously from the line "I can feel it coming in the air tonight." Listeners can float away on the background vocals and aloof guitar solos, only to resurface with the final, echoing drumbeats.
"Florida Kilos" starts off sounding more like the Red Hot Chili Peppers than anything Del Rey has shown us before, the plucky acoustics creating a reggae sound. Sweeter and more upbeat than the rest of the album, the singer's baby doll voice and references to cocaine make this track prime material for an EDM remix. Listeners will leave the album with a feeling of artificial buoyancy and a new appreciation for the enigma that is Lana Del Rey.
Overall, Ultraviolence isn't as exciting as her 2012 albums Born to Die and Paradise, but perhaps represents a maturation in her style of expression. With a muted sound and depressed eloquence, Del Rey creates a psychedelic fusion of rock and roll through the ages, bringing darkness to life in the process.
—
Candace Carter is an associate editor with Gadfly Online and really loves her job. She just finished her first year at the University of Virginia writing for the Cavalier Daily and supporting the mentally ill in UVA's chapter of To Write Love on Her Arms. She's a very strict cat person; a novel she recommends is The Lovely Bones by Alice Sebold.