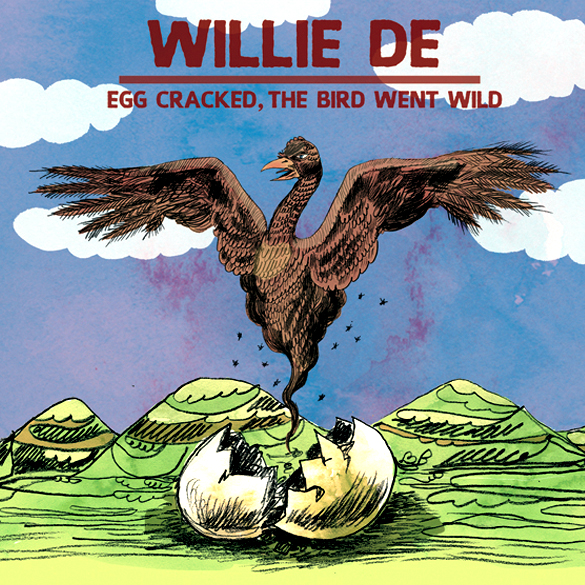 My muddled childhood impression of Willie revolves around his distinctive long hair and dress: cowboy boots and flannel shirt, which stood out in middle school. These threads were almost always on full display at Charlottesville's downtown walking mall, where Willie would be casually slaying his acoustic axe in front of a guitar case overflowing with greenbacks. Willie Denton-Edmundson and I grew up in Charlottesville, VA, at the same time, and lingering in my mind is the notion that, as the older people put it, this kid had it. Homeboy was the next big thing; he was going to make it. There was a distance between our paths through adolescence, but Willie found his way into my life via the lore surrounding his presence in the local music scene.
That's how he existed in my mind before I heard his debut album, Egg Cracked, the Bird Went Wild. I see now that Willie has an old soul, and his musical aesthetic radiates such. He describes his sound as a marriage of "folk, rock, jazz and blues," and counts the likes of Bob Dylan and Van Morrison not only as influences, but musical comparisons. His music spins fabled images together into grand tales, inhabiting the same mythological atmosphere that surrounded him as he grew up.
"I crawled out / the leaves turned orange / the tambourines clashed / the earth began to form." Willie depicts his narrator's genesis through an epic lens, while also displaying his tasteful knack for simplicity on the chorus, "I was born on a little farm." Again and again, Willie manages to combine starry-eyed wonder with a little twinkle of knowing. There's awe-filled moments of inspiration infused with those of appreciative self-reflection, and nothing helps more to unify the two than the production.
Local legend Eli Cook produces the album and plays on most songs, and the likes of Devon Sproule and Terri Allard—among other acclaimed localites—have been enlisted. The veteran aid allows for a refined, mature pace to the generically promiscuous album. We find pop-inclined songs (lead single "Willow," "Moments that We Missed"), classic rockish songs ("Butterfly Girl," "Heaven," which actually starts off sounding like Smashing Pumpkins "Today,"), and folk-style ramblers ("Egg Cracked, the Bird Went Wild" and "I Fall Down"), yet none feel out of step with the spirit of the album. Throughout, Willie plays his guitar with a distinct shrewdness; there's not a hint of excessive soloing, choosing with sage-like reserve to sooth rather than melt faces ("Shine" and "Little Farm" stand out, although he does let loose on "Heaven" for a few seconds). Willie maintains his presence on the project with his deep and quivering, minimally ranged voice, which pins each song down as a piece of the greater whole. Yet I still can't help but wonder what it would sound like if he were to open up and wail away on his guitar.
The lyrics of each track marvel at the sky in some way, pushing the mythological aesthetic towards mysticism. Willie seems to have traveled quite a bit, though also done some serious Waldening in the woods. While our generation spends their time scrolling through endless Facebook pages, he seems to have immersed himself in the book of life. This first dispatch from that education shows that Willie has taken a higher road, one that most of us fail to ever recognize.