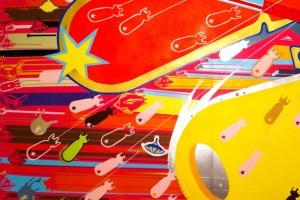 "Rubber and roboted, all a control lotted, not one decides "it" for itself," writes Chicago-based artist CJ Hungerman in a poetic description of his Random Robot Attacks, an ongoing collection of vibrant paintings and sculptures that feature small, cartoonish bombs—robotic projectiles—that Hungerman uses to represent the primal core of humanity.
The attacks may be random, but for Hungerman, the message is clear: humanity is on the verge of self-destruction, or is, at the very least, facing an existential crisis of apocalyptic proportions.
Hungerman discusses his energetic and thought-provoking work with Gadfly.
Read More.