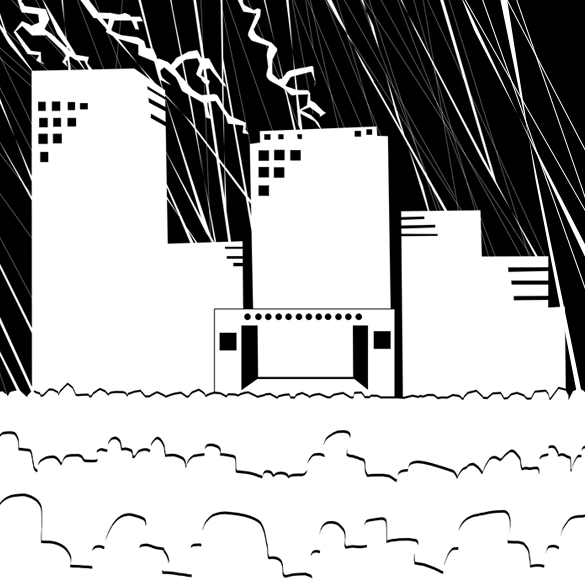 The sort of manic energy present at a music festival compressed into ten square blocks of downtown Chicago is hard to put into words. Grant Park, the city's cornerstone public green-space that flaunts the Art Institute and the infamous Millennium mirror bean, closed its roads from August 3rd to 5th to host a max capacity of 160,000 gormandizers and their chosen musical explorations—a diverse line-up that could strike at least one chord with anyone who listens to modern music. Unlike other campy summer festivals, Lolla offers re-entry, and thus, access to countless liquor-peddling 7-11s, smoke-choked hotels booked to the gills, and welcoming bars and restaurants, keeping the festival populous happy and fucked up. What festival planners hadn't anticipated during months of daunting preparation was the 2-hour flash flood storm that whipped off Lake Michigan on Saturday afternoon and the ensuing obligatory Emergency Evacuation of the park grounds. We returned in hoards with beer in our bellies and music on our minds, ready for mud pits and a mob mentality that witnessed the tearing down of a stoplight on Michigan Avenue and a total breakdown of Lolla's delicately orchestrated wristband system. Good riddance.
With such bottle-rocket enthusiasm packed into the attendees, the potential for interactive and rewarding live performance was at a high. I saw musicians capitalize on this and flounder with how to handle it. The music industry right now is obsessed with bedroom recordings from tortured geniuses, and one of my favorite albums of the past year was Youth Lagoon's The Year of Hibernation. So don't get me wrong, but I think with the accessibility of up-to-the-moment indie music on the Internet and our cultural love affair with these lo-fi DIY indie guys, there exists an easy trap to fall into as a musician: studio brilliance without the ability to crossover to live performance, the most rewarding aspect of music appreciation for me. Since this is coverage of a shotgun blast of live shows, I'd like to focus on who impressed me as performers and who should stick to the bedroom.
BLOOMS ::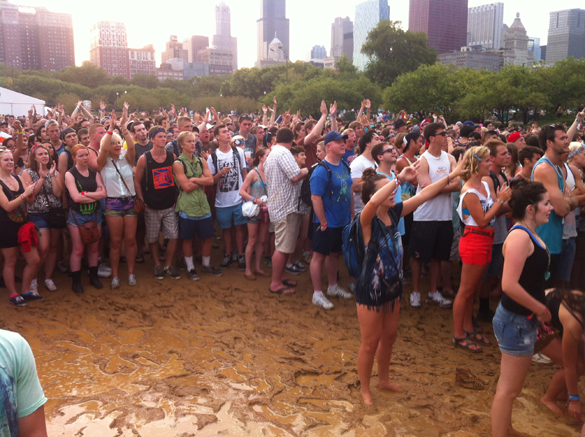 tUnE-yArDs – Merrill Garbus and her crew offer one of the most consistently inspiring live performances on the scene right now. With beautifully improvised song transitions unique to every show and beats that are looped fresh right before your eyes, you really feel a part of it as an audience member. This sentiment is exacerbated by Merrill's genuine appreciation for you as a listener and tangible love for the music she makes. Granted, I saw this band shortly following Saturday's stampede re-entry, but this was the most excited crowd I was a part of all weekend. A mud pit that swallowed the front section stage-left, was filled with dancers convinced by flawlessly off-kilter Afro-beats to not give a fuck and get dirty (my white Vans are now brown Vans). We threw mud in the air, at each other, and generally had the most "festival" sort of experience I could have imagined. Until that one dude pissed in the mud pit and kicked it into the crowd. What a fucktard.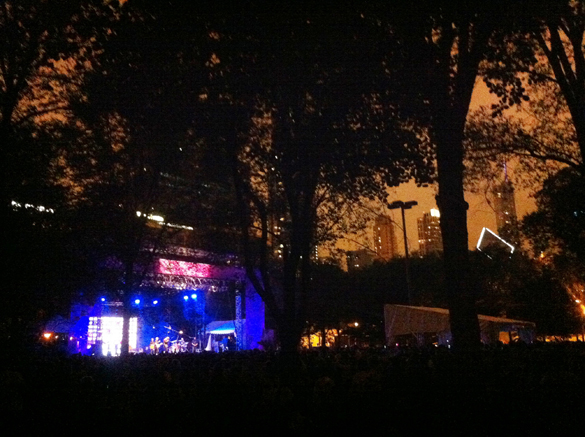 Frank Ocean – Delayed slightly in his set time due to the storm, Frank allowed the avoidance of both Anthony Kiedis' (of the Red Hot Chili Peppers) trucker pornstar mustache and the crowds of teens on molly wearing bright t-shirts that said things like "I Party With Sluts" at Avicii. So I took my time filtering into the gentle, wooded area that held his intimate stage. I'd recently fallen in love with his new release Channel Orange—as seems to be happening to many of my age and disposition—partially due to his strikingly blunt, relevant lyrics which are so artfully phrased and composed, and partially because the music behind it has a soulful songcraft reminiscent of Stevie Wonder. While this was all certainly present at his show, what most impressed me was the power of his voice, obviously unadulterated in studio recording, and his kind, grateful, quasi-Buddhist demeanor. I'm also pleased there's now a more down-to-earth face of bisexuality in popular music; an alternative to the uber-sexualized shock value of Lady Gaga. A crisp orange sunset afterglow housed a smooth, spirited performance, punctuated by the closer, "Pyramids," and the bold ebbs and flows of its emotive storytelling.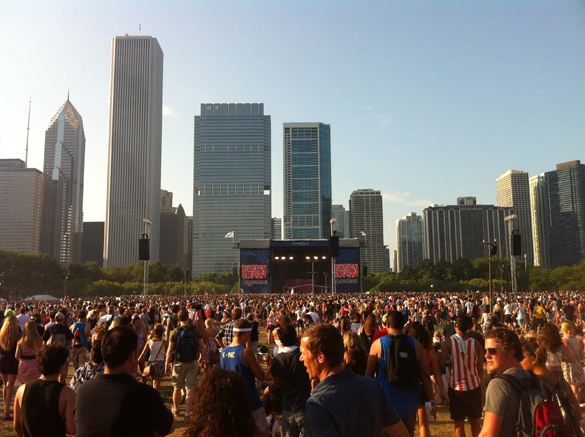 Passion Pit – This was the only show the band had chosen not to cancel during the first leg of their tour to support Gossamer – citing mental health issues for their lead singer, Michael Angelakos. Despite whatever troubles these may be, the band (which is indeed a full band with a drummer, much to my pleasant surprise) was into it and on point. "Take A Walk" was a brilliant banger of an opener and brought in the masses to fill out an enormous stage area that they shared with perennial blockbusters such as Black Sabbath. I honestly couldn't believe Michael's voice was real as he belted those gorgeous melodies that reach far above conventional falsetto range. Absolutely worth catching on the second half of their tour, the Pit made me look again at Gossamer, which I had previously had a lukewarm reaction to outside of its singles.
Sigur Ros – The orchestral fullness of sound that this Icelandic crew produced live was enthralling. What was more exciting was that they were entirely unwounded by the absence of studio production techniques; the same sort of atmospheric beauty was conveyed in person as on record. Frontman Jonsi Birgisson's use of Hopelandic–an improvised gibberish he uses most notably on their album, ()–was fun to hear in person, as well as the instrumental experimentation the entire band engaged in – Jonsi used a violin bow on his guitar more often than not and a couple songs featured bassist Georg Holm tapping his strings with borrowed drum sticks.
BUSTS ::
The Walkmen – It was all too perfect that we walked past their stage just as the drummer kicked in the opening beat to "The Rat," a song which this band has been simultaneously saved and crucified by. In any case, that's why we stayed to see the rest of the set. Frankly, their show was uninspiring and rather boring. Their retro, black skinny tie, black ray-ban chic felt out of place and though their lead singer, Hamilton Leithhauser, always gives it his all (red-faced and jaw-clenched), little was refreshing or interesting about their music. In their defense, their sound engineer did them no favors, with the bass fading in and out and washing out the sound constantly. I do really enjoy listening to "We Can't Be Beat" and "Heaven" off of the latter-titled new record, but I've never felt The Walkmen did much innovative or attention grabbing; well, except for "The Rat."
Washed Out – The entire set I couldn't stop imagining how much better this would be inside a dark dive club with a cocaine-infused crowd. Maybe it was just the fact that this band does not belong outside; nor at a festival, but this really didn't sound like good music. Performed live, their songs didn't sound washed out and that was the biggest problem. Their lack of compositional gift and the cheesiness of some of their melodies was exposed when they were removed from the crutch of studio production and the layers of reverb that define them. I could barely hear the singer and the performance was entirely flat. I love having sexy time to this music, but it wasn't exactly an arousing show.
Jack White – Ok, so this guy is a magnificent soloist, song-crafter, and has made a lot of great music that I love (he's also been recently been crowned #70 on Rolling Stone's list of 100 Greatest Guitarists, which I feel might even be conservative). He's acquired an impressive backup band of great musicians so that every concert will be an objectively good blend of Americana and rock n' roll. However, I think both on record and live, his solo career has lacked the youthful energy—the life-blood of rock and roll—of The White Stripes, The Raconteurs, and The Dead Weather. I guess maybe that's just what happens when fame and age catch up to artists, but I would have preferred the evil mystique of the Dead or even Meg White on drums. I think his aesthetic is forced—he's just not that weird or dark. And though Blunderbust was released in a manner I fully support (Jack let a couple hundred carrier pigeons deliver the record to unsuspecting pedestrians from the roof of his Nashville recording studio and record label Third Man), it was a collection of bland rock music. His show at Lolla was a clear second to the raw power of Justice's simultaneous performance on the other side of the park.
Dum Dum Girls – I love 60s-infected lo-fi pop, so I enjoyed this set, but honestly, it was nothing special. This Brooklyn via L.A. collective did it well, but didn't really break any new ground. The foursome also seemed to rely on their image more than their music. They all have bangs and were dressed in all black (either leather or linen), with a cute, weird gold necklace, but seemed to want to be too cool to really be able to lash out and play some awesome music. Their faces were nonchalant and passive, playing trite music as if they were bored by it, thus, so I was. The drummer, Sandy, was the most talented and into it; I loved listening to her stripped-down, low tom-heavy, boom-bap, noisy grooves, and watching as her long black hair whipped back and forth—in the wind from the fan positioned conveniently below her.