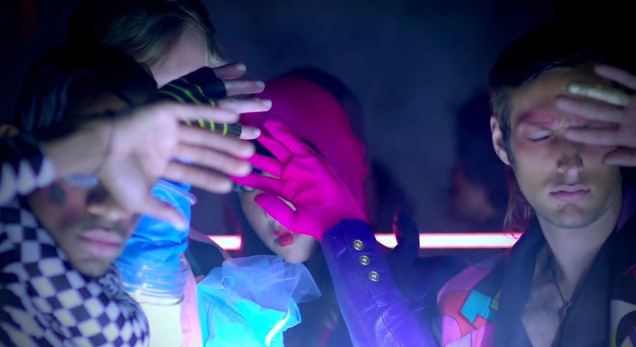 When I walked into the National last night, the first thing I noticed was the stage. It appeared fuller than normal (which is saying something because the last show I saw there was Gwar, and they turn their stages into castles) partially due to the fact that the instruments of Delicate Steve, the opener, were still there, but also because of Yeasayer's light setup. Arched behind where the band would play, four stacks of six silver saucers faced the audience. After Delicate Steve's brilliant and energizing opening set, Yeasayer played their music in front of lights that bounced off the saucers in all directions.
I only go on about the lights because I think a lesser band would have looked silly in front of such dramatic lighting. Yeasayer, though, makes great music and put on a show last night that proved as much. Ever since I heard their live album, Live at Ancienne Belgique, I had been dying to get to one of their shows. On that album, they play relentlessly energetic versions of the best songs from Odd Blood and All Hour Cymbals, and you can feel the response from the crowd. So badly I wanted to be a part of that.
Thus when I read their email to Richmond-area fans saying that they would be playing new material and new versions of their past work, I felt a bit worried. It seemed like we, the concert-going folk of central Virginia, were being treated as test subjects rather than paying fans. I had seen another show by a different big indie name, Animal Collective (at Meriwether Post Pavilion, no less) in similar circumstances. Like Yeasayer's current tour, it was their first tour after a long hiatus after a popular album, and also like Yeasayer, they chose to play almost exclusively new material and deeper cuts from their catalogue. They played only one or two tracks from Meriwether Post Pavilion, despite the fact that they were in Meriwether Post Pavilion. I appreciate experimentation and artistic exploration more than most people, but that night I felt wronged. The fan-boy in me was crushed, and the artistic appreciator in me could not placate him.
But that didn't happen last night. Despite playing only four, by my count, previously released tracks ("Henrietta," a mellowed out and funky version of "ONE," "Madder Red," "Ambling Alp," and "Tightrope" as the encore), they held my attention and kept the crowd dancing all night. The new songs, none of which they gave the names of, sound like "Henrietta," the first single for their due-out-August 21 album Fragrant World, in that they build a little bit slower than the Odd Blood tracks, dictating the mood with both distinct movements in the larger landscapes of the songs, and with subtle additions and subtractions of the less obvious elements that make up their full, engaging sound.
I wish I could say more about the new music, but that first impression has me very excited for August 21. Last night was the first time they'd played those songs live, and that bodes well for the rest of the tour. If you have a chance, go take a whiff of the sweet sounds of their most Fragrant World Tour.