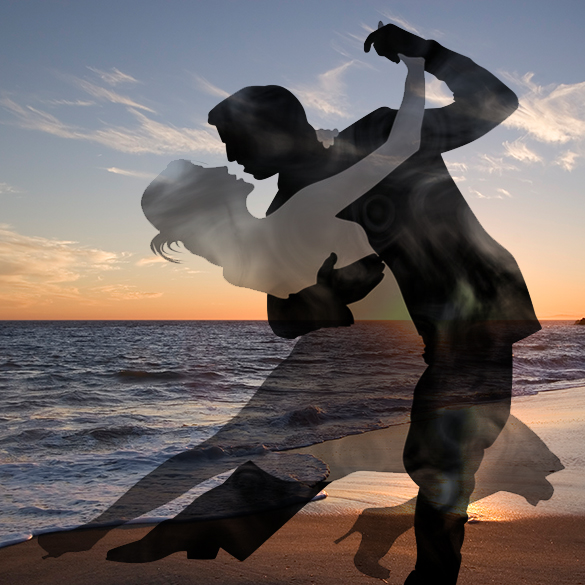 Dance Lessons
Tall figures dancing and oblivious
to the surf-puddled sand were mirror
images of a pair lithely waltzing
in a dimly lit window beyond
the boardwalk reminding me
of what an old woman once said
in a dark smoky lounge:
"Your dad was a hell of a dancer,
God rest his soul and his feet.
Too sad this jukebox is dead,"
she added, returning to the bar,
a youthful spring in her gait,
that was mine as I approached
that beach mansion door after
witnessing those couples
stepping so stylishly.
Nudging open the door as if I'd lived
all my days there I strolled
to the ballroom where kindly moonlight
sneaking through rain-chiseled alleys
on dirty window panes revealed black
footprints covering the hardwood floor.
On hands and knees I read dance names
where you'd expect "Cat's Paw."
As I stumbled off every lesson trail
as if studying with Arthur and Fred,
I thought of that old lounge woman.
I pictured my father flat in the ground.
How happy I'd been
that jukebox was on the blink
as dancing wasn't part
of my old man's legacy.
At four in the morning I staggered out.
The seashore lovers were gone.
Kicking off my shoes I rested
my clumsy feet
in the refreshing pools late
of romantic dips and whirls.
I moved this way and that
as if a little kid playing
in his father's learned shoes.
Still Life with Odds
On the wall at the rounded
end of the horseshoe bar
at Murphy's Lounge hung
an oil painting of thoroughbreds
negotiating the clubhouse turn.
It might as well have been a TV
simulcast the way drinkers wagered
on the result.
Names from Narragansett's
glory days would suffice:
Whirlaway and Seabiscuit for example
as well as local legends Charlie Boy,
Golden Arrow and a host of lowly
sorts allergic to the winner's circle.
Some swore there were several
canvases, switched regularly
to sell shots to match the double
takes but no patron driven
off the deep end by that scheme
ever slashed the race scene like
a maniac amok in a ritzy museum.
When a gent waltzed a dame
from the back room dance floor
to an art-side seat, conversation
was not likely to commence
with Zodiac twaddle.
Lounge odds were set at one
to nine the opening words would be
"OK, sweetheart, which nag you
figure got under the wire first?"
Loving Babies
Eddie worked for UPS days,
had a security gig nights.
He lived in the Federal Housing
with a woman named Mae
who had eight kids.
The only thing they didn't share
with the crew was their bedroom
that was padlocked twice.
Eddie and Mae had 2 more tots.
If you love babies, he said,
you gotta love shit and piss.
The oldest boy was the best
dancer in the Project.
Little Eva's Locomotion
was his feature number.
Brain cancer killed his sister.
Eddie got yet another
job managing a cinema.
The dancer gave out free passes
and I took my date to a matinee:
THE BALLAD OF CABLE HOGUE
JASON ROBARDS JR. &
STELLA STEVENS.
Some critics say it's the best western ever.
The theatre was empty except for Mae
snoring in the back row.
Two grandkids worked a coloring book
on the floor near an aisle light.
My date thought the film was boring,
fell asleep on my shoulder.
The kids filled their diapers.
The smell ran through the theatre
killing the popcorn fumes.
—
McDade is a former computer programmer living in Monroe, CT with his wife, no kids, no pets. A graduate of Fairfield University, he served two hitches in the U.S. Navy.  McDade's poetry has most recently appeared in Retail Woes.