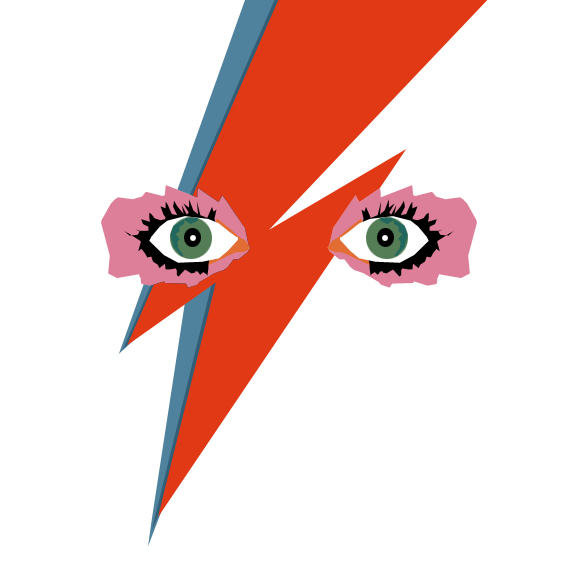 "No dilettante filigree fantasy beats the plastic you"
Roxy Music: "Mother of Pearl" (1973)
"You got your mother in a whirl
Because she's not sure
Whether you're a boy or a girl"
David Bowie: "Rebel Rebel" (1974)
Glam—or as it was originally called in the UK, Glitter Rock—flourished from early summer 1972 to summer 1974: shorter than Hippie, but longer than Punk. Steeped in gay-derived self-awareness and parodic absurdity, Glam never ever took itself too seriously—which now makes it seem fantastic—and has therefore been consigned to the dumper bin of history: lacking the overt ideology of its subcultural siblings, a half-forgotten footnote.
Yet, for such a flimsy, flouncy thing, Glam has proved highly endurable. First off, it bossed British teen culture for two years—in number one albums and singles by David Bowie, Roxy Music, T. Rex, Slade, Sweet, et al.—and thus became the mainstream: its cadences can be heard coursing through Punk (Mud's "Dynamite" is the Sex Pistols) and from then on through Britpop, Oasis and Pulp in particular. (Oasis = Mott the Hoople + Slade; Pulp = Roxy Music + Cockney Rebel). For us guys, this is serious roots.
Glam also officially marks the moment when British and American pop music finally diverged. If you look at the '60s charts, the similarities between the U.S. and U.K. are considerable; after 1970, there is almost no correspondence. Apart from fanatic local scenes in New York (the Mercer Arts Center) and Los Angeles (Rodney's English Disco), Americans did not get Glam: despite incredible home-grown acts like the New York Dolls and the "Raw Power" Stooges, the nearest crossover was Alice Cooper. Too gay at the time, Glam trickled down through the Dolls and Alice into the hair metal bands of the '80s, with Guns ÔN' Roses—for all their machismo—as the apotheosis. So where does that leave us?
Swimming in garish visual overload, which is never a bad way to run pop music. The essence of Glam was synthetic and fantastic in the extreme, and now the full hysteria of this occluded but powerful moment has been captured on film by Todd Haynes in his phantasmagorical Velvet Goldmine—a hymn to platform heels and gender-bending, peacock posing and midnight blue casino floors, suffused with meditations on history, the nature of pop stardom, and just how exactly the freedoms of youth, with hindsight, are taken for granted. It reasserts Glam's rightful place in the pantheon: for just as much as Hippie and Punk, it was—wham! bam! thank you mam! the true teenage news.
To understand Glam's power, you have to realize that for partisan teens like myself, 1970 was a rock desert. The excitement and rapid motion of the high '60s had vanished: the great San Francisco boom was collapsing in a welter of solo albums and glum country rock; the classic '60s groups were either defunct, defeated or drug damaged; even a brief metal chart moment had collapsed under its own weight. If you wanted hard, fast, smart, funny two-and-a-half-minute rock cuts and you wanted them new, there was just the Stooges and the "Back in the USA" MC5, and no one listened to them then. Yet, in that year, Tyrannosaurus Rex released the peerless "Elemental Child": five or more minutes of hazy cosmic jive that climaxed in an electric guitar breakout worthy of Link Wray.
The British music industry abhors a vacuum such as that represented by the sanctimonious inanities of George Harrison's "My Sweet Lord" and Matthew's Southern Comfort's "Woodstock," big hits as 1970 turned into 1971. That spring and summer, Bolan's abbreviated T. Rex broke through with two monster number ones—"Hot Love" and "Get It On"—which switched the focus of British rock back into pop. Slade started their run of twelve generation-defining top five hits with "Coz I Luv You;" Alice Cooper and the Flamin' Groovies released "Love It to Death" and "Teenage Head," harbingers both of the teen rock explosion to come. And David Bowie was preparing his first glitter masterpiece: "Queen Bitch."
Like Bolan, Bowie had been making records since the mid-'60s in a variety of styles. Encouraged by pop's quickening pulse, he tried the Bolan warble first on "Black Country Rock" (from The Man Who Sold the World) but it's on "Queen Bitch" (from Hunky Dory) that you hear his full conversion into sheer electric drive. Just listen to Mick Ronson's guitar slice out of the speakers, drilling like a termite through your brain. Not only did "Queen Bitch" rock like a motherfucker, it also namechecked the Velvet Underground, whose hard to find first three albums had been rereleased in the U.K. during 1971: "some V.U., white light returned with thanks." Powerful juju.
And if that wasn't enough, Bowie squealed and slithered and interjected ("choo betcha") all the way through a lyric that was the most explicit, gleeful and attractive explosion of faggotry that we'd ever heard: "She's so swishy in her satin and tat/ In her frock coat and bipperty bopperty hat/ Oh God, I could do better than that." Now, that was something to live by. A month or two after the album's release, in February 1972, Bowie fully fronted these implications when he announced to the Melody Maker: "I'm gay and always have been." Did this kill his career? Did it heck: within a season, Bowie had his second chart breakthrough with the wildly successful Ziggy Stardust album and its single, "Starman." His autumn 45, "John, I'm Only Dancing," put explicit homosexuality in the top ten, while his productions for Mott the Hoople ("All the Young Dudes") and Lou Reed ("Walk on the Wild Side") transformed both careers.
During the summer of 1972, you knew something was happening. Roxy Music hit with "Virginia Plain"—the perfect manifesto for a new age of plastic Pop Art "me and you, just we two, got to search for something new." T. Rex went imperial with "Metal Guru" and "Children of the Revolution" (and yes, the songs are as good as the titles). Alice Cooper slipped in with "School's Out"—number one over the high summer holidays—and the reissued "Love It to Death." Calculated many of these records might have been, but calculation never stood in the way of the brutal big beat, as became clear when this new pop movement took its name from a failed early '60s singer, Gary Glitter, who in 1972 barnstormed his way into the top five with two extraordinary records, "Rock and Roll (Parts One and Two)" and "I Didn't Know I Loved You Til I Saw You Rock n Roll": the missing link between Dub, Electro and '50s rock.
So much of Glitter was in reaction to late-hippie pieties, following the great pop law: what everybody else is doing, do the opposite. The previous generation had celebrated the country: glitter was urban panic music, marked by the sirens of the Sweet's "Blockbuster," Roxy Music's "Editions of You," Bowie's "Panic in Detroit." Instead of natural fibers, you had crimplene, glitter, fur; instead of LSD, alcohol and downers; instead of albums, singles were the focus; instead of authenticity, synthetic plasticity ruled; in place of a dour, bearded machismo, you had a blissful, trashy androgyny; in place of the rock festival, you had Top of the Pops, a high-ratings, weekly pop show of relentless lights and lip-synching—so much better for concentrating on your camera moves. Glitter: the mod's revenge.
Top of the Pops during 1973—the high spot of Glitter as it became known as Glam Rock­—was a complete riot as the heavyweights of the new order vied with each other to be more outrageous: Slade, Bowie, Bolan, Alice, Gazza, Roxy—you should have seen it. Despite their best efforts, all were trumped by the Sweet, a plastic confection put together by veteran producers/writers Chinn/Chapman. In the same way that Glam sourced '50s rock, it also sourced '50s music industry practices—to hell with creative control! Quickly moving the group through a bubblegum phase, Chinn/Chapman hit their stride in 1973 with a trio of masterpieces: "Blockbuster," "Hellraiser" and the totally awesome "Ballroom Blitz."
Like many bandwagon jumpers, the Sweet got it just right. Larded with make-up, applique stars, sequins, silver and gold glitter, the Sweet resembled nothing so much as bricklayers turned into hustlers—an impression hardly dispelled by the lipsticked pout of guitarist Steve Priest as he delivered a particularly tart aside. It's on "Blitz" (a surprise U.S. top five in summer 1975) that you can hear Glam in full effect: massive Rock 'n' Roll drumming, slicing guitar, self-defining lyrics ("It was electric, surprisingly hectic"), all building up to an exhortatory pitch of public wildness. And in the intro, the Sweet go as far as they could, as, guided by singer Brian Connolly, they lisp their way through this call and response: "Are you ready Steve?" "Uh huh." "Andy?" "Yeeah." "Mick?" "Okay." "All right, fellas, let's gooooooo…"
"It was like lightning, everybody was frightening": Glam's existential edge came from a sense, partly intuitive, partly brought from the Velvet Underground and Bowie's literary models, Burroughs and Genet ("The Jean Genie"), that everything was over, done, decayed to the point where you might as well party in the ruins. As Liza Minelli/Sally Bowles opined in the hugely influential film Cabaret, "divine decadence, darling." Nor was Glam all fun and games: as the ideological wing of the movement, Roxy Music stunned the Top of the Popsaudience with a hyper-intense lip synch of their manic November 1973 hit, "Street Life." Things were spinning too fast: "This brave new world's not like yesterday/ It can take you higher than the Milky Way/ Now I'm blinded can really see/ No more bright lights confusing me."
By early 1974, everything was beginning to unravel. The New York Dolls became mired in drugs; the Stooges split for the second time in February. Bowie went '60s mod retro with Pin Ups (including his great homage to Syd Barrett's "See Emily Play"): his last Glam moment was the spring's "Rebel Rebel." Tempos were down; self-consciousness was up: there was a vogue for teenage songs (Alice Cooper's "Teenage Lament '74," T. Rex's "Teenage Dream," The Sweet's "Teenage Rampage") which made the implicit a cliché. After the world weary manifesto of "Mother of Pearl" ("party time wasting is too much fun"), Roxy Music switched to affirmation with the straightforwardly rocking "All I Want Is You." The Sweet capped the era with the teen opera in the three minutes of intensity of "The Sixteens." The Dolls and Iggy headlined "The Hollywood Street Revival and Trash Dance" show, more commonly known as "The Death of Glitter." By then, it was August 1974, and everybody awoke as if from a dream.
Twenty-five years later, Glam now seems like a classic pop era: fast, furious, youth-directed, threatening yet highly pleasurable. Taking the mutated hardcore of third-generation U.S. rock as its model, Glam threw vaudeville elements into a new, distorted delinquency. Its lasting achievement—apart from all the records mentioned above—may well lie in its sense of sheer fun; yet despite its denial of significance, Glam reflected its time and pushed the social envelope. It took under five years from the first, partial decriminalization of homosexuality in the U.K. to the first out gay pop star: David Bowie's presence made non-mainstream sexuality accessible, attractive even, to a vast audience who had not dared to explore the possibilities until the glitter rockers flashed like meteors in front of their eyes. In doing so, Glam freed up pop for all time.
—-
This article originally appeared in Gadfly Magazine, October 1998.