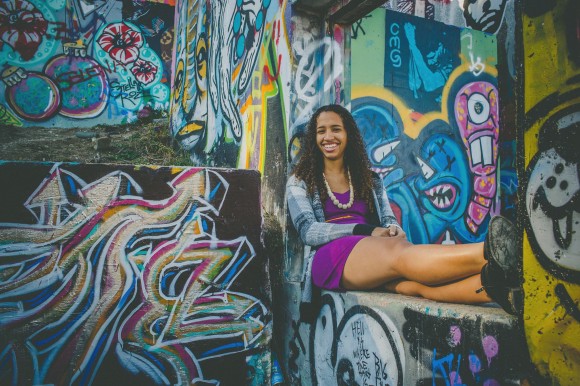 Want your music with a dose of take-charge attitude? That's exactly what you'll get when you listen to Jackie Venson, blues rocker with Texas roots. Jackie has an abundance of musical talent under her belt with seventeen years of piano playing, eight years of songwriting, and four years of guitar strumming. Jackie even attended Berklee College of Music, polishing her technical skills even further. So with all that training and musical emersion, what's an artist to do? Shake things up with personality and attitude. Jackie's music radiates soul and energy, making for an inherently fun listening experience. Jackie has recently released a video for her single "See What You Want," which could easily be the backdrop for any smoke-filled bar permeated with pool sharks – or perhaps just a casual Sunday afternoon listen from the comfort of your couch. Regardless of where you play it, be sure to add some bluesy-soul to your life and check out this new artist.
Gadfly Online: Can you provide us with some background? Where are you from? What made you pursue a career in music?
Jackie Venison: I was born and raised in Austin, TX. I started playing piano very young and have always been fascinated with instruments. My father and brother are both professional musicians and I would say this played a huge role in my career pursuit. Firsthand I saw them constantly making it work so I it was almost like direct evidence that I too could make it work.
GO: How would you characterize your music? Do you fit into a stock genre or create a fusion of genres?
JV: My music can't really fit into a stock genre and I'm all over the map. Usually I'm in that grey area between Blues, R&B, Gospel, and Rock. They're all rooted in the Blues, which I guess could be the "stock genre" but if you turn on my music expecting to only hear Blues you're going to be sorely disappointed.
GO: What's something new that you're bringing to the music scene? 
JV: I'm a rule breaker and I don't like to follow trends. This isn't exactly something new but these days the music scene doesn't prize individuality and I believe I'm here to challenge that.
GO: Who would you cite as your musical influence? How do they reflect in your own music?
JV: My big guitar influence is Buddy Guy; I have spent quite some time listening to him. He plays the guitar with such freedom and with so little concern over what other people think. It's like he's in his own world and that has rubbed off on me. I feel the same, regarding freedom and not giving a crap, when it comes to Amy Winehouse or Whitney Houston and their singing styles. They have rubbed off on me in this same way.
GO: What project are you promoting right now? How does this fit into your overall career arc?
JV: Right now I just released a new music video "See What You Want" and it's definitely steering me in the direction that I want to go in. The song is about doing it my way and not bending to any supposed rules. I believe that is what a true musician needs to do even if it means eating McDonald's and Ramen for a few years (or possibly forever). Why get into a creative career just to be or sound like someone else? If one is afraid to be and sound like oneself, one is not fit to be a musician. This song and video promote this idea and therefore ground me in my vision.
GO: What do you hope to communicate to listeners through your music?
JV: Individuality.
GO: What does music mean to you?
JV: To me it's a spiritual practice and simply how I live, a unique joy and gift that I am grateful for being able to experience. Anything that gets in the way of this I consider poisonous.
GO: What impact are you trying to create? 
JV: To promote individuality and love of oneself.
GO: What can we expect from you in the future?
JV: More music, more growth, more fun!
To stay up-to-date on all things Jackie Venson, check out her
Website | Facebook | Twitter | SoundCloud | YouTube