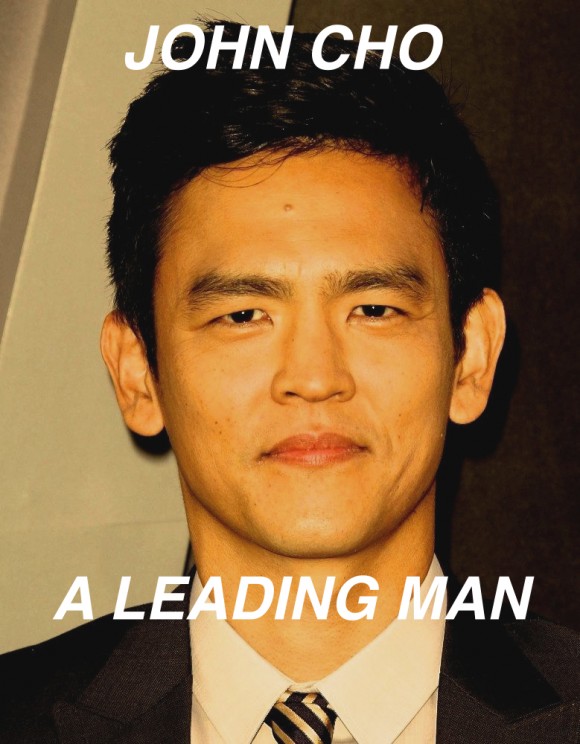 GQ Qi (Jack Yang) is a talented and handsome actor who can't seem to get a break. That is until he lands a coveted role on a television sitcom. The only problem—the role is for a character named Kung Pao, a Chinese foreign exchange student. Not only is his name offensive but also the lines and mannerisms assigned to him. Fed up with the blatant stereotyping, GQ foils a plan to expose the executive producer of the show, Mitch Lebowitz (Bruno Oliver). He enlists the help of a production assistant, Kelvin Kim (Raymond Lee), but once again GQ can't catch a break because the role is so coveted that Kim turns against GQ for an opportunity to replace him as the star. Kim is not as talented an actor as GQ, but he brownnoses Lebowitz to get the job after GQ is fired.
Director Stephen J. Kung in his feature debut, A Leading Man, uses scenarios like the one above inspired by real life events in order to show the institutional barriers Asian American actors must and have yet to overcome in the American film and television industry. At the same time, Kung uses GQ's narrative to individualize the Asian American, who throughout his history in this country has been stereotyped into one or two set roles. Through GQ's journey in the film, viewers are able to see that he is not the model minority at all and is in fact the complete opposite—he becomes an unlikeable person.
After being fired from the sitcom, GQ struggles to find a job, so he attempts to sleep his way into the business. He starts dating none other than Lebowitz's casting director, Rachel Cohen (Heather Mazur). Unfortunately for the both of them, Cohen is fired for dating GQ, landing the couple into financial debt as GQ still can't get a job despite Cohen's connections. GQ continues with the relationship, even selling his Lamborghini and proposing to Cohen, until the role he was sure to get was given to Kim.
In another scenario exposing the barriers against Asian Americans in the entertainment industry, GQ was accidentally told that he got the role: he was mistaken for Kim. GQ tries to salvage his career by sleeping with movie star Whitney Lake, who would've been his costar in the movie. During intercourse, GQ is unable to perform, a metaphor for his life and career. Afterwards, he admits to Cohen that he never loved her and leaves, finally accepting his fate as a horrible person and failed actor.
As GQ is shown leaving the entertainment business for Taiwan to work for his family's semiconductor business, Kim is shown along with other aspiring Asian American actors outside yet another audition.
While real-life actor John Cho's career trajectory hasn't exactly paralleled GQ's, with the cancellation of his newest sitcom, he a real life example of the leading man.
Cho gained national fame with the role of Harold Lee in the Harold and Kumar stoner film series. In the film, Cho's character isn't offensive in itself, but the movie shows other non-title characters insulting him because of his outward appearance.
Outside of the Harold and Kumar films, Cho has also appeared in various films and television shows playing both the explicitly Asian and non-Asian roles. In some roles, his Asian identity is only represented in name and the treatment he receives from others (Harald and Kumar) and in some, this identity is shown along with a culture (Justin Lin's Better Luck Tomorrow).
Cho became the first Asian American male lead in a romantic sitcom in his most transcendent role yet—playing Henry Higgs in the now cancelled ABC sitcom Selfie, inspired by George Bernard Shaw's Pygmalian and the musical adaptation, My Fair Lady. Henry Higgs is an Anglo-Saxon name and only once in the show's 13 episodes was Cho's race or ethnicity alluded too, and that was in the latter half of the series. Thus, Higgs isn't introduced to us as Asian but simply an uptight workaholic who decides to help self-centered and social media obsessed Eliza Dooley (Karen Gillan) get likes, favorites, and friends in real life. As a marketing representative for a pharmaceutical company, he is known for remaking brands. While remaking Eliza, the two unintentionally become close friends.
While the show's title and pop culture references may have deterred viewers and led to its cancellation, the chemistry between Cho and Gillan is, for lack of a more intellectual word, amazing. With each episode, the characters learn and appreciate each other more and more, with a romantic relationship between the two almost happening but never coming into fruition on air (The series finale didn't give viewers a definite answer on the relationship status of the two and left it up to viewers to decide).
After ABC's cancellation, Watch ABC and Hulu, online video services, announced that they would broadcast the remaining episodes in which Higgs and Dooley's relationship become more intense (While a relationship between the two was hinted at on episodes that aired on ABC, Hulu and Watch ABC aired the episodes where the two characters actually and openly considered dating the other). Yes, online streaming services are becoming more and more popular, but unlike House of Cards, a Netflix original series, Selfie will not continue pass its allotted episodes, and more than likely the episodes aired online will not be seen by the masses.
Thus it is a shame that interracial relationships between a white woman and an Asian male cannot exist on national television and can only exist in the less seen and independent circuits, as in A Leading Man and another film that premiered at the Virginia Film Festival, I'm Obsessed With You, raising the question of how far America has really come in regards to racial equality.