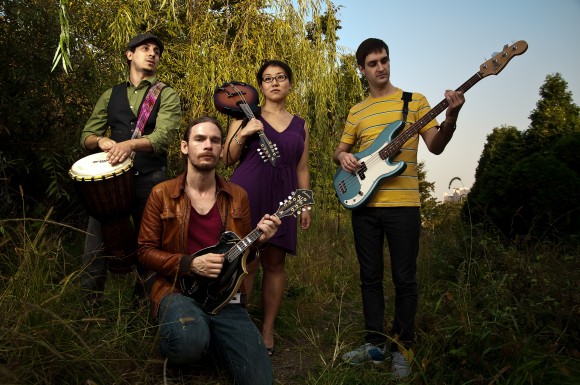 Earlier this month, Gadfly Online was lucky enough to talk to all four members of the Korean-based "psych-fi sci-folk" band, Language of Shapes, composed of four expat English teachers, Tristram Burden (vocals, mandolin, French horn), J.E. Seuk (vocals, mandolin, flute), Courtland Miles (bass), and Bobby Goldberg (djembe), who even challenged us to characterize their music after we posed that question to them.
I take on that challenge and characterize Language of Shapes as a band who is very passionate about what they do: "We all love music in that it's chocolate on our tongue; it's blood beats to our dance, pulsing through our dreams: it's love," and I would characterize their music as tribal beats intertwined with deep and meaningful lyrics. Continue reading to learn more about the band that truly exemplifies the Washington Post's description of Gadfly Online as odd, eccentric, and eclectic and be sure to check out their album, Mother Mountain, out now!
Gadfly Online: Can you provide us with some background? What made you pursue a career in music?
Tristram Burden: Failing at writing! Actually, not a fail, more an anti-climax. I got published—something I had wanted since I was ten years old. Some kind of nascent naiveté nurtured the belief that said event would transform my life. This did not happen. Nothing changed. The sense of 'I made it!' slowly diminished to a lingering puzzle of where exactly I had made it to, so the writing stopped and the immense void left from so much time spent on writing a novel was gradually filled by music finding its way out—and there was a lot of it. It had been totally ignored for some years while writing took precedence, so it was like a build up and then an outpouring. That led to some very dramatic changes and led me to consider carefully my perceived limitations and how they might be transcended. Mom and Dad had both made a career out of music, so it seemed possible and probable.
GO: Where are you from?
TB: Different shores. I'm from around the UK. Born in England, but we moved around a lot: to Scotland, Yorkshire, and Northern Ireland. Dad was a retired French horn player, and he'd made his mark playing with the London Symphony Orchestra, the Beatles, Dizzy Gillespie and on every James Bond film up until 1979. He needed to go where the work was. He was a man of advancing years with a young family; I guess it kept him on his toes. Maybe he was afraid of staying too still.
J.E. Seuk: I'm from Manhattan with time served in NJ, upstate NY, and Chicago. My family moved around a lot too for the immigrant reasons of money and schools. I graduated from Columbia, and being surrounded by all the immense talent in NYC, convinced me I was only qualified to appreciate music, not make it, so I feel incredibly lucky now to be a part of this marvelous beast that is Language of Shapes on the other side of the world.
Courtland Miles: I'm from Northern California. I was born in and grew up outside of Sacramento in various outlying cities. I've never lived outside of California until now.
Bobby Goldberg: I'm from a different country entirely. Um, I don't know how to describe it, but New Jersey is the most accurate; hints of Brooklyn and a wonderful spell of west Boston. I'm from the woods, and I'm a child of the sun.
Why did you decide to move to South Korea? How did you guys meet?
J.E.: We all moved to Korea to teach English. I came for the additional reason of needing to experience my motherland; I grew up a bit of a Korean American banana (you know, yellow on the outside, white on the inside). We all met here at different times and became friends in the countryside province of Gangwon-do. It was random luck that brought us together. Serendipity. Or possibly sorcery.
TB: That's exactly how I ended up here. A very distinct voice from a surprise, completely intangible visitor told me to go to Peru—I investigated a little and it seemed like it could work out quite well. I took a course there in teaching ESL, travelled around Bolivia, and then found myself looking for a job in Korea, all the while writing more songs and learning how to sing and play guitar simultaneously. Something I had a lot of trouble with until the sorcery.
CM: I had studied world history in college and was particularly interested in the Cold War and its legacy. I floundered around a bit after college and decided to try out living in Asia and putting that ole college degree to work. I didn't care where I ended up and found myself taking a job in a small city on the east coast of South Korea knownfor its mountains and beach. I went to the local open mic, where the foreigners in town would meet up, and saw Tristram perform a song on his guitar called "Little Burnt Soldier." I was taken aback by his sincere songwriting, relentless strumming, and crooning vocals. After that, I chatted with him at a local bar and stayed in touch and eventually found myself some time later asking if I could join his small group he was starting up.
TB: That's how it happened? You had to ask me? I didn't ask you? I'm such a dick.
GO: How would you characterize your music? Do you fit into a stock genre or create a fusion of genres?
TB: Not at all a stock genre. Genre is the last thing on our minds when we're making music. We come out however we sound and may it always be so. Our music characterizes itself. Sometimes we sound a bit like Midlake; the other day we sounded like Miami Sound Machine; then people hear us and tell us we sound like Dead Can Dance. Different people hear different things, and we like it that way.
CM: I'll reiterate what Tristram said. We don't write songs with preset genres or rules in our heads. If something works, then it works. I've had people say we sound like this or that, or I've had people invent their own genres when trying to categorize us. I'm always just like, "Cool, man."
TB: That's really how the term "psych-fi sci-folk" came about. It's completely meaningless and 100% unmarketable, but it definitely describes certain aspects of our music.
J.E.: I would turn it around and ask, 'How would YOU characterize our music?' Not because I'm trying to be a dick but because, um, I really don't know.
BG: The music we've produced and the sound that we are slowly marrying; but you guys don't even know what comes out of us sometimes…It's some backwater, Louisiana bayou swamp gas voodoo for the hips and the legs, and the twisting, and the shouting. It's all together all right. When Tristram picks up the bouzouki, J.E. gets in a call and response kind of mood, and Courtland juts his chin out and that twinkle in his eye starts shining… Well, say no more, say no more.
GO: Who would you cite as your musical influence?
TB: Not an easy question to answer. There are loads of different artists who contribute different things. The Fall and Mark E. Smith for their endless and fearless inventiveness and just not giving a fuck. Lyrically, Leonard Cohen and Current 93. Gregg Dulli and the Afghan Whigs generally; Dinosaur Jr. J Mascis is my personal guitar hero and an amazing vocalist without seeming like he's even trying. Wim Mertens has a particularly strong presence as an inspiration, along with Michael Nyman. Everything non-verbal I ever want J.E. to sing is often inspired by their pieces. And Bauhaus, particularly the album The Sky's Gone Out – I don't think Language of Shapes would sound anything like we do if Bauhaus had never recorded and released that album. But Scott Walker and David Bowie probably have the biggest impact of all. They are deep in touch with their own genius.
CM: Yeah, just way too many for me. I'm like many people who got into music. I was introduced to classic rock and whatnot by my parents, listened to a lot of punk and heavy metal that my friends were into, and discovered some indie and old school stuff on my own. I was and still am also heavily influenced by the distinct and unique Northern California music community. I fondly look back on the days when I was right out of high school and driving with a car full of friends to Sacramento or the Bay Area to catch whatever show we just heard of through word of mouth, flyers, or the Internet. I had always liked music, but I guess that's the time when I really developed a love for music and the incredible people who make it. Witnessing first hand that kind of artistry and creativity taking shape is great. Everything was crazy new to me, and my friends and I were introducing each other to some new group or artist almost every week. That intense love for music has waxed and waned over the last twelve to thirteen years, but it's always been there in the back of my mind. Coming to South Korea, it's just exploded again over the last five years.
BG: My influences have always been the artists I'm playing with at the moment. I'm inspired by my surroundings and the alcohol content of the people around me at the time.
J.E.: I listen to a lot more opera and jazz standards than these boys do. I'm a 45-year-old gay man at heart.
GO: What project are you promoting right now? How does this fit into your overall career arc?
TB: Career ark? We'd really like one of those. If we had one, anything could fit in there; it would be huge. We could save thousands of people AND keep our career afloat when the world floods and the sky goes out. Let's get back to that; we're promoting our album, Mother Mountain—the first single, "Stitches," got a lot of love, and the album's been getting high praise beyond all expectations. Actually, that keeps us afloat enough; we have no need for ark.
CM: I'm along for the ride, dudes.
J.E.: Man, there's always a need for an ark. Anyway, we're following up our "Stitches" music video with a new single "Light On," and we've already started slowly recording our third album. It takes some time for us to complete an album since we've all got day jobs as English teachers in South Korea. We're happily ensconced in this beautiful land of mountains and kimchi for now, meeting fine folks and playing lots of gigs and squeezing in recording sessions whenever possible. We're lucky Tristram can record and produce us in our apartment. It gives us the luxury of accommodating everyone's schedules and personal preferences for recording with or without pants on.
What do you hope to communicate to listeners through your music? What does music mean to you? 
Who is your music geared towards? The U.S.? Korea? How is it impacting them? In other words, why should we listen to your music and message?
J.E.: Oy! These are hard questions to answer precisely. Let me explain it this way—we all love music in that it's chocolate on our tongue; it's blood beats to our dance, pulsing through our dreams: it's love. But the way I think of Tristram, it's not just love so much as it's his survival. Existence. Breath. Living with him, I see how his limbs and fingers itch restlessly when they're not playing an instrument; how new threads of music are insistently haunting his birth canal…You know how some bands struggle for material to put out their next album? We have a horribly huge, marvelous backlog of songs we just haven't had the time to use. Tristram is an endlessly prolific and brilliant songwriter. We're doomed and we love it, so basically what I'm trying to say is that there is no gearing of the music. It simply is, but if you're looking for some new sounds in a familiar embrace—dark and hopeful post-apocalyptic songs of destruction and love—well, baby, this one's for you. The lyrics speak to what's happening around the world, the deterioration and the disconnect, and the need for something more, but then we see some Koreans in our audiences who don't understand a lick of what we're singing, and they're grooving to our music in a visceral way. That does our hearts good.
TB: Natch. What can I even add to that?
BG: Music is a way for people to access emotion without the cage of words restricting them. The words Tristram chose are really provocative, and I consider them highly suggestive lubricant. His lyrics are the spine of my rhythm. Take a bath in his blood and get to know him. Our instruments will help you. Welcome.
CM: I don't personally think our music is geared towards any one type of person in general, but of course certain personalities and minds flock to certain kinds of art. I think there is a message, but one can also take away from the music whatever they want. I just hope folks aren't bummed out by any of the themes or lyrics. We sure as hell aren't when making this stuff.
TB: True. A lot of our most serious sounding songs are actually meant to be funny.
Can you tell us the story behind your name, "Language of Shapes?"

J.E.: The earliest incarnation of LoS was a mandolin trio of Tristram, Kim Brigner, and me. We were three friendswho came together over guitars and flutes and Leonard Cohen covers, but when we all randomly bought mandolins in Korea in 2010, magic and hormones exploded into rainbows and we became a band family. Now every family needs a name, and we were sitting around on Tristram's coffee and nicotine-stained bedspread tossing around some truly terrible band names and staring at each other dumbly.
TB: I don't even remember what other names we suggested. Sabazius Christ and the Spiral Monkeys?
J.E.: And then I told them about this vivid dream I'd had, where I was drifting about in an ether of endless floating shapes, a lone human surrounded by circles talking with triangles, a spiral chatting with some shape that only made sense in my dream, and I was just floating and chilling and politely eavesdropping. And then my dream-self had this epiphany: holy shit, I understand what they're saying…I'm a human who can understand the language of shapes! It was the coolest dream-feeling ever.
TB: And I said, "That's it, that's the one. We're Language of Shapes."
GO: What can we expect from you in the future?
J.E.: Even fuller orchestration! We recently added a guitarist friend to the mix, the incredible Patrick Mackay. One of us, one of us—he's now officially part of this band of freaks. No take-backsies. And we're hoping for some talented fans to come banging down our door, wanting to make us some music videos…that would be pretty sweet.
TB: You can expect excessive productivity, extreme busyness, and international appearances. We have one more planned single from Mother Mountain, and we're setting to work on new recordings. We want to have the third album out well before the end of this year, so we have some work to do. We're also touring the UK in the summer. That'll be a blast.
CM: And lots more music, hopefully some world tour dates in various locations. I've always dreamed of being able to travel and play music. It'd be great to make tons of new friends, share a stage with them, and just hear their stories and ideas.
J.E.: Also, more privately pants-less recordings.
TB: Definitely more of that. Hunter S. Thompson wrote wearing lipstick and a dress. We like to record in theopposite direction.
BG: It would be lovely for us to find ourselves together on a random patch of land somewhere atypical, but ideal, washing each other's backs in some uninhabited stream, getting our minds ready and growing out our beards, like the great Frank would have liked us to. To Frank.
Listen, like, and learn more about Language of Shapes:
Store | Website | Facebook | Twitter | Soundcloud
"Stitches" music video: https://www.youtube.com/watch?v=I8Q46zeVg_Q
"Light On" single: https://soundcloud.com/languageofshapes/light-on