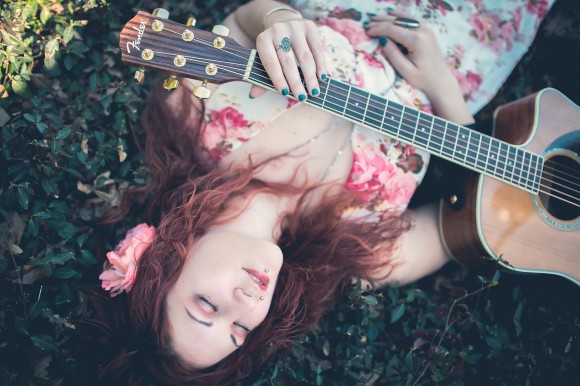 Meet Meghann Wright, an emerging singer/songwriter based in New York. Meghann has a background drenched in culture, extending beyond music and the arts and encompassing food, people, and places. With her cultured background it is no wonder Meghann transgresses "genre boundaries," surpassing established sounds and creating music that stands on its own. Meghann hopes to move listeners with her music, assure them that they are all part of a shared human experience. She finds beauty in music and hopes others find the same. Continue to learn more about Meghann, her influences and other projects, in the interview below, and be sure to check out her music video for "Left My Heart in Brooklyn" here.
Gadfly Online: Can you provide us with some background? Where are you from? What made you pursue a career in music?
Meghann Wright: I grew up on the west coast of Oahu in Hawaii. It's a melting pot of different cultures, ethnic groups, and art. My love of exotic foods, the ocean, and people coming together from all walks of life to celebrate anything and everything stems from my upbringing on the island. I went to college in New England where I studied film and theatre production and minored in music. I was constantly in at least 3 music-related projects at once. After graduation I found myself taking day jobs that weren't very artistic just to make ends meet and I spent more and more time on my bands. It was then I realized I needed to make music my career if I wanted to be happy so I moved to New York to try my hand at it. For the first few years in NY it was tough, I tended bar, cooked in restaurants, even nannied children so I could continue to play shows, write and record new material and chase my dream of making a living solely off of the music I make.
GO: How would you characterize your music? Do you fit into a stock genre or create a fusion of genres?
MW: My parents are both deep lovers of all kinds of music. I was raised on everything from rock to jazz. My dad took my siblings and me to rock shows at very young ages, and my mother (a trained opera singer, classical pianist and concert flautist) was always performing. I studied saxophone for most of my formative years. In high school, I got interested in subgenres like punk rock, indie and hardcore which led me exploring guitar and bass. In college in New England I joined bands with my friends and taught myself to play different styles of guitar and bass, anything from pop to metal. Now as a singer / songwriter, I have the freedom to write a song in any genre I want. When I start writing, I don't feel like I have to craft the song to fit any guidelines whereas when I was in bands I would have to write to fit the style of whatever we were going for, be it death metal, dancey indie pop or bluegrass. I can let the song take whatever shape it wants.
GO: Who would you cite as your musical influence?
MW: There are so many! I have a rich background in metal and indie rock. Bands whose members wrote together to create definitive sounds were important to me growing up. But I can say that in my current state I am looking to powerful, independent singer / songwriters like Prince, Elvis Costello, Tori Amos, Jason Isbell, Dolly Parton, Tom Petty and Kate Bush. These artists craft timeless songs that grab you by the soul and never let go. And they don't let things like genre boundaries get in the way of their art. They just make incredible music.
GO: What project are you promoting right now? How does this fit into your overall career arc?
MW: I am constantly working on many things at once so I am never just promoting one thing. I spend hours a day working on every aspect of my career from writing and recording music to booking shows, to creating promotional materials, to updating social media accounts, networking, everything. You name it, I do it. I even help do it for other artists in my organization The City & The Heart, a community I founded to provide support for other independent female singer / songwriters in New York. I guess the biggest projects I am working on right now are recording four new songs to be released as an EP later this year or early next year, I am promoting my new music video for "Left My Heart in Brooklyn" we premiered on The Alternate Root September 22nd, and finally my month-long US tour in November with fellow New Yorkers THE GREEN GALLOWS. Dates for this tour will be announced Monday September 29.
GO: What do you hope to communicate to listeners through your music? What does music mean to you?
MW: To me, this is by far the most important aspect of what I do. Being a human means struggling. It means yearning, falling down, getting back up, failing, succeeding, flailing, breaking down, growing. We all experience the same challenges, the same pain, the same joy: it's the same play with different characters. I think all musicians know that. Life is bitter and life is sweet. I feel it is part of my calling to let people know they are never alone. No matter what we are going through, no matter how much it hurts or how scared we feel and hopeless things seem, there is always beauty in the world. It is up to us to learn that and cherish and celebrate it.
GO: What can we expect from you in the future?
MW: No matter what happens in my life, I will always make music. Of course like most people I have a vision of the way I would like things to be, but also like most people, I realize we cannot know the future. I promise I will always work hard to make like better for others, to try to bring people together, and to have a song for everyone who needs one.
For more information about Meghann Wright go to www.meghannbwright.com