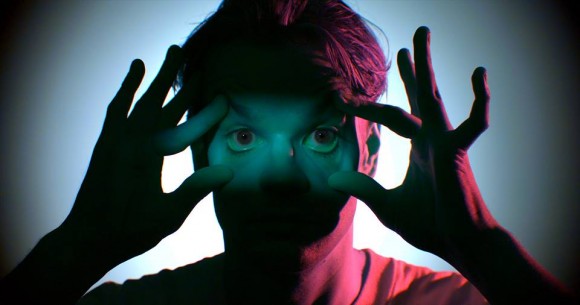 After writing, producing, and mixing hits for artists like Gym Class Heroes ("Stereo Hearts"), Lana Del Rey ("Video Games"), and Cash Cash ("Take Me Home"), alt-rock psych-pop artist Sterling Fox is ready to "shape the perception of what his songs actually mean and derive recognition from its popularity" with the release of his debut album Cheerleader Heaven this year. In preparation for the album release, Fox has planned to release a new song each month. You can check out one of the tracks, a cover of Radiohead's "Creep" here, and continue reading our interview with Fox to find out what his songs mean to him and more.
Gadfly Online: Can you provide us with some background? Where are you from? What made you pursue a career in music?
Sterling Fox: I grew up in Stoystown, Pennsylvania in the states. It was a very small town, so I was forced to use my imagination from an early age for entertainment. I took piano lessons at the age of seven and in my free time made recordings on cassette tapes with my brother – my earliest foray into the world of recording. Music and songwriting in particular seemed like a natural fit for me and was a good way for me to express myself. I went to university for music technology and classical piano and after that, I moved to New York City to give it a proper go. From there, I worked my way up the musical totem pole.
GO: How would you characterize your music? Do you fit into a stock genre or create a fusion of genres?
SF: The music I make often is dictated by my whims. Some songs may be brooding and tragic while others could be excitable and manic. I think on the whole though, you could say my music is alternative rock/pop. I'd like to think it has catchy melodies and isn't completely detached. Some of my friends have started calling it psychopop.
GO: Who would you cite as your musical influence?
SF: I'm influenced by a lot of older music – classics. Queen, Bowie, Lou Reed, Sparks, Paul Simon, etc etc. Newer stuff I've been liking lately: Father John Misty, St. Vincent, Tor Miller, MNEK, Tennyson.
GO: What project are you promoting right now? How does this fit into your overall career arc?
SF: I'm releasing a song every month for the foreseeable future…building up to my debut album Cheerleader Heaven. Last month I released a brand new song "Freak Caroline" with a video. This month I put out a cover of Radiohead's "Creep." In May I'll be putting out another new original song.
GO: What do you hope to communicate to listeners through your music? What does music mean to you?
SF: I hope to communicate the way I feel both in isolated moments of emotion and on a larger scale, sentiments about society as a whole. Each individual song is like a short film and can be taken in its own context. When you put them all together and try to find a theme, I think some words that come to mind might be angst, heartbreak, anti-consumerism, satire, and lowbrow humor. Some of the tunes pivot to find happiness with more important basics in life – love, friends, humor, etc.
GO: What can we expect from you in the future?
SF: Be on the lookout for a bunch of new songs and a new album. Also this summer in June, I'll be doing a New York City subway tour. Each day I will be playing a different subway platform in the city, which will be announced the night before.
GO: Whom is your music geared towards? How is it impacting them? In other words, why should we listen to your music and message?
SF: You should listen to my music if you enjoy it and if it says something meaningful to you. I don't really subscribe to making music to convey broad emotions – that's car commercial shit. Life is too complex. There are too many degrees of happiness or sadness to boil down songs to a basic emotion. My music is written for people who are interested in digging into complexities. I'm not betraying good melodies and catchy tunes, but I do want to make pop music more intelligent.
GO: As a writer/producer, how does it feel when a song you have written is received well?
SF: It can feel good, but you can also grow bitter. The worst is when you write a song that everyone knows, but you have no ability to shape the perception of what the song actually means or derive any recognition from its popularity. Walking into a deli and hearing your song playing on the radio is amazing…until you realize you're in a deli ordering cheap snacks while somebody else is performing your song to thousands of people and getting all the glory while you're ordering sour patch kids. In the end, it's actually a bit tragic.