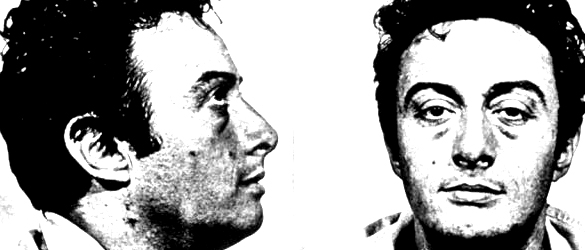 From the archives of Gadfly Magazine®
Saint Lenny…died for our sins.—Eric Bogosian
Dizzy Gillespie, the great jazz trumpeter, once said of Louis Armstrong, "If it hadn't been for him, there wouldn't have been none of us. I want to thank Louis Armstrong for my livelihood."
In similar fashion, a long and growing list of comedians—actually, social satirists—owe a great thanks to Lenny Bruce. These include Richard Pryor (who came closest to meeting Lenny's standards), George Carlin, Eddie Murphy, Chris Rock and an emerging number of young black and Hispanic fearless, funny commentators. Bruce opened the doors not only on the way we live, but also on the way we often cover it up.
For Lenny Bruce, however, this was a pyrrhic and posthumous victory. His many arrests around the country for alleged obscenity culminated in a trial in New York City. Before the trial started, Lenny told me, "If this bust holds, my working life is over because if you're convicted in New York, club owners everywhere else are not going to take the chance of booking me."
Although Lenny was convicted in 1962, he never relinquished his faith—his obsessive faith—in the First Amendment. He was certain that a higher court would liberate him from the police and prosecutors who pursued him like an army of Inspector Javerts.
In his room at the no-star Hotel Marlton in Greenwich Village, I could hardly move without stepping on the legal briefs and constitutional law books on the floor. Others were on the table and chairs. And in the few gigs he did get after his New York conviction, his "act" was his First Amendment case. He got a lot of laughs from reading and commenting on the transcript of his trial. But as those marginal engagements faded away, Lenny became more depressed and bewildered. Could the Constitution have let him down?
In the months before he died on August 3, 1966, he had no jobs and spent his time writing about his case. On the day he died of an overdose on morphine, he had found out that he was going to lose his home. Ralph Gleason, a San Francisco journalist who first told other writers, including me, about Lenny, was convinced that the overdose was not deliberate. "Lenny kept insisting," Ralph said, "that he and the First Amendment would win." And they did. A mid-level New York state court reversed Lenny's obscenity conviction in February 1968, and the state's highest tribunal, the State Court of Appeals, confirmed that reversal in January 1970.
In the years since, books on Lenny and such documentary films as the Oscar-nominated Lenny Bruce: Swear to Tell the Truth by Robert Wade have established Lenny Bruce as not only a paladin of free speech but also a still-penetrating, woundingly hilarious speaker of truth to the powerful and the complacent. In my view, he is the equal of Mark Twain.
As Ralph Gleason wrote, "Lenny utterly changed the world of comedy." But not only comedy. He was an ethicist, an increasingly rare phenomenon among public figures in any field. Lenny, who was Jewish, would ask an audience how a Jew could mourn the murdered in the concentration camps while having no sense of personal guilt at all about those human beings killed by America, long distance in Hiroshima. Lenny wanted to open all the doors. Or, as Pope John XXIII said of the Catholic Church when he took office, "Open the windows!" Lenny believed that if people didn't use language to conceal from themselves what they actually do, and want to do, life would be a lot more open and flowing. And there would be considerably more pleasure—even for those for whom that word was hedged with restrictions that its transformation into experience was guardedly limited.
What first attracted the alarmed attention of the whited sepulchers in authority was Lenny's use of such words as "tits and ass," "fuck" and "cocksucker." Like Mark Twain, though more boldly, he used the language as it was actually spoken in private. When he was busted in San Francisco for using "cocksucker" in a skit, the arresting police sergeant said to him, "I can't see any way how you can say this word in public. Our society is not geared to it." Lenny looked at the sergeant and explained, "You break it down by talking about it."
One night, at the Village Vanguard in New York where he often worked until his fateful arrest at another club in the city, Lenny came on the stand and looked at the audience—which was more multicultural than was the norm in those days with regard to race, gender, sexual practice and ethnicity. Suddenly Lenny said, "Any niggers here tonight? Any spics? Any kikes?" The audience froze. What dybbuk had gotten into him? "Why do you let words paralyze you?" he asked. Then he began to merrily dissect those—and other unpardonable—words as to their origins and use to deny individuality.
My favorite Lenny Bruce number began with Christ and Moses returning to earth. They were standing in the back of imposing St. Patrick's Cathedral on Fifth Avenue in New York, watching then Cardinal Francis Spellman—a fierce foe of "obscenity" and the lead strikebreaker in an action by cemetery workers at a Catholic cemetery. The Cardinal dug the first spadeful for a new grave. Christ says to Moses, "My visit took me to Spanish Harlem where there were forty Puerto Ricans living in one room. What were they doing there when this man"—Lenny pointed to the Cardinal—"has a ring on worth $10,000?"
This observation infuriated the city's District Attorney, Frank Hogan, much revered by the populace and most of the city's judges. A devout Catholic, Hogan began to inquire about assaults that this heathen had made on the standards of the good, God-fearing members of the community. Hogan then decided to prosecute, but some members of the staff dared to decline. Another, Gerald Harris, tried unsuccessfully to persuade Hogan to drop the case. Harris then presented it to the grand jury, which, to Harris' dismay, voted to file charges. He went to Hogan and said he could not, in good conscience, go on with the case.
But Richard Kuh, an ambitious assistant D.A., was eager to take on Lenny Bruce. The chief witness against Bruce was Herbert Ruhe, an inspector for the city's licensing division and a former C.I.A agent. At the Café Au Go Go in Greenwich Village, Ruhe took notes on Lenny's performance, which he read from at the trial. (By the way, Ruhe told me later that he was just doing his job, that he had nothing against Lenny.)
Lenny was in a state of desperate frustration. He begged—he literally begged—presiding judge John Murtagh for permission to do his own act and not have it dismembered by an agent of the prosecutor.
"This guy is bumbling" Lenny told me, "and I'm going to jail. He's not only getting it all wrong, but now he thinks he's a comic. I'm going to be judged on his bad timing, his ego and his garbled language."
An unusual witness for Lenny was the syndicated columnist Dorothy Kilgallen, an active Catholic and political conservative. But she had a keen sense of humor and had attended some of Lenny's club gigs in New York. In taking the stand, she was treated with great respect by the judges and court attendants. Kuh, the Torquemada-like prosecutor, had put together—out of any context—all of Lenny's "dirty words" from the tape of the Café Au Go Go performance, which Bruce was not permitted to give to the court in his own way.
Kilgallen, demurely dressed, wearing white gloves, sat coolly on the witness chair as Kuh circled her and then, in a loud, accusatory voice, roared a barrage of "dirty words" at her. Pouncing, he shouted: "You say that Mr. Bruce is an artist of social value. What is your reaction, Miss Kilgallen, to these words—these words—he used in his act?" Dorothy Kilgallen looked at her gloves, looked up at Kuh and then, with precise constitutional logic, said: "They are words, Mr. Kuh. Words, words, words."
I was another witness for Lenny. But I was not wearing white gloves. I had a beard and was known as a writer for the "alternative," left-leaning, decidedly counter-cultural Village Voice. As Kuh approached me with menacing disdain, I tried to moderate my acute distaste for him. "Is it not true," he thundered "that you have written a book praising a man who advocates draft resistance and other forms of civil disobedience? Is it not true that this lawbreaker has been arrested and imprisoned? Is it not true that his name is A.J. Muste?"
My publisher had done no promotion for my book, Peace Agitator: The Story of A.J. Muste, so I was delighted to confess my authorship and give the title to members of the press in the courtroom and the jurors. Muste, a minister, was a pacifist who was much influenced by Mohandas Gandhi. Dr. Martin Luther King, Jr. had told me that while he was in theological school, a visit to his class by Muste had persuaded him of the power of nonviolence. Muste was an adviser to King in the civil rights movement and was a key strategist in the campaign to get the United States out of the Vietnam War. As Kuh glowered, I said that I indeed much admired A.J. Muste.
In the course of the interrogation, Kuh asked me: "What would be your major field of reputation, such as it is?" (emphasis added). He was to find out later that I had some credibility as an investigative journalist.
During the years after the trial and Bruce's conviction, Kuh's reputation became somewhat damaged as Lenny's—posthumously—grew. When Frank Hogan, much gratified by Lenny's initial conviction, died, Kuh expected, with reason, to succeed him in the next election for that position.
I began writing a series in the Village Voice on Kuh's qualifications for that office. I interviewed former and present colleagues of his in the district attorney's office and other members of the legal community. After the third article had appeared, I got a telephone call from a much-respected former United States Attorney, Robert Morgenthau, whom I had never met. He asked me if I could vouch for the highly critical facts about Kuh in the series. I told him I'd be glad to send him my backpack material and notes. Morgenthau said he had not intended to run for District Attorney but now he was thinking of going against Kuh in the race. Morgenthau did, he won and is still in office. On the night the returns came in, I said to my wife Margot: "This one's for Lenny!"
The effect of Bruce's prosecutions—even before the New York trial—was international. He was becoming known in other countries as a social critic and an illuminator of the mores, pretensions and evasions of a considerable section of American society, particularly its enforcers and interpreters of the law. As Ralph Gleason noted, "He tried to perform in Australia but was evicted before he could perform. He was invited to the Edinburgh International Drama Festival, but the British government refused to let Lenny enter the country."
Lenny could not understand why he had become an international pariah as well as a criminal at home. "What I wanted people to dig," Lenny used to say, "is the lie. Certain words were suppressed to keep the lie going. But," Lenny insisted, "if you do them, you should be able to say the words."
For example, he would add, "An out-of-town buyer checks into a hotel, goes up to his room and decides he wants a hundred-dollar prostitute. He makes the call, and a few minutes later there's a knock on the door and a bearded writer comes into the room."
Occasionally, a friend who was concerned about what was happening to Lenny—his decline in health and his despair at not being able to work at his calling—advised him to use his considerable comedic skills in a less controversial, less threatening way. Said Lenny: "You know anything about anybody but you. Just live in that thing. You always live alone. You're always in there, even with your wife. That's why I can't sell out. That is, so long as I stay honest with myself. And that's why I'm somebody different each time out. I keep changing. I'm not bragging about this but—well, it exists, that's all I'm telling you."
At Lenny's sentencing, Assistant District Attorney Kuh, speaking in the name of The People v. Lenny Bruce, said to the court:
First, as to the defendant Bruce:
I'm here at the direction of the District Attorney, Frank S. Hogan, and ask on behalf of the people of this county that the defendant Lenny Bruce's sentence be one of imprisonment.
May I say in support of that request, if it please the court, that apart from the defendant Bruce's conduct prior to the trial, the defendant Bruce—throughout the trial and since the trial—has shown by his conduct complete lack of any remorse whatsoever.
In a letter to the editor of The New York Times published on October 10, 1990, Lester Block wrote: "It was tragic to see arguably the most brilliant comedian of our time destroyed by the society whose freedom he was vainly trying to protect."
It was not entirely in vain, though, as you can hear in his disciples on television, in clubs and in movies. "The crime I committed," Lenny said, "was pulling the covers off 'respectability,' which means 'under the covers.'"
Lenny's mother, Sally Marr, a forthright believer in pulling the covers off, remembered this conversation with her son:
Lenny said, "You don't understand, I'm not a comedian." I said, "Oh, you're not?" He said, "Do comedians get arrested? All the time?"
Lenny once got a note from an Episcopalian minister: "Thank you for caring so much about life." And that, of course, as Lenny knew, was what did him in.
—-
This article was first printed in the March/April 2001 issue of Gadfly Magazine®.