The Dirty Gems' "Insomniac"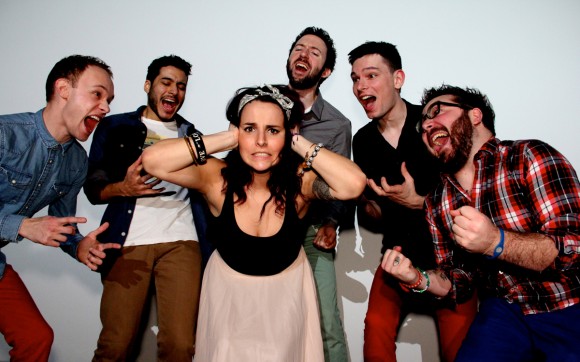 Chill like a lazy weekend afternoon, The Dirty Gems' soulful new single "Insomniac" laments about those instances in which all we want to do is live within our dreams. Lead singer Raycee powerfully captures such a moment with her strong, bluesy voice, and is backed by instrumentals which take cues from ska, blues, rock, and pop. "Insomniac" quickly oozes into your heart and dreams, enveloping you, and making you wish you had more. With so many diverse influences from the six band members, this single from The Dirty Gems' will genuinely appeal to most anyone.
Raycee explains that the song, and the band in general, seeks to do just that, to universally appeal through sound and experience. For example, she says that they were first inspired to write this song when they were performing to an audience that included both fans and members of the industry. As they looked out into their audience at the end of the show, they found that those guests of the industry just did not "get" the show, whereas the rest of the audience was having a great time. Raycee concludes that it was just one of those moments where all they wanted to do was live in their dreams; it was one of those experiences, they concluded, that everyone faces at some point. 
Raycee describes The Dirty Gems as truly unique for having put together multiple, sometimes even disparate styles and made it work; they have made it fun. She gushes that all they want to do with their music is make people happy, and to get people to realize they can be their unique selves too. In reflecting on their performance at Mountain Jam one year, Raycee says that going out into the crowd showed her that they were doing just that. With evidence of people from multiple states listening to and enjoying their music, Raycee concludes that that was the moment in which she felt as if that message and their sound was truly resounding in others.
So how did they get to where they are today? Well, Raycee postulates that music had always been the plan for each member of The Dirty Gems, at least from around the age of sixteen. As each had somehow been involved in musical theater, they independently decided to participate in music at Hofstra University, which under the guidance of one of their professors, eventually culminated in their coming together as a band. In the two years since, Raycee hints at the fact that they have really grown. She admits that with six members, there were and still are a lot of influences, and so it was difficult at first to let all of those influences and ideas shine through, and still make sense. But now, she explains, they have found a way to allow that, and she inserts, that is what makes them unique. And where their music has grown, so has their friendship. While they are heavily involved in their music and jobs, Raycee explains that they always find time to hang out. In fact, their immediate camaraderie is what led to the naming of their band; with gems meaning friends, and dirty, meaning rough — as in unusual or unexpected — they charmingly encapsulated that repartee in their name.
Looking toward the future, The Dirty Gems are working hard to make the right choice for themselves and their fans. As they are currently not signed, they are considering all options — whether that is to stay independent or sign with a label. In the meantime, they have several shows in July to which we can look forward, the earliest being on July 9th at the Greene Space in NYC.
You can listen to their track "Insomniac" here.
—
Katie Lebert currently works as an Associate Editor for the Gadfly, feeling all too mature with herself now that she has the chance to dress up on a daily basis. Going into her fourth and final year at the University of Virginia as an Anthropology major, Katie hopes to work for a non-profit organization and continue writing after she graduates. In her spare time, Katie voraciously reads the books she finds at her local Goodwill.