Sarah McGowan's "Williamsburg Boy"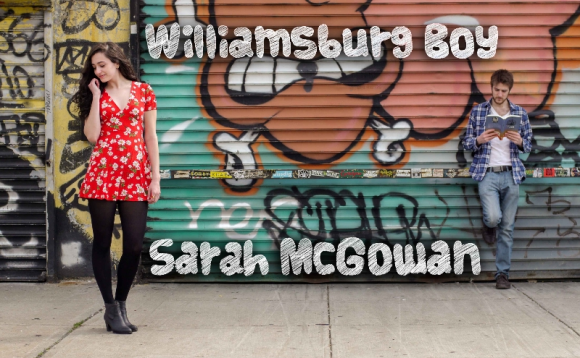 In her lament about a star-crossed crush on a hip "Williamsburg Boy," Sarah McGowan shines in this new folk-pop single. With some humorous irony on the cheesiness of love songs- stopping, for example, midway to speak "I would literally fucking die [if he changed his hair]"- this upcoming singer proves that she not only has the talent to write relatable, lovable songs like Taylor Swift or Christina Perri, but also has a friendly humility about it. Injecting even more of this humor into the song by parodying her generation — the hipster generation — McGowan shows that she has more to offer with her music than generic, mindless pop. Most importantly though, McGowan's voice beautifully croons with a brilliance and passion that suggests she is here to stay. Sarah McGowan absolutely has the power and talent to position herself within the hearts of fans of Taylor Swift, Feist, Regina Spektor, Brandi Carlile and more.
When asked about the song, McGowan explained that she had heard the chorus in her head on the subway. What had originally begun as a love song about her boyfriend, who is in reality a boy from Williamsburg, she felt the song was a little cheesy, and in turn, found herself creating a larger parody of her generation. With a range of influences from Elliot Smith, Joni Mitchell, Joan Baez, Feist, and Regina Spektor, McGowan wanted to keep the sweet, romantic essence she began with, but wanted to also venture into the edge and power of her folk and rock idols. Aptly, McGowan describes herself as "sweet with an edge."
Surprisingly though, this Connecticut girl had not originally intended to become a musician. Planning and practicing to become a doctor, Sarah McGowan found that during an externship at a hospital, she could not genuinely devote herself to medicine for the entirety of her life. Thankfully for us, she turned to music and song-writing. This new dream had culminated into a reality when at one of her first public performances, she caught the attention of a few previously-uninterested barflies as she began singing.
McGowan hopes to put together a show in the NYC area in July, but admits she is in the process of filling the holes left by her and her bandmates recent graduation from NYU. She is more eager though, for the release of her EP Indian Summer in late August. In the meantime, she plans on trying out some new vegetarian recipes she liked on Pinterest, and finding a cat with which to share her new apartment.
You can listen to her track "Williamsburg Boy" here.