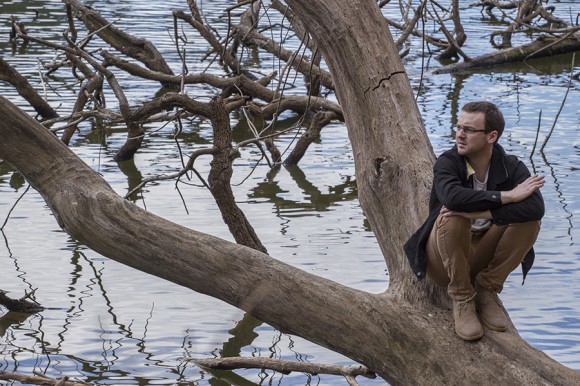 In a world of sugary pop ballads and singles encouraging us all to shake some sort of ourselves, I always rejoice when I come across an artist who writes conscientious, meaningful lyrics. That is exactly what I discovered when I came across Liam McAlary, otherwise known as Bronte, a singer/songwriter from Sydney, Australia. In addition to soulful sound and catchy hooks, Bronte's music narrates a story. It is through music that Bronte promotes political issues and engages in social commentary.
Before he was Bronte, Liam McAlary studied human rights. That decision is now shaping his musical platform. His passions in "aboriginal rights, asylum seekers and the environment" find their way into his latest EP. While not all his songs are political, he admits, "I always enjoy talking about current affairs." He thinks, "Most musicians would like their lyrics to provoke discussions even if they aren't [political]." Music is certainly a platform almost every individual participates in. So while enjoying a guitar riff or vocal vibrato, why not uncover a story as well?
So with his own background in human rights, and a continued interest in current affairs, what exactly is the goal of the EP? Liam says, "I think most people have a stance on these issues and when you explain to someone that I wrote a song about a particular issue it opens the debate. I think we need to be having these discussions all the time as they are continual issues in society." The EP is not about pushing Liam's own beliefs onto anyone else, but rather presenting relevant issues. These songs, therefore, become opportunities to listen, discuss, and understand.
With such a great emphasis on lyrics and the ability of songs to tell a story, you might wonder if sound ever takes a back seat to the creation process. That is not the case here. Liam admits, "I tend to write chords or melody first… Sometimes I have little phrases, lyrics, or words that come to me. I sometimes overhear people saying certain things, or read articles, or research topics and they can often become the basis of a song and the chords follow after." When inspiration hits, Liam gets to work.
Liam doesn't spend too much time worrying that his lyrics are getting lost in the music either. Because "the songs will always have a particular meaning to [him]," he's perfectly at ease with listeners doing what they will with his songs. He provides, "Sound is always important and having a catchy chorus or hook might mean people listen to it more and the lyrics can be explained to a far reaching audience." The sound of music always seems to be what draws listeners in first. But the lyrics – the meaning, emotion, and wider impact that song can evoke – that's what keeps listeners around.
Liam provided me with a little insight into the EP's single "Us Vs Them." When asked about the specifics behind the song, Liam explains, "I actually wrote this after watching Les Miserable the musical. I already had the chords but was searching for a good topic." Liam also reveals, "One of my favourite philosophers is Bertrand Russell, and I used one of his quotes in the song "war does not determine who is right – only who is left". This quote gave me inspiration to write the rest of the lyrics."
While Liam's inspiration stems from a particular moment and idea, the song remains open to interpretation. He states, "I feel it represents a continuous struggle of good vs. evil, two opposing sides, which is a common theme through out our society. As the lyrics don't mention specific events or situations it is story of war and conflict in general which lets the listener interpret what they think. The chorus represents a protest song. What I am trying to say is whatever you believe in, just stand tall, band together and stand by your convictions."
I had the chance to look over a copy of the lyrics for "Us Vs Them." One of my favorite aspects of the song, to listen to and to ponder over, is the chorus. It follows:
We, no we won't go, no we never will never will

We, no we won't fall, no we never will never will

We, yeah we'll stand tall, yes we always will always will

We know what we're fighting for
The chorus identifies a collective "we." A collective voice is essential in establishing the song's war mentality. There are lines drawn – comrades on one side and enemies on the other – good versus evil. This "we" implicates the listener, enlisting him as a fellow soldier. The lyrics demand that listeners engage with the topic, positioning themselves in a world divided by opposing sides.
The repetition within the chorus, "we never will never will," is a morale boost, demonstrating conviction and certainty. Repetition is pivotal in the song, not only aurally as a catchy hook, but also in terms of lyrical power. These soldiers, and by extension the listener, will stand firm in their opinions, falling to nothing.
And yet despite this conviction, which on its own could convey valor, the song presents several images of violence: hands trembling, eyes cast downward, the sound of guns drowning out screams, blood trickling down the street. It's hard to perceive those images and then walk away cheering. Listeners just felt so powerful and emboldened by the chorus. How do they reconcile the optimism with the violence?
In regards to this surfacing ambivalence, Liam asserts, "As a songwriter being able to portray your idea and being as descriptive as possible is very important and difficult at the same time. I thought it was important to portray violent images in the song, as that is reality. I certainly have mixed feelings about war. The suffering, the violent images, the stories that we are exposed to through the media or first hand accounts makes me question why we partake in war. At the same time war can be justified or accepted depending who you speak to. Considering what is happening in Australia at the moment in regards to violence, war, and terrorism everyone will form their own opinion and ideas, but I just want the song to be a point of discussion."
This song certainly provides a forum for discussion. I found myself listening to it over and over again. Yes, it sounds good, but it's also deeply intriguing. The lyric in particular "war does not determine who is right – only who is left" caused me to consider the song and its lyrics in its entirety. Yes, these men have conviction. Yes, these soldiers know what they're fighting for – any authority figure could tell them. But is it right? Or is the cause of war just a reality these men have accepted? How do individuals justify violence? Does conviction overpower bloodshed? Does valor equate to being right? These are the questions raised throughout the song, and to a larger effect, these are the questions raised in current society.
Liam, aka Bronte, will continue to provide us with these moments of consideration and discussion. He is currently touring the east coast of Australia, promoting the single before he heads back to the studio. As far as the future goes, Liam reveals, "I'm planning a big year doing a few fundraisers and I'm also going to release two [EPs] and tour again next year. The second EP will be more acoustic based and the shows will be a bit more intimate."
Until then, I encourage you all to give "Us Vs Them" a listen and contemplate the lyrics. It does a wonderful job engaging us a citizens of the world, encouraging us to consider the world around us.
---
Allison Bohan is an Associate Editor at Gadfly Online. She is finishing up her fourth and final year as an undergraduate at the University of Virginia. Allison is an English major, coffee drinker, and avid nap taker.