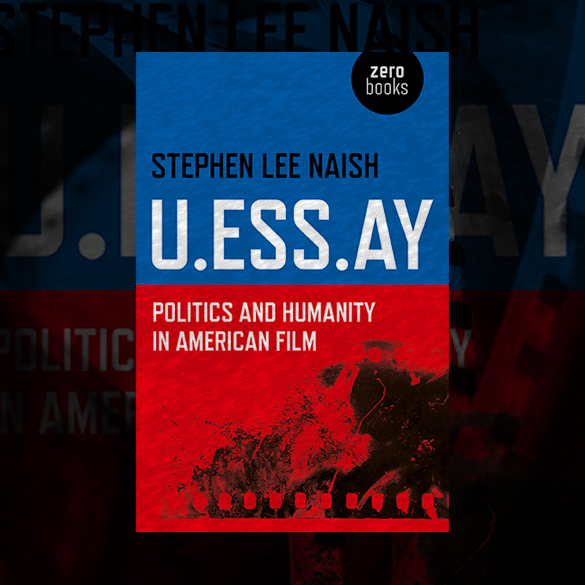 In June 2013, I received the news that Zero Books would publish a collection of my film theory essays. The book U.ESS.AY: Politics and Humanity in American Film is a slim tone of critical dissections of modern cinema and pop culture, featuring the likes of Schwarzenegger, Lynch,Shatner, Swayze, Hopper, and even Kim Jong-Il, who turns up a couple of times actually. The book is a phantasmagorical adventure in celluloid and digital film, to be, or not to be taken seriously, whatever your preference. When Zero offered me the publishing contract, I was thrilled to say the least. Not only was this publisher my first choice, they were my only choice; it was publish with them or publish with no one. By June 2013, I had been living in Ontario, Canada for just little over eight months.  I had moved there from Britain with my wife and young son in hopes of a better and more prosperous future for us all.  The Britain I had left behind felt like a very damaged place, an often stark and hostile environment, Canada of course can feel like that too, but it's an unfamiliar different and a more sympathetic stark and hostile. Cameron and Clegg's Britain, with its cuts in public services, educational restructuring, reoccurring whiff of racism, anti-Islam rhetoric, and elitist classism did not feel safe for us anymore. It was now or never. Before the move, I clung to a job as a Bookseller for Waterstones (no apostrophe's here!) in my home town of Leicester, a job I had for nine years. The bookshop, a lovely listed building from the Victorian era, has since closed, and as of writing this, remains empty in an otherwise bustling street of betting shops, a Gregg's Bakery, and a number of chain pubs (you can read my quoted views on bookshop closures here…http://www.leicestermercury.co.uk/Waterstone-s-bookshop-Leicester-close/story-18770540-detail/story.html).
In my last few years as a Bookseller, and in a vain attempt to increase declining sales through the promotion of full price range titles instead of heavily discounted celebrity biographies, I became engrossed in the small and often audacious publishing houses, reeling off books that summed up a brittle mood in Britain, and the world. Verso Books, Zed Books, The Bodley Head, Pluto Press, and of course Zero Books, their catalogues were a titillating roster of passionate polemics for any book fiend with curiosity in digesting a world of many impending issues. I started to envision these publishers like little indie record labels, issuing obscure white label vinyl or cassette mix tapes. The books were records whose contents needed devouring in repeated sessions and whose artwork required obsessing over to unlock hidden clues. An act that now seems almost perverse in the age of illegal MP3 downloads and digital streaming.  If this is the case then Zero Books could be the Sub Pop Records of the publishing world. The indie label based out of Seattle, Washington, that spawned scratchy recordings of early Nirvana, Mudhoney and Tad and unleashed them on a record buying public who lapped up the unrefined and swift audio mayhem as an alternative to polished radio friendly rock. Zero Books do something very similar to Sub Pop. Sub Pop's output has always been an acquired taste, never destined for mainstream consumption. Zero's books are hardly bestsellers (no doubt much to the chagrin of the editorial team), selling by recommendation and word of mouth.  Their releases are unfussy; often the artwork is simple two-tone bold colouring, and large type font, announcing the always-excellent, and provocative title of the book (my current favourites being Nuclear Futurism and Poor but Sexy). The contents are slim, sharp and to the point, always relevant, and will continue to stay relevant years after initial publication.  My introduction to Zero Books came when shelving Stephen Shaviro's awesome Post Cinematic Affect in the film theory section of my shop, I decided to not shelve it and buy it instead. I read on the back page Zero's "intellectual without being academic" mission statement, from then I was hooked on Zero's diverse output. At last, here was a publisher who made it its intention to engage a young, world-weary and rundown readership, wishing to be educated and connected to new ideas and ideology, yet due to the modern expense of a further education, and a dissipated media, mostly now disconnected from academia. Zero Books offer an ever-expanding crash course in every conceivable cultural marker; art, film, music, philosophy, politics, sport, feminism, capitalism, the back catalogue resembles a reading list for a curriculum in Adverse Thinking that is taught in a proposed liberal dream world. Alternatively, Zero's backlist and future publishing might be required reading in Russell Brand's vision of a post revolutionary world. We can only hope I suppose!
—
Stephen Lee Naish grew up in Leicester, UK but now lives in Ontario, Canada where he writes about film, politics and popular culture and the places where they converge. His writing has appeared in numerous journals and periodicals, including the arts and culture magazine Gadfly, the academic journal Scholardarity, and the journal of beat writing reviews and articles, Empty Mirror. His first book U.ESS.AY: Politics and Humanity in American Film is published by Zer0 Books in January 2014.