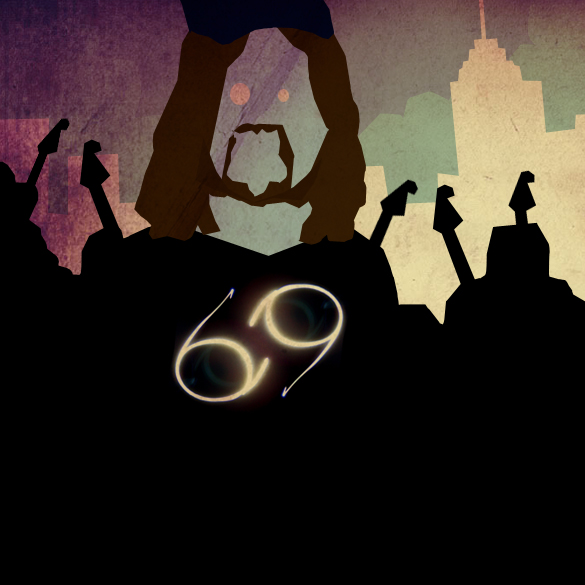 The New York CMJ Music Marathon is run by, you guess it, CMJ: a heavy-hitting online and print publication that prides itself on having its finger on the pulse of modern music. The "Marathon" is more of a mile-long race where you have to chug a PBR every 400 meters. The group does a darn good job all things considered, amassing an intimidatingly long list of indie artists on the bubble of buzz. Thus, the festival is a wet dream for the contemporary fan and a porn shoot for the industry. Record labels, PR companies, and prominent blogs host showcases featuring their respectively supported up-and-coming artists. The orgy starts around noon everyday and goes on for a full week. I had it described to me the first day I got to New York as "South by Southwest, but more of a shit-show." Cheers, Brooklyn.
Venues, bars, and spaces throughout Williamsburg (and a few in the Lower East Side) hosted events during the day for free, and at night for a cheap cover, as long as you were willing to wait in line for an hour or two, or were privy to the list.
I only scratched the surface of who was there, but this is as much as any one body can do. Here were my favorites.
* * *
WOODEN INDIAN BURIAL GROUND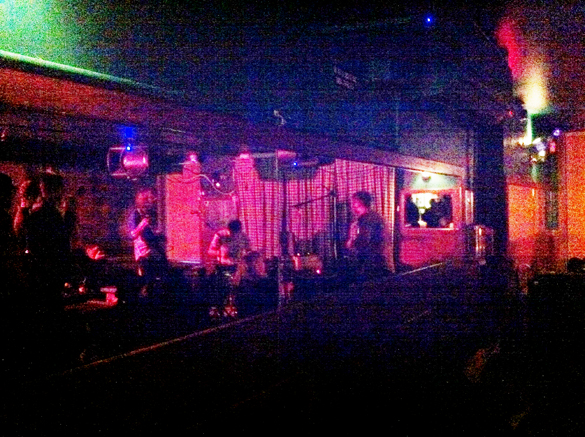 This Portland psyched-out garage rock group could have written the soundtrack for 1987's Nerds on Mars, an original motion picture. I was excited to only wait 3 minutes until the next drunk-driven moon-buggy hook instead of 13, like at a more typical psychedelic rock show (say, oh, the Thee Oh Sees). Fuzzed out riffs and noise for the hell of it were anchored by a chug-along drummer with more than a few bombs to drop. The lead guitarist kept having issues with "his box" – a large sound-synthesizing device fit for laser gun blasts and vertigo-inducing drones, but no one could really tell. You couldn't hear any lyrics through the thick swaths of reverb, but who cares—it sounded excellent and if you were looking for something crisper, you can now (as of October 30) check out their new self-titled LP. I smell good things coming for these guys, as they are publicized by Tell All Your Friends, a PR company that flaunts Guided by Voices, Daughn Gibson, and Eternal Summers on their roster, among diverse others.
DOLDRUMS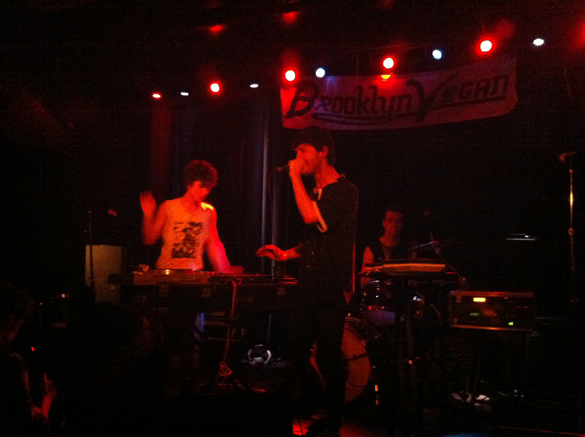 This trio provided the only show all week that I walked into and thought, damn, I've never heard anything like this before. Woven beats like layers of bright, floral wallpaper were rare and eccentric. Rhythmically organic, this is not "found art" in a way that a lot of sampling can be. There was a beautiful competition between the DJ table, the drum pad, and the live kit for rights to challenge Airick Woodhead's thunderbolt, high-register vocals. Montreal's Doldrums were spacious enough for an acid trip and insane enough to be maintain rapt attention in our thusly deficit age. They played 14 shows that week and I'd be willing to bet they caught some other folks wide-eyed. A new 7" (of which they are relatively prolific) titled She Is The Wave is out November 6th
+A weird, inflated R&B jam to close the set, but at least you get an idea:
SLOWDANCE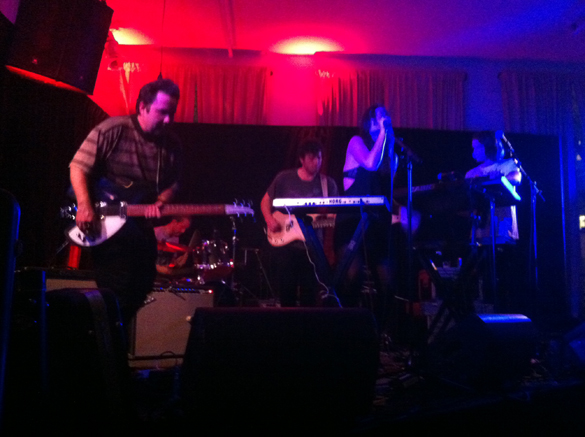 Everybody loves dream pop these days, especially Brooklyn. The neighborhood's freshest troubadours, Slowdance, practice trippy new wave 80's-inspired dance pop. Slowdance's spacious grooves were subtle and alluring, and occasionally in French. The crew have a 7" called Boyfriend out on White Iris (a label that makes its mark by harvesting new talent while resurrecting the 7" i.e. Fidlar, Best Coast, Oberhofer).
+Sneak a peek at a new track recorded at the White Iris Private Showcase
SKY FERREIRA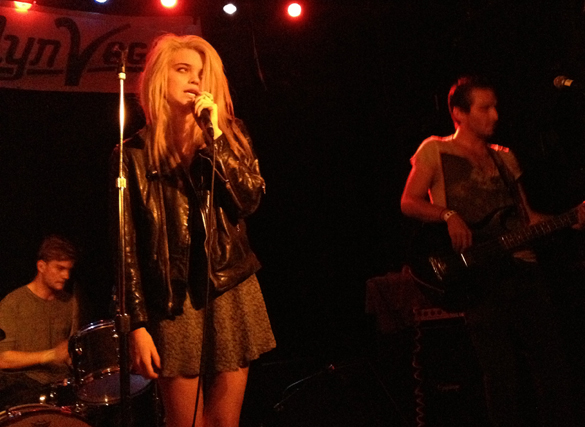 "like, whatever" reads her twitter bio. The apathetic leather chic immediately becomes endearing upon hearing her voice. Crisp pop tunes stood out because of such powerful vocals. Sky has put the pieces together for stardom in a way that seems more genuine than the likes of Lana del Ray. What sets her apart is the empathy in and approachability of her music – her lyrics aren't stilted, so why should she be? This is the life of a, this is the life of a pop star(ter). She's 20, has an EP called Ghost on a major label (Capitol), and no shit, she's from L.A. A kick-ass, versatile band backs her up for the cherry on top.
+Live at the Brooklyn Vegan showcase — "Everything is Embarrassing" (Pitchfork called it "one of the biggest cult hits of the year," for whatever that's worth)
Sky Everything – Everything is Embarrassing (Live)
METZ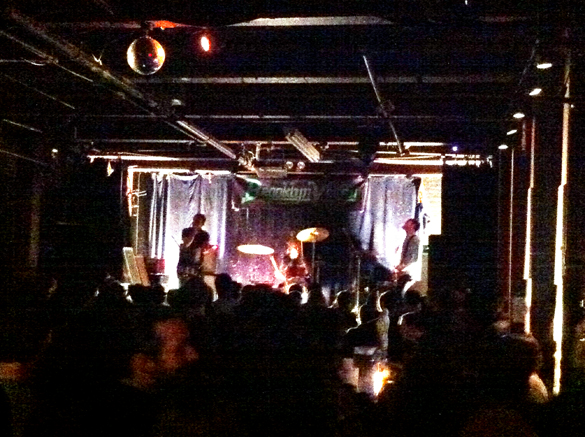 This is lowest-of-fi, garagiest post-hardcore. Frantic and almost amelodic, Metz' tunes are absolutely dripping with reverb from drum to throat, fit with breakdowns that are nothing less than big and nasty. However, vocals suffered in the hollow room, sounding more than yelps than barks. Walls of noise drudged out at strange intervals smacked you in the face as soon as you entered, but nobody moshed, maybe because it was 2 in the afternoon and the free promo drink was a canned hangover cure. Canadians are on point right now (comprising 3 out of 8 on this list) and indie pop juggernaut Sup Pop seems to be trying to get all hard rock on us.
KING TUFF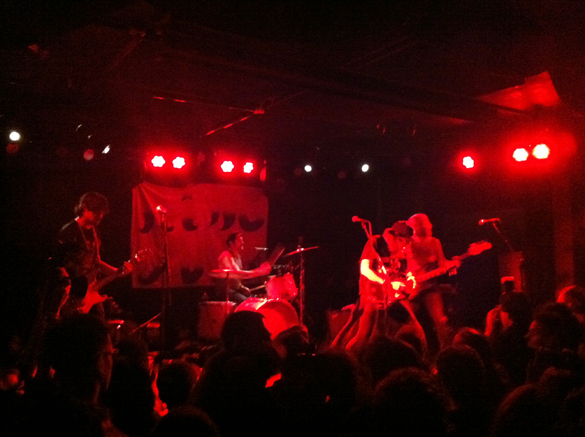 Mr. Tuff and his court are still rock n' roll as hell. 3 out of 4 members had mustaches, and the one who didn't (Tuff himself) wore a jersey numbered 69. There was almost something antique about it; they played their song "Anthem" first and bantered about being glad to be back from Canada. Earnest partiers, despite mid-song inhaler use and calls to the bar for Shirley Temples, they were contagiously enthusiastic for the fact that all their songs sorta sound the same (yeah, even the new stuff) and this was the end of a tour where they played the same same songs every night. If you never have, god dammit, listen to their self-titled's single, "Bad Thing," right now.
HURRAY FOR THE RIFF RAFF
New Orleans-via-Bronx runaway songwriter Alynda writes reluctant love songs to the road, pulling on all sources Americana and her accompanying fiddle and guitar players. These are stoop sittin' tunes, walking tunes, lived-in tunes. They closed the set by covering "Be My Baby;" absolutely adorable and fittingly enough, a cover I'd been craving to hear for a while. Their new album, Look out Mama, came out in May, was released on their own label (Born to Win) and was recorded in Nashville, Tennessee.
BRAIDS
This is earthy, creepy, arty pop. Smooth, quiet vocals like a calm Grimes or a less aloof Joanna Newsom came from singer Raphaelle Standell-Prestongave, who dealt with sound issues by lavishing the crowd with endearing gratitude. Braids' minimalist shoegazey trance swirls and dashes around itself, satisfying those of us who wish Glasser still made music. Once again, props to Canada. They've got a new album coming for the New Year that is evidently going to be "darker" than the group's first, Native Speaker, which made the shortlist (group of 10) for the 2011 Polaris Prize (Canada's #1 Album for "artistic merit"), won by The Arcade Fire for The Suburbs.