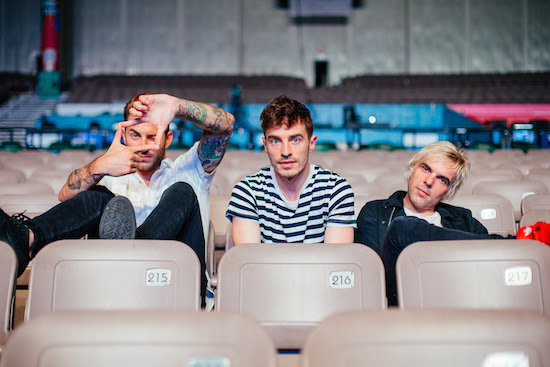 New Politics are making headlines! Following the success of their singles "Harlem" and "Tonight You're Perfect," the trio has recently announced their partnership with DCD2 and Warner Bros., Records, which will house their third full-length album, Vikings. While fans will have to wait until early 2015 for the album's release, they can enjoy the album's newly released single right now. "Everywhere I Go (Kings and Queens)," has been climbing the charts and feeling the love from listeners all across the country.
New Politics describes the song as "a middle finger punk-rock-pogo anthem" and that description could not be more accurate. The lyrics clear up any remaining doubts, brazenly announcing "This one's for everyone that said I'm nothing. This one's for my friends that don't give a fuck. So if you don't give a fuck sing: everywhere I go, I'm higher than United – fly with me."
You cannot help but nod your head to this song, tap your foot, maybe get out of your chair and dance around the room a little. You may feel the need to toss papers off your desk, knock a book of the shelf, smash a vase on the ground. Okay that might be drastic, but it's just that type of song. "Everywhere I Go" is the ultimate amp up song, declaring that we are the "kings and queens, and we run this city." This song is a reminder that we are in control, no matter how hard life gets. You can go fly with New Politics, or you can jam out to this song and let your inner punk rocker free.
While listening to this song, a few dozen times in a row, I was transported back to the days of Tony Hawk's Pro Skater, a PlayStation game I spent countless hours on some odd fourteen years ago. I was pleasantly surprised to find out that New Politics teamed up with pro-skater Ben Hatchell to film the single's video. I'm eagerly awaiting the video's release, and I hope that it'll be a real life version of the game, tail grabs and kickflips included.
If the nostalgia wasn't already there with the Pro Skater vibes, the echoes of previous punk legends are enough to send any fan spiraling. The song's guitar riffs, drum beats and energetic vocals have a strong resemblance to Blink-182, while the lyric "everybody knows there's no sleep 'till Brooklyn" is an obvious nod to the Beastie Boys. New Politics are aligning themselves with past champions, and securing their own spot in pop-punk/punk-rock history.
Until the release of the video and the upcoming album, I'll be listening to "Everywhere I Go" on repeat. I'll have to fight the urge to dig out my old PlayStation, but I will gladly embrace the song's take-charge attitude. The song honestly admits, "everybody's gotta get by," and New Politics makes it just a bit easier.
---
Allison Bohan is an associate editor at Gadfly Online. She is finishing up her fourth and final year as an undergraduate at the University of Virginia. Allison is an English major, coffee drinker, and avid nap taker.