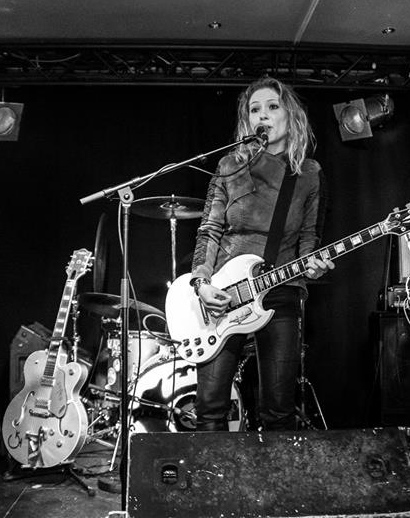 Meet Miss Marlow's lead singer, Marleen Pfiefer, a new kind of rocker from Denmark. Before meeting up with guitarist Soren Larsen, bassist Trine Wester, and Drummer Jon Clausen in 2012, Pfiefer was formerly a part of the riot garage-punk band, Snatch. Pfiefer now describes her music as "power psych rock" and uses the melody and song structure of the song in addition to the lyrics to tell a story. Read more about Miss Marlow from Gadfly Online's interview with Pfiefer and be sure to check out their singles, "Something Special" and "Supernova" out now!
Gadfly Online: Can you provide us with some background? Where are you from? What made you pursue a career in music?
Marleen Pfiefer: I am from Denmark. My family was not that creative at all. My father played electric guitar in his younger days way before I was born, and my mother had a few years where she tried to learn to play acoustic guitar, but it never really got that far. I have almost always played an instrument. I started by playing flute and ended up playing electric guitar. I love to play piano and drums too, but I'm not as good as I would like to be. Singing has always been a very natural thing for me.I started having a passion for creating something at a very young age. I always imagined being an actor, a big photographer, clothes designer or any other creative person. It was in my early teenage years that I knew I had to play music. My passion was so strong that playing was like breathing – like having a break from the busy real life and having a nice dream.
GO: How would you characterize your music? Do you fit into a stock genre or create a fusion of genres?
MP: I play rock but not classic rock. Some call it indie rock, power-pop-rock, psychedelic-rock, trip-rock. What I know is that I like a rough sound infused with dreamy sound effects. I like the contrast between a hard and soft beautiful sound. I like when my songs tell a story, not only by the lyrics but also through the melody and through song structure.I like very defined riffs along with psychedelic melodic notes in a song.I'd describe my genre as "Power Psych Rock" with stories of life.
GO: Who would you cite as your musical influence?
MP: Patti Smith – her songwriting really connects with me. Nancy Sinatra – love her feminine style. Leonard Cohen – the mood in his music and the sound of his vocals is so special, peaceful and exciting at the same time. Jello Biafra – I would listen to for hours and hours wondering how anyone was able to write music like that: amazing.
GO: What project are you promoting right now? How does this fit into your overall career arc?
MP: Right now I am promoting my two new singles, "Supernova" and "Something Special". Those two songs show a picture of my new album and future sound."Something Special" is about the impression left on me after visiting New York for the first time and seeing all its many colors of people, inspiration, and lifestyles."Supernova" is about a disabled child who I know that still shines like a star.The two singles were recorded here in New York and I will finish my new album here as well. I am working on building my core fan base in New York.
GO: What do you hope to communicate to listeners through your music?
MP: I hope my songs will affect people both powerfully and peacefully. I hope people can relate to my stories of life and re-live an experience they had or are about to have in their own life. I want people to be touched by the music.
GO: What does music mean to you?
MP: Music connects with all of my emotions. It's something special and beautiful that touches my inner self. I choose music related to the mood I'm in at the specific moment, or moods I need to stay in at a particular moment. Music gives me power, confidence, inspiration and makes life more beautiful. It's the soundtrack that's inspired my life so far.
GO: What can we expect from you in the future?
MP: I'm excited to watch my music head in the right direction. My new upcoming album, which will be released early next year (2015), really captures the essence and flow of my new style. The future is all about taking the music to a perfect level and keeping it there. Building a strong radio listening audience, which will hopefully add new fans and new cities to my next tour, is definitely one of my main goals.
For more information about Miss Marlow, visit their