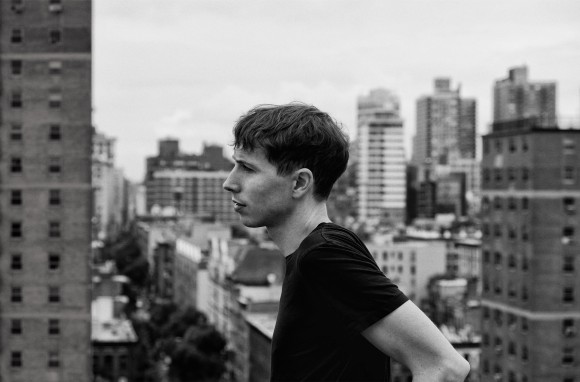 Meet Chris Riffle, a folk artist originally from Washington and now based in New York. Chris has an incredibly honest voice, mesmerizing listeners with its quiet, rhythmic appeal. Chris has recently teamed up with Alesia Exum to produce a music video for his single "Nothing But the Waves." This song is delicate and alluring – the perfect soundtrack to unwind, relax, or maybe contemplate the grand meaning of things. With its wonderfully cinematic, surrealist qualities, this video captures art and creativity at its finest. Get to know Chris and his artistic vision in our exclusive interview below.
Gadfly Online: Can you provide us with some background? Where are you from? What made you pursue a career in music?
Chris Riffle: I grew up around Washington State. Lived in a teepee at one point, lived in a cabin with no electricity that my dad built, and lived in a variety of other homes growing up around music… my parents were hippies 😉 My dad was always writing songs and playing guitar… I have very fond memories of falling asleep at night in the cabin that he built in the woods to him playing his original songs. He's a great songwriter, I'm a huge fan. My mom also loved playing guitar, but more for fun with friends and would always bring it out around campfires. I always kind of knew it's what I wanted to do… In fifth grade I had a brief time I thought I wanted to be either a lawyer or a hairdresser. Mostly I think because I loved to win arguments and looked up to a really cool gay hairdresser that we knew. But underneath it music has always been my passion. I always get the feeling that I'm doing exactly what I should be when I'm in the midst of playing and writing…
GO: How would you characterize your music's genre or sound? What's something new that you're bringing to the music scene?
CR: We are based on a mellow kind of folk music with cinematic yet subtle electric guitar and bass woven in… I write songs that are very honest and delicate and speak to peoples' emotions. I feel the songs are very much like poems that the words are important and take people into that world. The songwriting is very important to me. But I also try to achieve a hypnotic meditative quality that goes beyond most folk music.
I think the idea of new and unique is dangerous. I think it can easily lead to inauthenticity. I've spent a lot of time with people in art school (my husband went to Cooper Union) and I think we're in an interesting time. A time where we're encouraged to spend so much time justifying/explaining our motives and ideas that we can drift from the part of art that is just making and that's the part where I think we really discover our voice.
GO: Who would you cite as your musical influence? How do they reflect in your own music?
CR: My Dad definitely. I grew up listening to folk music through my parents and a lot of Donovan and The Beatles. I also was a huge Elliott Smith fan and loved his quiet vocal style. I loved the four track recording methods he used and how we would layer his voice so subtly. I'm also really influenced by Nick Drake and Leonard Cohen.
GO: What do you hope to communicate to listeners through your music? What impact are you trying to create?
CR: A closeness to each other, something that reminds us that we're all connected. Also I think if I can write a song that feels so honest to me that it makes me nervous I feel like I have a break through. I'm fascinated by what we choose to share with each other from our lives in our day to day interactions.
GO: Can you tell us a little bit about your recent video for "Nothing But the Waves"? What was the creative process like? What were you trying to achieve with this video?
CR: I had so much fun making this video because I had a close friend Alesia Exum direct and film it. We shot the whole thing on super 8 and got together several times and talked about what our vision was. Alesia was full of so many great ideas it was such a treat to hear. She had this strange idea of me being covered in cotton balls and then them slowly disappearing (very surrealist). The song itself is very meditative and relies on a somewhat hypnotic repetition. So we wanted to video to feel very much like that and a bit like a dream.
GO: What projects are you currently working on?
CR: Putting out this album has definitely been "the project" lately… Keeping me very busy. I had a lot of fun making it and really believe in it. It's such a collaboration of so many people in my life and it feels amazing to be able to package that up.
GO: What can we expect from you in the future?
CR: I'm always busy playing shows, writing songs and getting ready to record more… I will be setting up some tours for sure for this album. I'd also love to make another music video soon. I've been performing during yoga classes lately and finding an amazing niche there. There's something very exciting and challenging about adapting the performance to the movement of the class.
Stay up-to-date with Chris on his
Website | Facebook | Twitter | SoundCloud | YouTube