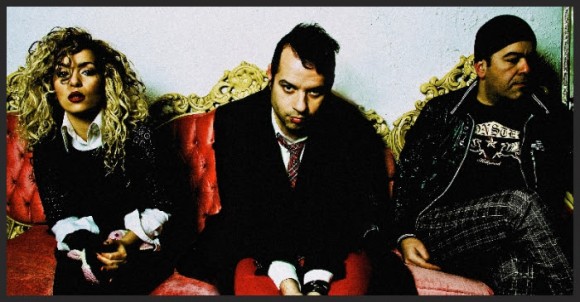 mé-nage /mã'nåZH,me-/
noun
1. the members of a household
Gadfly introduces the household of Ménage: a Toronto-based pop/rock trio consisting of siblings Basilio, Bela, and Gabriel Ferreira. Before Ménage was formed, its members had individual success. Basilio and Gabriel played in bands while Bela hit airwaves in Portugal. The siblings reconvened in Los Angeles, and knew that their combined musical talents would create something great. The group is letting individual influences meld together, creating a fusion of sounds. Ménage combines family and music, producing a listening experience like no other. Find out more about the band in the interview below and be sure to check out their video for "Promises" here.
Gadfly Online: Can you provide us with some background? Where are you from? What made you pursue a career in music?
Bela Ferreira: Ménage started out as three siblings; Basilio, Bela and Gabriel Ferreira. We were born in Toronto and raised between Toronto and a very small town in Portugal.
For as far back as any of us could remember, we dreamed of being rockstars. There were a lot of music video TV shows we would watch after school each day. Growing up in the frigid climate that is Toronto, you stay in and watch a lot of TV when you are not playing hockey. We decided to study classical music because… it just seemed like the right first step. Eventually, we moved to Los Angeles to pursue our dreams of being professional musicians. Although along the years of our lives we worked in other projects, about two years ago we decided to put aside our differences and launch this band… our first attempt at working together. Not just writing together behind the scenes, as we had done at times before, but as a unit, on stage. The family got bigger when our friends Dave Haskett and Elliot Boult joined the band.
GO: How would you characterize your music? Do you fit into a stock genre or create a fusion of genres?
BF: Seeing as Elliot listens to soul and hip hop as well as pop rock, Dave and Gabriel are big classic rock fans, I (Bela) listen to pop, and Basilio listens to lots of ambient and experimental sounds, it's no wonder Ménage is kind of a weird, mashed up, unique mixed breed of noises. We, like our music, are part of this big contradiction.
GO: Who would you cite as your musical influence?
BF: We each have personal heroes, ranging from The Beatles to Kanye West so it's hard to narrow it down. A lot of different artists who have made an impact, changed the scene in one way or another and have kept the music sincere and unaffected by mass opinion.
GO: What project are you promoting right now? How does this fit into your overall career arc?
M: We are currently prepping for the October 14 release of our record called, EP. It will be the first of a string of EPs which we plan to release within the next couple of seasons. It seemed most appropriate to release EPs rather than one full length because we could keep things current as our career is ever changing. This way it's like the fans are getting an up to date, play by play of how we are doing – through our songs. The songs are, after all, written about our day to day lives. Who knows, by EP 3, track 1 might be titled, "Famous, Stinkin, Rich; Now What?"
GO: What do you hope to communicate to listeners through your music?
BF: We hope to continue to be part of the soundtrack to your life. It is the greatest honour in the world to be part of someone's life story in some big, or even little way. We recently got an email from a fan who said they had just had their first kiss, in their parents' basement, with our song "Promises" playing in the background.
That was weird to read… and so very cool too.
GO: What does music mean to you?
BF: On our list of priorities, music is right up there with family. Lucky for us, we get to mesh the two things in this band.
GO: What can we expect from you in the future?
BF: Basilio is looking for a new guitar to throw at me on stage… So yeah, lots of touring coming up!
For more information go to www.menagetheband.com