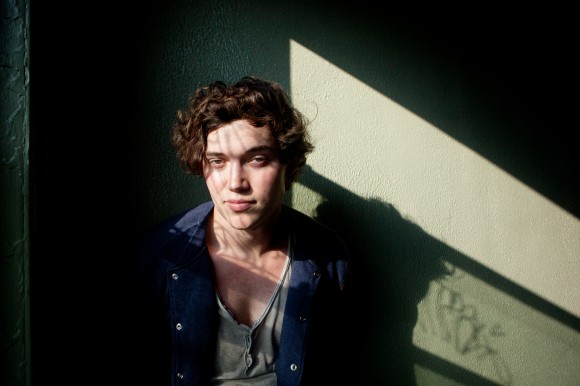 Michael Persall is finally following his dream of making of music for a living after realizing just how delicate life could be when his mom was diagnosed with breast cancer his senior year of high school. He has an EP out right now titled This and That, but this is not his first attempt of following his dream. While publicized as his debut EP, This and That is actually his second EP. "I removed the first one from the Internet because well, it just wasn't good at all," Persall said. In am industry-dominated world, not many artists would dare doing what Persall did for the sake of excellence. Continue reading to learn what else Persall does in order to create quality music and check out one of his singles from This and That, "Twice."
Gadfly Online: Can you provide us with some background? Where are you from? What made you pursue a career in music?
Michael Persall: I'm from Carmel, California. It's a small town a couple hours south of San Francisco. When my mom was diagnosed with breast cancer my senior year of high school, I made the decision to pursue music wholeheartedly. She always encouraged me to but I came to the realization that anything can happen at anytime in life, so I might as well do what I love as often as I can.
GO: How would you characterize your music? Do you fit into a stock genre or create a fusion of genres?
MP: It definitely fits into the pop genre that seems to be more acoustic driven these days. I'm a singer-songwriter at the core, so it all starts on the guitar or piano.
GO: Who would you cite as your musical influence?
MP: I listened to a lot of Otis Redding growing up. The emotion in his voice is something that always stuck with me and influenced me—just felt like he poured all of his soul into his performances and held nothing back.
GO: What project are you promoting right now? How does this fit into your overall career arc?
MP: I'm promoting my EP "This & That." It's the second EP I've put out, but I removed the first one from the Internet because well, it just wasn't good at all. It's nice to release this EP though, since I started writing for it a year ago. It feels good to get it out there. As far as the career arc, the EP is the beginning of many more projects I plan on releasing.
GO: What do you hope to communicate to listeners through your music? What does music mean to you?
MP: I like music that makes you feel a certain way. I also really like the story-telling aspect of music. For me, it's something that I can find comfort in. Each song is like listening to someone's story and finding things to relate to so you know you're not alone. I hope that people can do that by listening to my music.
GO: What can we expect from you in the future?
MP: I plan on releasing another EP in May. I'm really excited about all the new content that will be on that one. I'll be playing a lot of shows in between, putting up acoustic videos on my YouTube channel, and then probably releasing the single around February.
GO: Whom is your music geared towards? How is it impacting them? In other words, why should we listen to your music and message?
MP: Admittedly a lot of my songs are about relationships, and the larger market for my music is probably teenage girls, but I think people should listen because when I write I'm just honest and telling stories about my life. That may not be a great reason to listen reading that one back, but I think it can be comforting listening to music that you can relate to, and everyone can relate to things having to do with relationships. Everyone experiences the ups and downs that come with life, so if people can find comfort relating to the ones I've experienced, that's enough for me.
GO: I noticed that you have 21.2K Twitter followers and only 1,204 Facebook likes. How did you get so many followers?
MP: I basically just spent an hour a day last year following, tweeting and messaging people that liked similar artists and asking for their opinions on my stuff. It kind of just added up over time. I tested it out since I was trying to build my following, and it ended up being pretty effective. I then just continued to follow and interact with the fans that are pretty engaged.
For more about Michael Persall, visit his