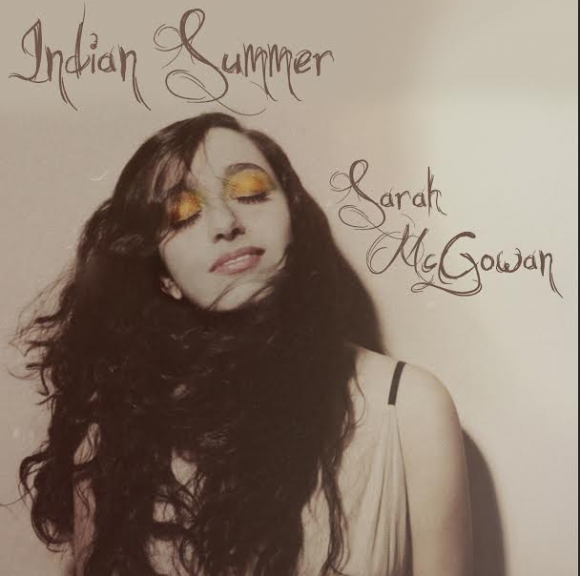 Today's featured artist is Sarah McGowan, a recent graduate from New York University and emerging singer. McGowan describes her sound as "sweet with an edge," and she is currently working toward producing her EP Indian Summer to encapsulate that vibe. As a new artist McGowan is still discovering her sound, but is committed to staying unique and fresh. Read more about Sarah McGowan and watch her music video for "Williamsburg Boy" here, and check out Gadfly's review of that song here!
Gadfly Online: Can you provide us with some background? Where are you from? What made you pursue a career in music?
Sarah McGowan: I'm from Darien, CT but moved to NYC four years ago to attend NYU. I started writing songs in high school but never thought seriously about pursuing it. I was an Emergency Medical Technician throughout high school and planned on going to college to study pre-med. But after experiencing a surgical externship before my senior year of high school, I suddenly realized that if I pursued medicine, it would be my entire life and I wouldn't have time to do my music. So that really marked the beginning of my musical career.
GO: How would you characterize your music? Do you fit into a stock genre or create a fusion of genres?
SM: At the moment I find it a bit difficult to characterize my music. Because I'm just beginning my career, I'm still experimenting with different sounds and genres. At the moment, I think my music falls somewhere in the indie/rock/folk spectrum. I think an accurate description of my sound is "sweet with an edge." I try to make every song sound different and unique from other artist's songs. This often means adding a weird instrument or a funky lyric to the mix to add an edge to the music. I love to bring in a sound that you wouldn't usually hear in other songs of a similar genre.
GO: Who would you cite as your musical influence?
SM: I'm interested a lot in 60s and 70s rock and folk music. Joni Mitchell is my idol! I also love Joan Baez, Fleetwood Mac, Janis Joplin, Simon & Garfunkel, and Carole King. The Beach Boys were a huge influence in my song "Williamsburg Boy." My modern influences are mainly strong female singers, like Florence + The Machine, Feist, Sharon Van Etten, and St. Vincent.
GO: What project are you promoting right now? How does this fit into your overall career arc?
SM: Right now I'm preparing for my first EP, Indian Summer, to be released in November. The first single off the EP, "Williamsburg Boy," came out in June and the music video was released a week ago. The next single, "Indian Summer," will be released in a few weeks as well. I'm excited about this single since it is so different from "Williamsburg Boy." My EP pre-release show is on October 18th at Arlene's Grocery in NYC so I'm really excited about that too. I also am playing in a CMJ showcase in NYC on October 23rd (which was one of my goals for 2014)! I'm hoping my EP will be heard by a lot of people so that I can gain new fans and showcase my musical abilities.
GO: What do you hope to communicate to listeners through your music? What does music mean to you?
SM: My greatest hope is that my songs will make people happy. Hopefully someone will hear a lyric in my music that resonates with them and help them feel like they're not alone. That's what music is all about – communicating and connecting with people. EVERYONE loves some type of music. It's such a powerful artistic tool to communicate messages and emotions. Personally, my music says all the things that I can't really say in real life. I put my thoughts and feelings out there for the listener to interpret and understand. It's a really useful way for me to express myself.
GO: What can we expect from you in the future?
SM: Hopefully, this EP is just the beginning of my musical career! I'm currently writing more songs in the hopes of recording my first full-length album next year. I also really want to tour different cities so that I can spread my music to more places. I'm going to continue to work really hard until I can make this a reality!
For more information on Sarah McGowan go to sarahmcgowanmusic.com