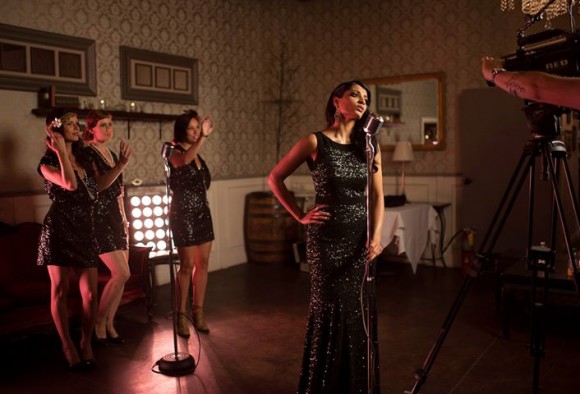 Today's featured artist is Shilpa Narayan, a soul-pop artist based in New York City. Shilpa's musical career originated on YouTube when she sat down with an acoustic guitar and wowed listeners with covers of popular hits, ranging from Rihanna's "Rehab" to Eagle Eye Cherry's "Save Tonight." These videos showcased Shilpa's natural, unmediated vocal talent, and as her fan base grew it was only a matter of time before her music moved beyond covers and towards original content. Shilpa has traversed the NYC indie scene, drawing inspiration from fellow musicians while developing her own sound. Shilpa was named Vibe Magazine's "Artist to Watch," and it's easy to see why: her self-made start and soulful chops are a powerful combination, bringing passion and heart to the music scene. Shilpa music video for "Baby Go Home" is now available, as well as her single "Pinch Me" – both from her EP set to release later this year. Be sure to keep an eye on this artist, and discover more about her in the interview below.
Gadfly Online: Can you provide us with some background? Where are you from? What made you pursue a career in music?
Shilpa Narayan: I'm originally from Georgia but made the move over to NYC about 5 years ago! For me music has always been something I've been obsessed with, but I only started to pursue singing about 6 years ago. Not being sure if I could sing or not, I took to social media and started posting cover songs to try and get out there more. The support I received really gave me the courage to start writing originals, singing and going for music 100%.
GO: How would you characterize your music? Do you fit into a stock genre or create a fusion of genres? What's something new that you're bringing to the music scene?
SN: For me it's hard to characterize my music into 1 genre. I just write and record what feels good to me at the time. Whether that's an upbeat song like "Renegade" or some of the more chill ones from the EP such as "Stand Alone" and my upcoming single "Pinch Me".  I pull inspiration from a lot of different places and try to fuse all of that together while putting my own spin on it.
GO: Who would you cite as your musical influence? How do they reflect in your own music?
SN: I think I gravitate towards R&B and Pop music, but try to get inspiration from whatever genre I can. I really listen to everything, but I've always loved 90s grunge (Nirvana, Pearl Jam etc.) and a lot of classic soul – Etta James being my favorite. Lately I've also been listening to a ton of The Weeknd, Banks and SOHN. I've taken a mixture of all of that for my own music, especially taking notes on the songwriting those artists do and how they structure their songs.
GO: How has YouTube impacted your musical career? What would you say to those artists just starting off on the site?
SN: Youtube has been HUGE for me and I don't think I would have ever gone for music, had I not had that platform to try it out 1st on. It's much easier to put out music from the comfort of your own room and to be able to do so semi-anonymously. It also allows you to build a fan base but also get real constructive feedback from people, whether it's good or bad. I'd tell artists to definitely try Youtube but also try different platforms such as Instagram and Vine as well. And try to do very popular songs to get more visibility!
GO: What project are you promoting right now? How does this fit into your overall career arc?
SN: Right now I'm working to promote my 2nd single "Baby Go Home", which I just put out a video for in November. I'm then working to release my 3rd single "Pinch Me" in January with a video to follow shortly after that. This is all leading to my 2nd EP, which I hope to release around March – so it's definitely a long journey ahead but an exciting one!
GO: What do you hope to communicate to listeners through your music? What does music mean to you? What impact are you trying to create?
SN: Overall I've been just trying to put the music out there and hope that people can relate to what I'm singing about, connect, and like my sound. It's always much easier said than done, but even if I hear that 1 person likes a song I've written – it makes everything worth it to me. It sounds really cheesy but music makes me feel whole and sane. It's the one constant in a world that's always changing so I hope to keep doing this thing for a while.
GO: What can we expect from you in the future?
SN: Look out for some new videos and a new EP soon 🙂
Be sure to check out Shilpa's
Facebook | Twitter | YouTube | SoundCloud | Website