"Westfjords" by Stargroves feat. Abigail Breslin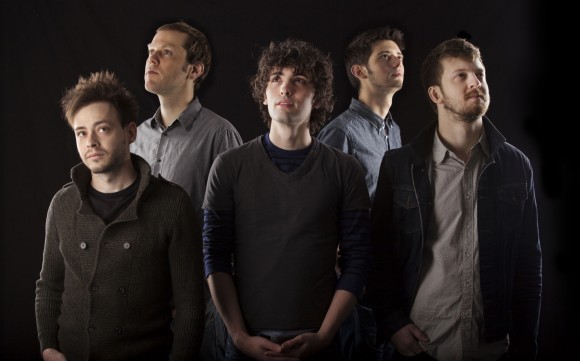 Following in the banjo-playing trend, "Westfjords" — the catchy new single from New York indie pop band Stargroves — proves why it is an ever-popular and growing trend; uniquely blending folk, pop, electronic, and fantasy elements, charmingly fun is the only way to describe this new single. A dreamy though slightly melancholic track about a troll family trying to escape their dreary lives, "Westfjords" is refreshing, silly and wholly likable. Haunting vocals from the lead singer Teddy and the featured Abigail Breslin (of Little Miss Sunshine) only serve to add to that fantastic, ethereal beauty. A quick favorite in my heart, this is an easy win for fans of Mumford and Sons, Imogen Heap, and Sigur Ros. You can listen to their dreamy new single here.
Looking to capture the inspiration behind and the future plans of this refreshing, new band, I interviewed lead singer Teddy Watson. In his responses below, you will see firsthand the heartfelt, contemplative essence behind Stargroves' wistful music.
GO: What is the inspiration behind your song "Westfjords?"
TW: The Westfjords are a somewhat remote, sparsely populated yet beautiful region of Iceland. Inspiration for the song came loosely from popular folk myths of trolls which populate the area. It's a tongue-in-cheek story.
GO: When you were creating this song, what were you looking to create- what kind of feeling or sound? Did it start like how we hear it today, or has it evolved?
TW: Like most of the songs on our first record, I wrote Westfjords during a three-month stay in Reykjavík. At first, it was just vocals and guitar, and a lot of the post-production you hear in the final track was done in collaboration with Jeremy Sklarsky and Enrico de Trizio. Really, everyone in the band played a part in how the final product came out.
GO: How did the opportunity to collaborate with Abigail Breslin arise and what was it like working together?
TW: I met Abigail through a vocal coach we have in common. We began collaborating almost immediately, and I played banjo and harmonica on a few of her projects. When I returned from Iceland, I asked her if she'd be up for singing on a few songs. I wrote the parts specifically for her unique voice and it turned out really well.
GO: How did Stargroves come together?
TW: Gradually. It definitely didn't happen over night. In the beginning we weren't even called Stargroves, we were just trying to get a set together long enough to play some shows. We've gone through many different lineups, but I can honestly say right now we're the best we've ever been.
GO: How did you come up with your band name?
TW: Stargroves is the name of an estate in England where a few well known classic rock bands had recorded. A childhood friend of mine had a house named after the one in England, and I always loved the name.
GO: Who and what has influenced you?
TW: Musically, I could go on for a while but the big one is Stars. I've been listening to them non-stop since 9th grade and they've definitely left they're mark on Stargroves. Non-musically, I would say Reykjavík made a big impact on our first record.
GO: Had music always been the plan?
TW: Music was always something I did a lot. When I was a young teenager my dad would drive me to open mics in DC every night so I could perform new songs in front of an audience. It's definitely been with me my whole life.
GO: Have you seen your musical direction changing?
TW: Yes. Our new songs are different, but in an exciting way, we think.
GO: If you were to describe Stargroves in a simple word choice, what would you say?
TW: Compositional melody-centric indie-pop
GO: Do you and your bandmates share or have other hobbies besides, obviously, making music?
TW: Music is the main thing. I'm also attending NYU part-time studying computer science. And Charlie is super into taxidermy.
GO: What's your favorite memory of your musical journey so far?
TW: Driving to out of town shows is always fun. I remember we had a show at a festival in Albany, and we hit some really bad traffic. We weren't sure we'd make it but we got there a few minutes before our set time, and it turned out to be one of our best shows yet.
GO: What are your hopes for Stargroves in the near future?
TW: We just recently released our debut album actually. We also love playing live, and we'd love to start touring on a larger scale.
GO: Do you have any upcoming shows that we can look forward to?
TW: Yes! We're playing at TT the Bear's in Cambridge on August 7. We're scheduling new shows all the time and you can find our schedule on www.stargroves.com
GO: Do you have any additional thoughts you would like to add?
TW: We're super proud of this record and we hope you enjoy it! Also, we're easy to reach on facebook and twitter so drop us a line!