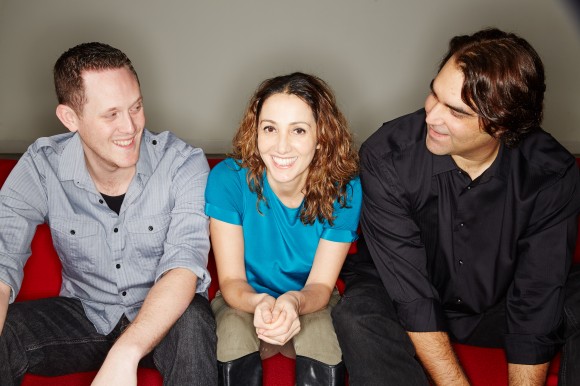 Not a lot of our featured artists can say that they have their own Wikipedia page, but Pardis Sabeti can. Pardis is a "world-renowned evolutionary geneticist" who teaches at Harvard University. 2014 was a big year for her—she was named one of TIME Magazine's people of the year for her work with the Ebola crisis in West Africa. Pardis is hoping 2015 will be a big year for her alterative rock band, Thousand Days. As front woman for the Boston trio, Pardis wrote about her experience with the virus and the people affected by it in "One Truth." Yesterday, Pardis, guitarist Bob Katsiaficas, and drummer Matt Hayden released their latest album, Turkana Boy. We caught up with Pardis and Bob before the album release. Check out their first single from the album, "Shallow" here and continue reading to see what advice the two of them have for aspiring doctors and musicians.
Gadfly Online: What made you pursue a career in medicine and does music fit into your life? Is it a hobby or something more? 
Pardis Sabeti: I've always been passionate about medicine as long as I can remember. I love math and biology, and I love that through genetics we can make an impact on human health from diagnostics to vaccines and therapies. And I'm fascinated with the pursuit of protecting the globe from pandemics. Music began as something I loved as a spectator as a child, to a hobby in graduate school, to something much more over the years. Being a musician is now firmly a part of my life and a way I hope to communicate my experiences.
GO: Can you provide us with some background? Where is the band from? 
Bob Katsiaficas: Pardis ​and​ I met in 2002 in Somerville,​ MA​​ when she happened to be in the audience for a show that my ​three-​piece band was playing. Once I found out that she was also an aspiring singer, I decided to switch gears and move forward with her as the lead singer, and we formed Thousand Days. The band is based in Boston, MA.
GO: How would you characterize your music? Do you fit into a stock genre or create a fusion of genres?
BK: We are a high-energy rock band that gives a heavy nod to the alt rock music of the 90s. I would say right now that we are a fusion of rock, alt rock, ​and​ pop rock.
GO: Who would you cite as your musical influence? 
BK: I write the music, so I would say, "imagine if Ani Difranco married Rush and then adopted Nirvana."
GO: What project are you promoting right now? How does this fit into your overall career arc? 
BK: We are promoting the release of our full length record ​​Turkana Boy. For a career arc, I feel like this is the beginning. Everything before was just us trying to figure out who we were as a band.
GO: What do you hope to communicate to listeners through your music? What does music mean to you? 
BK: I hope that we communicate through our music that we are serious about what we do. We do it because we love it.  For me, writing music is cathartic, and it's something that I have to do.  Music is everything to me.
GO: What can we expect from you in the future? 
BK: It largely depends on Pardis's availability,​ but I have been writing like crazy. I have a ton of new songs that I believe is the best music that I've ever written.
GO: Whom is your music geared towards? How is it impacting them? In other words, why should we listen to your music and message?
PS: It is hard to say whom our music is geared towards, as it doesn't come about that deliberately.  I don't have a particular audience in mind when I write but just a desire to share my own perspective. I am just one person with one small vantage point, but I guess it does have some unique aspects in that it is informed by my travels around the world and my work in infectious disease. It also has the experiences we all share from love to death to everything in between. And of course it has Bob and Matt's amazing music. I guess you should listen if you like our sound and are interested in our perspective.
GO: What advice would you give to aspiring doctors and what advice would you give to aspiring musicians?

PS: It would be the advice I give to all individuals pursuing whatever passions they have—that all roads have ups and downs, but you should do what you love through the successes and failures and not be discouraged. If you put your whole self into it, with time, as you develop each day, can bring great joy.
For more information about Thousand Days, visit their