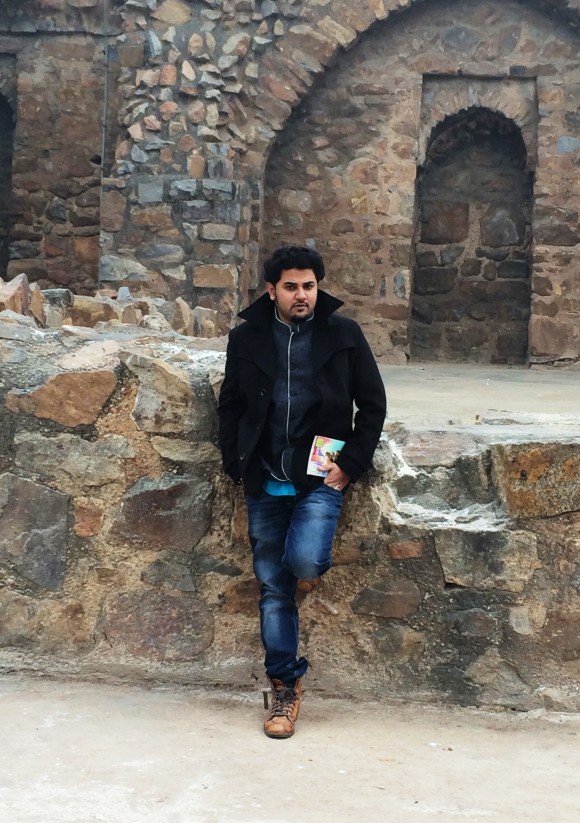 Sonnet Mondal is a fresh and multitalented versatile Indian English poet whose poetry deals with various aspects of life. Literature is the manifestation of socio-historical pressures; Sonnet Mondal believes that poetry should function as the incitement for rebellion. Poetry must be useful, must serve the lumpy points of common sense. The poetry should reach to common man with simple and lucid way of representation.
Like many other notable writers of worth, Mondal has expounded what he knows and about what intrigues him. A keen observer, he chooses images from nature, religion, law, music, commerce, medicine, fashion, and domestic activities to examine various universal themes: the wonders of nature, the identity of the self, death and immortality, and love. Sometimes with humor, sometimes with pathos, Mondal writes about his subjects. Remembering that he has a strong wit often helps to discern the tone behind his words. In his poems he examines nature's mysteries through the viewpoint of the climbing and setting sun.
Sonnet Mondal's "Prismatic Celluloid" is an excellent expression of poet's various moods. It contains all the colours of the rainbow. He appears to be quite grave in his poem "Words from a Hell Dweller," where he draws painful imagery of the hell. Here the hell-dwellers, unlike Milton's Satan, are not rebellious having "unconquerable will" and "study of revenge." For them Hell leaves no room for repentance and no path to escape back to the earth.
Mondal's treatment of love is obviously notable in his beautiful and lively poems. He accepts that love is contemplation. He is neither a Donne nor Keats; however his portrayal of love is admirable. He represents a fine stanza where a lover seems to be passionate about his beloved's "hair-locks." Mondal's poem is much like Alexander Pope's, "The Rape of Lock," where Baron gets fascinated by the charm of Belinda's lock of hair. In his sensuous imagery, Mondal stands nearer to Kamala Das whose poetry has a profound relation with sensuousness. We can see how the lover is lost in the poem "Tradition of Lust":
Removing locks of her hairs,
through her eye balls
a watery haze kissed me aloof;
turned me sightless to an assassin storm.
Mondal seems to be a philosopher of love: He combines love and profound noble ideas in his poems. In the backdrop of his verses, both devout and sacrosanct, Mondal presents his understanding and exploratory tendency, his mechanism and imaginations about love.
Sonnet Mondal seems to be gravely affected by many ongoing wars around the world. Indian English poets have not written much war poems. Sonnet Mondal seems to be the pioneer in this sphere.  His poem "Africa – Soldiers and Survivors" is an acute description of wars and violence in Africa. The poet is fed up with the condition of the society full of war and violence.  Today we find that the whole world is in a terrible mess. Uncertainly, a fundamental antagonism and a sense of uneasiness that we are going through make this world a place where things are falling apart. Sonnet Modal delves deep down in the blank vacuum of desolation and disillusionment. Wars have adversely affected Nature and left her hapless. His satire is at its best when he writes:
The hairs of the African lions have grown thick
to cover their ears from sounds of bullets
and cries of orphans.
He is pained to see that the world is divided because of race, religion, caste, colour, creed and religion. He wants everything that creates difference among human beings suspended.
Now,
Renunciation of an atypical type,
departing from the walls of religions and taboos
seems to shape itself within me
as my breathe grasps and consumes
the molecules of the republic airstream.
The poet is weary to see that we live in a world where the bullets are loyal to kill people.  It runs towards its target as a hunting dog chases an animal. The writer feels a sense of futility and frustration. There is a new way to look at war. Death in war is not regarded as heroic and beautiful but as horrific and pathetic. His poems like "Unseen"and "Iran 1980"deserves applause and recognition. The poet waits for a day without rivalry. He sees the solution as the promotion of love and understanding. He wants to use love as a weapon against war and hatred.
---
Md. Shahbaz Khan is a  research scholar/ poet at Post Graduate department of English at Tilkamanjhi Bhagalpur University (Bihar), India.