Stereo Off "Bullet Time"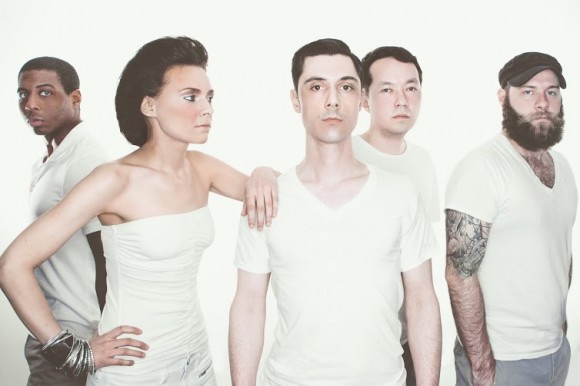 Beating its way into your heart with its jazzy drums, and grungy guitar and vocals, Stereo Off's first single "Bullet Time" is just simply awesome. With synth backing, reminding you of the eighties — without being too overused — this song is electric and captivating, much like the common romantic situation that the band explains inspired it: "the song is about lovers— that feeling when you get to an impasse, and instead, you both slow down and are drawn back together." Leading then into a excited, electro-heavy, darker bridge, Stereo Off quite clearly is (and describes themselves is) "electro rock." Surprisingly though, this isn't how the song always started. The band adds, "'Bullet Time' was one of our very first tracks, and the goal of the sound was to give it something driving, yet personal. It started predominantly digitally and then more guitars, bass and other parts started being changed, developing it into more of a rock track at times." As I have been playing this song on repeat, I am definitely glad for how it came together, and more generally, about Stereo Off and their hypnotizing, eclectic "electro-rock" vision. For fans of Muse, The Black Keys, and more, this band should be instantly followed.
In watching the music video for "Bullet Time," I could not have been even more thrilled. Remarkably created and filmed by themselves — a true DIY project — it completely captures the grungy rock, and eighties-esque electro essence of the song; it's old-school inspired and wholly entertaining, including an undead dance party. However, in order to capture that essence, they changed the storyline from that in their lyrics; they explain, "Director Justin from Dead Red Eyes and Niall (the bassist) really wanted to catch that old school grimy NYC feel, as well as almost a sort of tribute to various movies of the past. One of the scenes, for instance, is the same location as a scene in "Serpico," while the bar scene is a reference to "Carnival of Souls." Concluding with an extended scene of them playing in a dive bar, they remark that their presence in the final chorus, after being put in the mobsters basement, was a little unusual for them; it was "a bit more contained." With their live performances, they explain, they prefer to "to add a bit more to the tracks. There are bits and pieces that have developed over time and have evolved from the initial recordings. We've been told the songs are a bit heavier live, and we also mix up the sounds more."
Initially started as a solo project by lead singer Sebastian, he eventually sought "more between the worlds of digital and analog, [and thus] asked various friends to get on board and add their style to the sound. Gradually with each person, the sound developed in new ways –- as all five members have completely different tastes. The result is a mix of rock riffs with a digital undertone that sounds familiar, yet unique at the same time." Nevertheless, they're evolving, and clearly for the best, "with the integration of the viola on tracks and a move towards a more electronic sound, [and with] some tracks go[ing] back to rock too." They conclude that their "EP this fall will be a combination of the two."
In the meantime, they hope to "[finish] the second EP that is currently in the works, building more new material for a third one in a few months after, then leading up to the first full album. Adding that they have two shows in the near future to look forward to: Spike Hill on Friday, August 29th and Trash on Thursday, September 18th. In conclusion, they kindly add their thanks, as well as an insider scoop that "you can check out the EP and get show updates and links, along with some out-takes, live tracks and songs not on the EP at their site here." You can also talk to and hear more about them on their twitter, facebook, and soundcloud!