Nick D' and the Believers' "Bang Bang"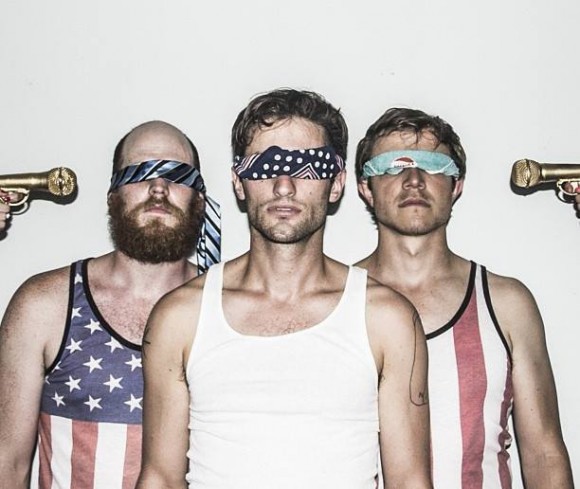 Delivering a single with immediate appeal, Nick D' and the Believers have crafted a soft yet uptempo, electronic-synth track that combines the grittiness of rock with the catchiness of pop. All about the excitement of when you first enter into a relationship, and the unfortunate difficulties that follow, its fun and cathartic content make this a definite summer hit. After listening to such a catchy song, it was honestly quite difficult to resist listening to the rest of their album, especially just to hear more of that sweet, sweet combination of synth and rock. Nick D' and The Believers will appeal to fans of Starfucker, Arcade Fire, The Black Keys and more. You can listen to their single "Bang, Bang" here.
Interested to learn more about the inspiration behind their song, the band's style and name, and what we can look forward to next, I was fortunate enough to get an interview with the lead singer Nick D'Andrea. With a flair for humor that leaves no doubt of what makes their songs unquestionably fun, I certainly enjoyed my interview with Nick and look forward to hearing more from them in the future. Our interview can be found below.
​​GO: What is the inspiration behind your song "Bang Bang?"
ND: It comes from the feeling of invincibility you can sometimes get at the start of a great relationship. And then the complications that ensue thereafter.
​​GO: When you were creating this song, what were you looking to create- what kind of feeling or sound?
ND: We definitely wanted to inspire dancing, and group sing alongs, and possibly a feeling similar to the one you get when you hop in the car at the start of a road trip (assuming you enjoy road trips). We wanted to get a warm feeling from it when we crank it up in our not-tricked-out maroon Mercury Sable.
GO: ​​Did it start like how we hear it today, or has it evolved?
ND: It has evolved quite a bit since it's inception. The idea was a guitar riff and chords that little resembled the final synth and melody of the song. The chord structure is all that remains from the original idea. But we generally pursue song ideas until they give us the feeling that we want.
​​GO: How did you guys come together?
ND: Nick decided to pursue the dream after a heart to heart with his uncle during a Dr. Dog concert. At the time, he was music-director of an after school program, and he called Joseph the day after the concert to ask if he wanted to create a band. Once they started the band, Nick dropped out of night school where he was going to become a teacher to pursue music. Kerry was roommates with Nick's sister, and the band began to practice in their garage. During their first practice, Kerry heard the music coming from the garage and came to check out what was happening. He decided to sit in and jam. After the first practice, Kerry never left the band. We all quickly became close friends and collaborators.
GO: ​​How did you come up with your band name?
ND: When Nick booked the first show, the promoter asked the band name. He replied "Ummm Nick D?" ​ ​The promoter said, "And?" Thinking he needed more of a name with it, Nick responded "And the Believers." The name stuck.
GO: ​​Who and what has influenced you?
ND: The John Lennon Method: write a chorus, then make it the verse and write a better chorus. The band Kiss might be an kind of influence, mostly because we mutually dislike Gene Simmons, but we love pyrotechnics. Some of our harmonies are almost doo-woppy or reminiscent of early Beatles and Kerry brings a little surf spy sensibility to his playing. We're don't sound like any of those genres, but incorporating those elements into our music gives us a little bit of a unique take on synth rock.
In the 50s and 60s most bands were covering old tin pan alley songs and showtunes, but doing it with a drumset and electric guitars. It was the very beginning of those instruments and people were still figuring out what was possible. There was a kind of rawness to those first Beatles and Stones records. They just had cheap guitars and an amp with no gain stage, so they had to get really creative. There were no tape delay, verb, flange pedals or digital effects. Everything was simple and raw. That's how we work too. Kerry doesn't have any pedals, Joseph plays with a stripped three piece kit and Nick only has an octave and a half of keys to work with. Those limitations force us to be creative, force us to focus on good songwriting and energy filled performance. That's almost a punk mentality, even though punk isn't a major influence otherwise. Lou Reed used to say a good song could have two, maybe three chords. Anything beyond that was jazz. We've definitely taken that to heart and written some two chord songs. And it's harder to write a catchy, interesting tune that goes on for four minutes with only two chords. It means the melody and lyrics have to be spot on. That's been the ethos we've been writing and performing with.
GO: ​​Had music always been the plan?
ND: Music is definitely not a solid A plan. It's kind of a D plan that you don't tell your parents about. Mom, are you reading this?
GO: ​​Have you seen your musical direction changing?
ND: It's slowly evolving, but we've already cast a wide net with the types of genres we're melding.
​​GO: If you were to describe Nick D' and the Believers in a simple word choice, what would you say?
ND: Indie pop bacon rock.
GO: ​​Do you and your bandmates share or have other hobbies besides, obviously, making music?
ND: Nick reads a lot, Joseph does woodworking from time to time, this leaves Kerry to cook dinner and tend to the kids. We also golf whenever possible, seriously.
​​GO: What's your favorite memory of your musical journey so far?
ND: We love playing live, and we have quite a few great memories of shows where we feel like we're on a journey with the audience.
GO: ​​What are your hopes for Nick D' and the Believers in the near future?
ND: We want to keep having great moments live, and make more music videos because they're a blast to make. We also want to hop back in the studio and write some new tunes; can't wait for that!
​​GO: Do you have any upcoming shows that we can look forward to?
ND: Musikfest in Bethlehem, PA 8/9 is going to be a blast. Our EP release show in Columbus 8/23 is shaping up with an awesome lineup too.
GO: ​​Do you have any additional thoughts you would like to add?
ND: We plead the fifth.
—
Katie Lebert currently works as an Associate Editor for the Gadfly, feeling all too mature with herself now that she has the chance to dress up on a daily basis. Going into her fourth and final year at the University of Virginia as an Anthropology major, Katie hopes to work for a non-profit organization and continue writing after she graduates. In her spare time, Katie voraciously reads the books she finds at her local Goodwill.