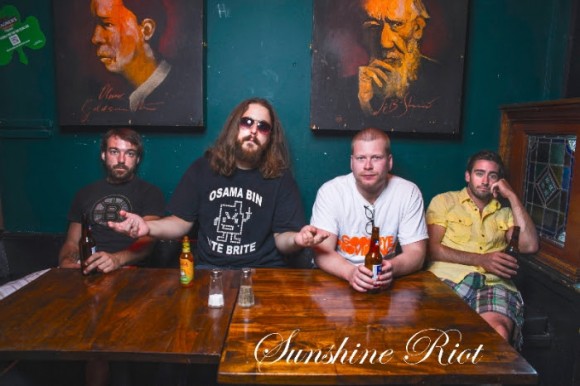 This week's featured artist is rock and roll band, Sunshine Riot, composed of singer/guitarist Jonny Orton, bassist Jeff Sullivan, lead guitarist Mark Tereault, and drummer Chris Alvardo. In an age where electronic-pop has emerged, Sunshine Riot's music embodies classic rock and roll. The band also enjoys living the rock and roll life from the "shitty motel rooms" to meals at gas stations. Their sophomore album, Black Coffee Sigh, will be released on January 13. Check out "This Is A Raid," a song from the album here and continue reading to learn more about Sunshine Riot!
Gadfly Online: Can you provide us with some background? Where are you from? What made you pursue a career in music?
Sunshine Riot: We still call Boston our musical hometown. Which it is for sure, but none of us actually live there anymore, which is weird. I suppose we all grew up pretty much hopelessly addicted to music and slowly but surely this band came together through various iterations, hirings, introductions, firings, etc. over the past few years. Entertaining people and writing good songs are both incredibly hard and pretty rewarding – I think that's what drives us to keep making music. Also, we really like shitty motel rooms, endless highways, and eating at gas stations. So, rock and roll is a pretty good scratch for all of those itches.
GO: How would you characterize your music? Do you fit into a stock genre or create a fusion of genres?
SR: We play rock and roll music. Its heart is in punk rock, and its mind is in the blues. We camp out in the usual roots rock territories: gospel, country western, punk, folk, grunge, and blues. Honestly, we're just trying to write good songs. That's hard enough, no matter what genre you're playing in. I can definitely tell you what we're not: we ain't electro-pop and we don't wear tight pants. Well, maybe we wear tight pants, but this is not electro-pop.
GO: Who would you cite as your musical influence?
SR: Other than The California Raisins? Just kidding. There is no one other than the California Raisins.
GO: What project are you promoting right now? How does this fit into your overall career arc?
SR: We're releasing our sophomore full-length, Black Coffee Sigh, on Jan 13. Not really sure how it fits into our overall career arc, frankly. I think a lot of what we were hoping to do on our last record, we were able to achieve on this one. It's a natural progression musically, we hope. Ideally, this would fall into the "totally radical" portion of the arc. Does the arc have a totally rad section?
GO: What do you hope to communicate to listeners through your music? What does music mean to you?
SR: Music is the most important non-human thing in our lives. At the risk of sounding painfully corny, it's really kind of a religion for each of us. Our number one job as songwriters and performers is to entertain people. So, we try to tell good stories with each song. Songs are a strange story telling format. The author isn't typically prescribing every element. You're not given the characters, the conflict, the setting, the resolution, etc. in one clean top to bottom fashion. You're given bits and pieces and as a listener you kind of build the story yourself. So, we try to give folks quality materials with which to build their own stories. Is that the most pretentious answer of all time or what?
GO: What can we expect from you in the future?
SR: Welp, endless touring, more records, and lots of tasteful nudes. And cold beer. We love playing live music for people. We'll be doing that till damn wheels come off. No doubt.

Bonus question created by Sunshine Riot: Are you concerned that your lead singer/ rhythm guitarist clearly has no idea how to play the guitar?

SR: Nah, he's cool, bruh.
For more information on Sunshine Riot, visit their
Website | Facebook | Twitter | Instagram