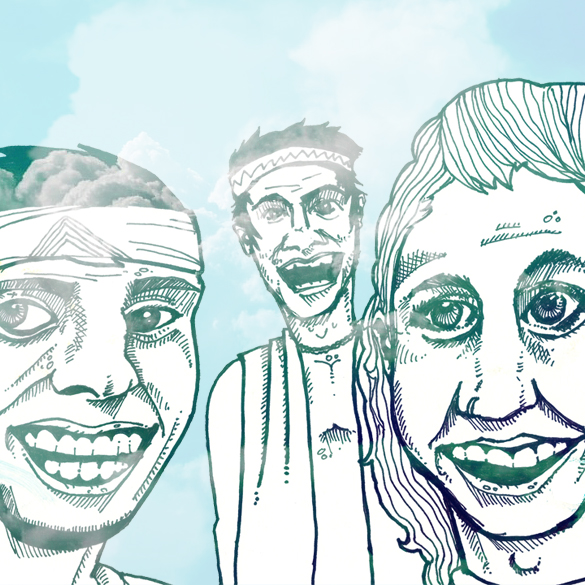 There's something incredibly self-righteous about smelling like you've been rotting in a vat of sweat for three days. It means you play too hard. It means you've been to the 10th annual Forecastle Music Festival 2012. It means you're us.
JakeSteve (left): This last of the bro-hicans uses each show as an excuse to work out via excessive dancing, with a girl on his shoulders, of course. Apparently he plays "football." Whatever. Jessie Modi (so far right): prone to oh so delicate blackouts and passing out while standing up at concerts after eating three times her body weight in funnel cake. Kevin (centerfold): contributes 80% of sweat vat stench, and also doubles as our gang's jorts aficionado.
I (of the latter description) have camped out at multiple music festivals before, and was skeptical about Forecastle's urban location in Louisville. I wasn't sure if the festy-spirit, which depends on somewhat ostentatious abuses of freedom, would remain intact without the possibility of running back to your tent between shows. Transportation might quickly become an issue, and oh, crap, what about housing? The lineup, which was curated by hometown heroes My Morning Jacket, looked killer, but what was up with the music ending at midnight each night? I have to go to a bar and pay more money for an after party now? Why did shows start so late in the afternoon? One speculation led to another, and it was difficult to put such thoughts behind me as we made our way from Charlottesville, VA down to Louisville, KY.
The definition of a (or rather, the) Forecastle, as given by the festival's website, goes as such: Fore·cas·tle (f'ok_sol) n. ~ A superstructure at the bow of a ship where the crew is housed. Hard at work in the unruly sea, a place workers gather to unwind after a hard day of labor. A place where the people come together. The notion of a 'gathering' quickly extended beyond Waterfront Park, where the festival was held on the banks of the Ohio River, and became very real when we first arrived and met our CouchSurfing host, Scott. He showed up late, so we spent our first twenty minutes chilling on his front porch. We never really left. When we weren't dancing our sweet little tails off at concerts, we were kicking back at a porch session at Scott's, or casually hanging ten on the abandoned couch on the sidewalk outside his house (coincidence? I think not!).
CouchSurfing (or CS) is so, so hot right now (this New Yorker article will flesh out the general CS experience in a way I won't be doing here, but I do have a few things to mention). I first surfed when I was 18 in Auckland, New Zealand. Let's just say that experience was 'interesting' (homeboy got real friendly). But I stuck with it, and have met some of the most open-minded, hospitable, sincere, crazy (in the Keruoacian sense), and piss-yourself-laughing-funny people in the world. On the surface, does CS qualify as totally insane? Hell yes. Having strangers sleep on your couch acts as a reasonable indicator; yet one quickly finds is that these people aren't so 'random.' The CS community revolves around sharing and a collective interest in the feeling of deep-seated meaning sometimes brought about by such mutual experiences.
One of the ways I wanted to cover the festival was by documenting each escapade by creating a thread of "Tweet" style texts. Needless to say, the wheels came off quickly, as we competed for the most over-the-top updates. Why tweets? JakeSteve, our miscreant gang's resident twitter artist, offers: "Twitter is the best way to pretend people give a shit about what you have to say. But whether they do or not, Twitter still gets you a seat at the table bumpin' elbows with the best of 'em. People like Dwayne 'The Rock' Johnson (@TheRock), Snooki (@snooki) and yes, even The Biebs (@justinbieber). Why not join the conversation? Give birth to your words and set them free. And who knows, maybe the Biebs will hit you with a retweet!!! #followme @jakeestevee ;)."
In retrospect, I think that our 'tweet' thread allowed us to sort and register experiences. We didn't shoot for objective truth, but tried to articulate our varying emotional states. This allowed us to channel our overstimulation into little words and phrases that built upon one another.
[Editor's Note: What follows is a script of sorts, a transcript of tweets, a disparate dialogue between our harangued heroes.]
DAY ONE
[Feeling incredibly good about ourselves in our not-so-designer threads, we rolled through the gates and never looked back. Swagger never knew what hit it.]
July 13, 5:13pm Kevin: MORECASTLE [Commence long running joke of adding timely words to the 'castle' post-fix, something that was never really all that funny but that was responsible for countless tears of uncontrollable laughter and approximately three underpants changes throughout the festy.]
July 13, 7:09 Jessie: spotted: girl smoking weed in a crack pipe at the Head & the Heart show. #classic
July 13, 7:22 Kevin: Ben Sollee guest spot at the Head & the Heart! Cello never did so much for mankind #sweetlord [Louisville hometown hero Solle had just met the Seattle indie folk-pop outfit that day, and apparently they completely hit it off. He looked at ease amidst the rampant flannel and beards, as his his cello seemed to slide gently beneath lead singer Jonathan Russell's belting.]
[After the Head and the Heart show, we split up, as Jessie caught ambient rocker Atlas Sound while Jake and I went to get our white-boy hip-hop bop on at Atmosphere.]
7:48 Jessie: Bradford Cox [Atlas Sound] just said "What is this a dick-warm marshmallow enveloping my psyche, do you hear that barrage of bass?" in reference to Atmosphere's bass, which had drifted over to our stage. #HOLYSHIT
8:04 Kevin: Slug [the rapper of Atmosphere] just said, "this is as close to church as a lot of us here get" #preach #amen [The rapper had the best crowd interaction of any performer. Hilarious.  Incredibly honest. Incredibly blunt. Incredible blunts?]
[We reconvened for dream-pop act Beach House, where we were charmed by lead singer Victoria Legrand's soaring vocals, and watched the sun set behind the stage as they tore through most of their most recent release, Bloom. We then sprinted to catch the hard-rocking Sleigh Bells at the main stage…]
9:31 Jake Steve: if I can hear anything after Sleigh Bells … #divineintervention
9:42 Kevin: Chiropractor demand up 300% in Louisville after Sleigh Bells show #headbanger
9:45 Kevin: Goddess #occupymydreams [Jake and I concurred that lead singer Alexis Krauss was the epitome of a femme fatale #murderme. Even Jessie maintained a steady hard on throughout the show.]
9:46 Kevin: More bang than your buck could ever be worth  [Jake offers: "If there ever was a band that headphones couldn't do justice to, it's Sleigh Bells. With amps piled to the sky and a stage full of lights, guitarist Derek Miller let his chords fly while lead singer Alexis Krauss filled the Louisville air with piercing vocals. The bass-heavy show shook the crowd and caused many a distress call from cars passing on nearby I-64. The energy of the crowd continued to swell throughout their set until Alexis couldn't hold back any longer and leapt into the arms of some lucky fans during their song 'Rill Rill'."] 
[Next on the menu was electronica producer Flying Lotus…]
10:22 Jessie: Fly-Lo's spirit animal: definitely a unicorn #heaaadyy [Flying Lotus, to put it mildly, was feeling himself. Sleigh Bells consumed almost all of our mojo, but his energy was contagious; he revitalized the crowd and put some bounce back in the collective step. The perfect set-up man for the heavy hitting dubstep of Bassnectar…]
10:48 JakeSteve: The sweet nectar of bass [Bassnectar raged. Period. A brief sample of the ridiculous scene is below]
11:01 Jessie: #WHOMP
11:10 JakeSteve: Best workout evverrrr [Jessie on Bassnectar: "I was privileged enough to experience a lot of the show from the top of Jake's shoulders, which fulfilled his 200 squat an hour minimum. But nothing compares to the mouthful of fat-man sweat I received during one of the beat drops. The fellow in front of me just couldn't control his whomp arm–a testament to Bassnectar's ability to make a crowd go ape-shit."] [After the show, Jessie and I had to lie down in the grass for a while, totally spent from the deep bass whomps and drops. Jake ran laps.]
…
Upon returning to Scott's haven, I think we felt good about the identity that we had begun to establish. We created a niche for ourselves by strutting our vests, sprinting from show to show, and dancing so much harder than anyone around us, which inspired a general sense of awe from the surrounding festy-goers, and manifested itself in many, many passed 'festy favors.' Looking back on this 'identity,' it comes across as ridiculous, and rightly so. But believing that everyone was waiting for us to return to the festival to provide the gold standard for being awesome provided a nice little ego-trip. In our own minds, it helped validate our presence, giving us a self-prescribed licence to thrill. Game on.
Scott continued his spree of hospitality, which continued to be defined by his candidness. He wasn't overbearing in an attempt to impress us (showing up 20 minutes late attests to that), rather he just seemed to be there exactly when we needed him to be. His intentions were transparent, and as a result, we couldn't have felt more at home. He gave us the keys to his house, and that says it all. I'm getting ahead of myself with all this sentimental crap. Let's roll back to the front row; Day Two…
DAY TWO
July 14th, 5:08pm Kevin: Minions, attack!
[and then we sprinted to dream-beach rockers Real Estate]
6:09 Kevin: Real Estate about to buy up a block of my soul [Jessie counters: "You thought you were excited? You should've seen these nipples."]
6:21 JakeSteve: Realest state #sosmooth
[Real Estate played an incredible show as their subtle and nuanced melodies put the crowd into a swaying state of reverie. Grooving right along to the indie surf-rock, especially while watching Matt Mondanile's flying fingers on lead guitar, we eased back into day two and slowly regained our motor skills after Bassnectar basically incapicated us the night before. Not to mention how impressed we were with the bassist's mammoth beard. We caught Dr. Dog for a couple of their standard cuts, but then James Vincent McMorrow's emotional vacuum sucked us straight into his crowd of transfixed fans…]
6:53 JakeSteve: James Vincent McMeltmyheart #wheresmybreath #bestbeardever [McMorrow may have collectively been our favorite show. I'd previously listened to his Early in the Morning album, but it didn't leave much of an impression. He seemed like a typical Irish singer-songwriter, but his live show was heart wrenching. He sang with such emotional intensity that, at times, he couldn't divorce himself enough from his own overpowering sentiments to maintain eye contact with the crowd.]
[group name changed to "Beardcastle"]
7:04 Kevin: Heart through a paper shredder #realnesscastle
[Our crew of basket cases finally tore away from McMeltmyheart, and ran to where Galactic was setting up to get down to the business of getting down…]
7:23 JakeSteve: Brass. What!? BRASS. [New Orleans super-funk group Galactic plays at most summer festivals, and rarely disappoints. This show was no exception, as the lead singer's call and response tactics and infectious gait dominated the stage, putting the crowd into a tizzy of flailing body parts, whoops, and hollers. Business complete.]
7:38 Kevin: Funkier than post Bassnectar toe cheese #intergalacticaaaaa [I wish I could say this was just a joke.]
[The grooving session brought our spirits back up, but the roller coaster continued when we caught Andrew Bird at the main stage…]
8:17 Kevin: Ornithologists collectively come in their pants at Bird show
8:18 Kevin: Sparrow sightings increase x99 after A. Bird show #matingcallz [Bird sounded great – almost exactly like his studio work, but I felt distanced from him. He wore sunglasses, and his full band took up much of the stage and minimized his enchanting solo act, which fully exhibits his use of a looping machine. But on our way to see Washed Out…we ran into McMorrow! Bucket list goes up in flames. We all tried to say something witty but, entranced by his beard, we ended up looking like hopelessly boy-crazy middle school girls. I ended up just yelling "DUBLIN!!" as we shamefully sprinted away to the Washed Out show.]
9:22 JakeSteve: Washed out? Erased out.
9:23 Jessie: It's POURING. SHOWER ME IN SOUND.
9:48 JakeSteve: DON'T GIVE UP THE SHIP #perfectstorm
[Jakes on the chill-wave pioneers Washed Out, "I used to think Mario Kart on Nintendo 64 was the closest I would get to Rainbow Road. How very wrong I was." With their lights bouncing off the highway overhead, Washed Out had us swimming in a technicolor ocean of sound as they pounded us with wave after wave of straight ear candy. Arpeggiated riffs blended perfectly into the live drums and the dream-pop vocals of frontman Ernest Greene. Jake's video below gives a taste.]
[We stayed put at the stage under the freeway, in order to get down to Bonobo's DJ set…]
10:33 Kevin: James bond flow. Flintstones on acid. #bonobo
10:44 JakeSteve: "BONOBO. You are my father." #obionebonobo
10:46 Jessie: Bono bone me #8>>> [Needless to say, we thoroughly enjoyed Bonobo. By combining layers of organic, jungle like sounds into a smooth almost textured ambience, he took the crowd on what might caustically be considered a sonic safari. Jake adds, "The guy was suave as hell. Rocking a button-up and chrome headphones, his business-like approach jived perfectly with the slick beats pouring out of the speakers. To abuse his monkey moniker, Bonobo's set was nothing short of bananas. Jessie was so entranced by the music she faded off to sleep while standing up."] [Recommendation: put on Bonobo's Pandora station and a muted Planet Earth at the same time…]
[The festival headliners, My Morning Jacket, were great. After already experiencing heartbreak, booty-shake, and electric intake on Day Two, we couldn't do much more than sit on the grass and watch from a distance as frontman Jim James shredded the waterfront into a confetti of inspired solos and improv riffs. The crowd turned MMJ's homecoming into nothing short of an event as they roared from the belly of some festival beast to each song, sang every lyric, and interpretive danced as only jam-band fans can. So, Day Two? Well, as indicated by Jessie passing out standing up, day two was intense. What exactly we had been through and what effect it would have on us were yet to be revealed; we headed back to Scott's pad completely knackered, yet very much alive…]
…
We came to know Scott pretty well. To save two birds with one tree (yes, you may use that phrase), I'll let you know a bit about him and demonstrate how CS works at the same time by sharing the review that I left on his CS profile: "My claim to fame in life: going to Forecastle music festival and hanging an 11 at Scott's Laweelville spot, front porch sessions style. The Perfect Wave. I'm still cruising. Hopefully at some point I will be able to articulate the profundity of my experience, but I know at least part of it was thanks to Scott's magnetism – the positivity draws you in, wraps you up, and sends you back into the world a better person. At least that's what happened to me. Scott is genuine, gentle, humble and funny as all get out. My most formative CS experience thus far – Laweelville edumakation complete. I WILL be paying it forward. Thanks brother." I forgot to mention that Scott was cool enough to let three college kids stay in his room while he surfed on his own couch. Not to mention the wretched three-days-of-no-shower-and-dancing stench that can only be comparedtothis. It's not hyperbolic; I'm actually honored to know that I will be part of the aroma in Scott's room for at least the next two decades.
Since I've thoroughly established my CS groupie status, and am on a helluva roll…Dammit, it's free! It's not just the broke college kids that dig that. The pay-it-forward method transcends merely romantic notions of exchange; it actually works. Once you know what it feels like to be put up like a king, you'd have to be a complete asshole not to bestow genuine hospitality upon any and all that walk through your door. And Couchsurfing.org counts few assholes within it's ranks. Now… I should be talking about Day Three…
DAY THREE
[We started Day Three with the much anticipated Keys n Krates show (who were our favorite pre-festival find to jam to on the car ride). They were set to rock out the stage under the freeway, which only added to the anticipation, for all the DJ sets performed at that site thus far had been, well…awesome]
July 15th, 3:53pm Kevin: Pandora's Box #keysnkrates
3:59 Kevin: Up there for best show #noshoesnoproblem [The drummer was down with not wearing shoes and so were we. The dirt flew as the Krates settled into their niche, which includes live drums, synths, and a true vinyl DJ (which seems to be a disappearing art these days). They remixed popular songs ("Express Yourself" by Diplo, "Otis" by Kanye and Jay-Z, and "Bittersweet Symphony" by The Verve" were our favorites) to provide the perfect mixture for head bobbin' and feet stomping #FRESH]
4:21 Kevin: From Canada with Love [We managed to flag down Matisse (the "keys" in Keys n Krates) after the show. He was cool enough to chat for a few minutes, and hooked us up with t-shirts, which sparked a now blossoming twitter bromance with @jakeestevee. Love via hashtags #OMG]
[We then made the mistake of heading to catch Lower Dens…]
4:50 JakeSteve: Lower Dens singer. Gender: unknown
4:51 Kevin: They kinda….suck #nomercy
[In their defense, Lower Dens didn't fit into our aesthetic register because they 1) brought sloppy energy and noise that failed to inspire while 2) boasting no bearded band members (a must at this point). I guess we had to get one bad show under our belt, but luckily we were in for yet another dope electronica set as Minnesota was gearing up to let loose under the freeway… Digression: how did not one of our beloved DJ's remix the Chili Peppers classic "Under the Bridge" throughout the entire festival? #unforgivable]
5:38 Kevin: great lakes on fire! #minnesota [Minnesota: a skinny white guy with curly orange hair played the same remix game as Keys n Krates, yet remained a poor man's version of the latter in the eyes of our hack panel. Which still puts him somewhere in the top three red headed DJ's of all time. #gingercastle]
5:42 Kevin: homeboy feeling himself. I would too if I could turn Adele's 'Rolling in the Deep' into a banger
[At this point, we were breathing and sweating electronica. Sounds cool, but not a pretty sight by any means. Moon Taxi was next…]
5:49 Kevin: I like, it's a niiiicccee #flyby [Two funk-rock Moon Taxi songs had us feeling good. I liked them. But away we rambled to catch Charles Bradley and his Extraordinaires…]
5:59 Kevin: Get up! Booty about to not so spontaneously combust.
6:00 Jessie Modi: babies have been made to this music #mmhmm
6:09 Kevin: best dressed awards #sequinVEST #vestdisciples [Charles Bradley and his Extraordinaires were extraordinary! In all honesty, Bradley's brass heavy retro-soul cuts were overwhelming, as was his flossin' get-up (from aforementioned sequin vest to a dark onesie equipped with more sequins). He poured straight passion into the music; at one point he cut the music to remind the crowd that "all there is, is love." Truer words have never been said. After the show, he came down to the front row, bawling his eyes out, and hugged each and every fan he could get his hands on. Profound. #sagestatus  #<3]
Watching Charles B. and James McMeltmyheart in the same weekend left us somewhat emotionally depleted.
[Welp, so much for the realness, because Daedelus had our number for, suprise suprise, yet another turntable set under the freeway]
7:07 Kevin: Abe Lincoln on tha wheels of steel #daedelus [His glitch rave had us robo-coppin' and marveling at his stupendous sideburns. Wooha. #chops]
[The vests had withstood an absurd amount of bodily ammonia by now, but were in for a real durability test at the upcoming Beats Antique show…]
7:25 Kevin: hips don't lie [We found ourselves immersed in the Antique's unique sound, which blended middle eastern melodies with tribal beats. Feeling all hakuna matata-ed out, I split to catch a couple songs of Neko Case, while Jessie and Jake continued shimmying to the exotic instrumentalists…]
7:55 Kevin: #gingerrootisgoodforyou [Cheap rhymes aside, I couldn't help but notice the amount of redhead power that Forecastle boasted. Neko Case was no omission. She moved through an impressive set of folk-rock as her distinctive voice balanced on the tightrope between sadness and vindication.]
[Do I have to tell you that there was yet another banging show about to happen under I-64? Grammatik time.]
8:05 Kevin: Chromeo does a hippy flip, plays dizzy bat, and enters a tongue twister contest = Grammatik #sheeeeitt [Jake's dispatch: "Grammatik crammed the sounds of Tower and Power and Earth Wind and Fire into his intergalactic spaceship and took us on a futuristically funky flight. In layman's terms, shit was real. Tasteful samples sealed in his airtight and danceable sound left his final product feeling cool, refined, and complex. The crowd drank it all in and was left thirsting for more."]
[Ben Sollee was performing at an adjacent stage, so we caught his last couple of songs…]
9:50 Kevin: Jim James n Ben Sollee = peoples champs [James came out for a surprise visit to jam with fellow Louisville native Sollee (who had his Yo-Yo Ma cello flow cruising). Throng of soccer moms and 6th grade girls rush to front row. Sollee winces, instantly regretting writing all those love songs #yikes] [EnjoyJake'sclipofthemoment below]
[Next was Wilco, who acted as the proverbial nightcap for the entire festival. After a weekend of gyrating to largely computer engineered tunes, Wilco provided the perfect reality check by playing, for lack of an eloquent phrase, really good music. For a more in depth take, check out Gadfly's recent reviewoftheliveWilcoexperiencehere.]
9:51 Nels Kline puts the guitar in guitar. Ha? #WIIIIILLLLCCCOOOOO [Kevin embarks on a hashtag tear that would put even JakeTwatterSteve (oops I mean Twitter) to shame. You'll want popcorn. You're gonna need it. Reeaaadddyyy??? GO!]
9:52  Kevin: Wilco deserves better than the live tweeting I'm about to do.
9:52 Kevin: Someone try to stop me[proceed to rattle off obscure Wilco reference after reference], pondering the meaning of Kline's red vest (VEST!), why they named their albums what they did, bold statements (yankee hotel foxtrot gets my vote for best album ever. apparently my opinion matters) [it's still only 9:54 by now], potshots at JakeSteve ("I don't believe in touchdowns"), calling Tweedy a wimp ("what was I thinking when I let you back in" #softy), calling Tweedy the man ('you have to lose / you have to learn how to die / if you wanna be alive #jeffBUDDHAtweedyOMMM), revelatory realizations ("am I bored? NO! Am I crazy? YESSSS!!!!!!), calling out Tweedy again ("I'm always in love" #hewrotethatwhileaddictedtopainkillers), and again (tweedy makes joke. Crowd roars! #cliche), some admissions (I roared), and this…"thing": "jeff tweedy's fedora stolen after concert #louisvillepaperheadlinetomorrow #jealousfanAKAmefoundnakedinditchspooningfedora #TRIPLEHASHTAG"). Classy Hermann, real classy #worstenglishmajorever]
[Either that was going out with a bang, or going out with a whimper. I trust your judgment.]
One weekend. Three idiots. Some sweat and stimulants.
As far as festivals go, Forecastle was excellently planned and executed, especially considering its urban location. How often are you able to bounce to an electronica show under a freeway, then turn around, and sprint over to the Ohio river as a folk-pop band tucks in the setting sun? The crowds remained in good spirits because they were well rested, well fed, and could disengage from the festival scene for the better part of the day. At Waterfront Park, you could rage-face with ease (security acted more like a welcoming crew than a squad of bouncers), or unload the kids from the mini-van, picnic on the grass, and have an equally enjoyable time.
DAY FOUR
Exhausted, we stumbled into the car to head back home. I felt strangely at peace as I sat back and gazed out the window, a quadruple hashtag gently surfing on my mind.