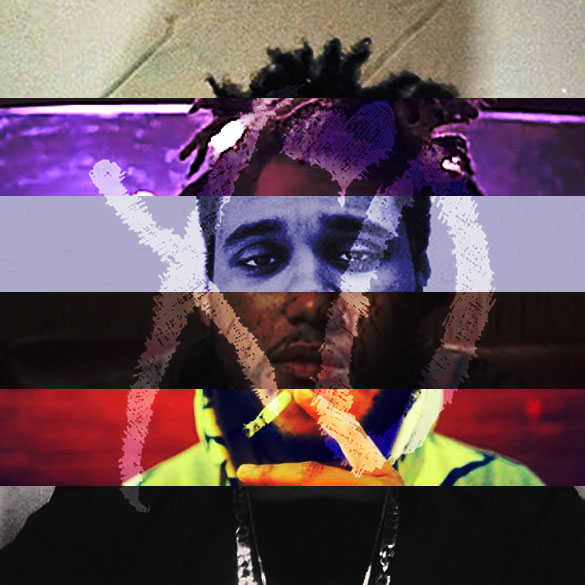 Abel Tesfaye returns as The Weeknd for his first official studio album, Kiss Land.  This is an album that I have personally waited for since the release of Echoes of Silence during the summer of 2011—if you also discount his compilation album of The Trilogy in 2012 as a real first album.  What I discovered with Kiss Land is that I found myself waiting for something spectacular to occur.  After more than one listen it occurred to me that I would have to continue to wait.  The shadowy crooner, who came to play on The Trilogy, showed up only sporadically on Kiss Land.  I speak for all of us when I say; I wish we saw more of that excellence here.
If you are familiar with The Weeknd's music you are aware of the "feel" most of his songs portray; spacious R&B riffs surrounded by mysterious and at times distant vocals work in tandem with narratives of Tesfaye's character, The Weeknd.  Kiss Land takes a similar albeit more shadowy approach.  The openings to most tracks are airy, dark and majestic.  Tesfaye spends a lot of time harmonizing when he could be using vocals to drive each piece.  "Professional" leads off the album by setting a grand stage for Tesfaye to deliver.  However, we get more "airy and wider" with each following track to no overwhelming climax.  "Belong to the World" (the fifth track on the album) is one of the first songs on the album to heavily drop stating, "I'm not a fool/ I just love that you're dead inside."  If more songs on the album used this technique of driving the song with vocals—that worked so well in previous years—I would not have felt it necessary to skip ahead to heavier vocalized songs.
"Live for," was one of those songs that I gravitated towards.  In a rare occurrence, pounding beat and driving lyrics combined to force out four minutes of intense music.  Drake—one of three featured artists on the album—hops on for the bulk of the song to tell us that the girls, the touring and the partying are "the shit that [he] lives for."  The feature is fun and adds a refreshing variety to the album.  I would have liked to see Drake on more than one song as they have worked so well in the past, as heard on "The Zone" and "Crew Love."
In a wonderful change of events, Tesfaye hits back-to-back homeruns with "Wanderlust."  This track appears twice on the album, the second a remix of the first featuring Pharrell.  Personally, I am more of a fan of the second—it refuses to adhere to the shadowy/ airy theme that clogs the rest of the album.  The upbeat "fresh out of a Daft Punk concert sound lightens up the album.  Whichever you fancy more, "Wanderlust," while not lyrically exciting, follows a Michael Jackson-esque pop style that has already worked so well for The Weeknd.  Borrowing the theme from an entire song, think, "Dirty Diana", "Precious Little Diamond" by Fox The Fox can be heard throughout.
It almost pains me to say that there seems to be a giant hole in the album between "Wanderlust" and "Odd Look."  Any magic that was left over was stolen out from under me when I listened to the title track "Kiss Land."  I was overwhelmingly bored.  There are only so many empty minutes and wasted space on a song that is acceptable in an album.  "Pretty" and "Tears in the Rain" are also just plain forced.  This is the type of music that Tesfaye has typically displayed while featuring on singles—look up "One of Those Nights," or "Remember You."  Both Pretty and Tears are formulaic—like most of the album—the songs enter, build, softly climax and then fall away.  It is not a terrible way to do a song, for the past three years it has worked for The Weeknd.  Near the end of the album (and his fourth year), the same rhythmic builds and falls on every track have been sorely played out.
Now, I am not saying that this album lacks creativity.  It takes a special artist to pull together the depth and complexity of sound that Kiss Land is lush with.  Tesfaye takes ample ground when it comes to adding vocal touches to his tracks that few since Michael Jackson are capable of.  The lyrics and pattern are just rough.  For anyone who has spent a minute with any of Tesfaye's previous material, you will again recognize the reoccurring themes of fame and female interactions.  Kiss Land spends the album reiterating that these aspects of his life have made him aloof to normality.
The Weekend is no longer a stranger to the world and neither is his sound—Tesfaye's face is across the cover of his album and his musical style is cemented into history.  While the entirety of Kiss Land may not make it into his greatest hits years down the road; there are definitely minutes of perfection that shine through the shadows.  As a "technical" sophomore album attempt, there are a few elements that are in need of improvement.  But for any casual fan, this album will tie you over until the next one.
—
Dave Arbus is a senior Writing & Rhetoric student at James Madison University.  In his free time you'll find him memorizing rap lyrics and practicing his smile.  He hopes to one day to join the PGA tour and spend the rest of his life out on the links.