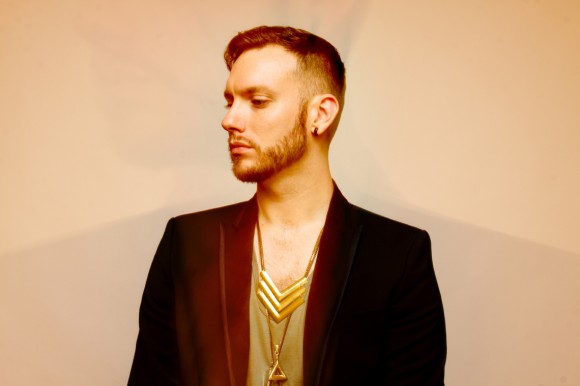 Today's artist is Robert Lux, a DJ, producer, and songwriter currently based in Brooklyn, New York. With a trio of titles under his belt, Lux has the opportunity to get involved with music on multiple levels, allowing for maximum creativity. On his most recent EP, Lux oversaw the writing, mixing, and artwork of the project. The EP also features several collaborations with other artists, drawing on various styles and fusing them with his own, seamlessly creating one fluid product. Lux's attention to detail is apparent throughout the album, and manifests in an energetic, balanced, and inherently fun-to-listen-to mix. If you're looking for music that will move you, you have come to the right place. Be sure to keep an eye out for Robert Lux as he charts his way through the music scene.
Lux's EP Music For Dancing is set to release this year. Listen to his latest single "Like No Other" here.
Gadfly Online: Can you provide us with some background? Where are you from? What made you pursue a career in music?
Robert Lux: I was born in Chicago, but grew up in Southwestern Michigan. I was always playing music from a very young age, and came from a musical family (father played piano, uncle plays bass in the Chicago Symphony Orchestra, my great grandfather wrote opera and church music). I studied music technology and double bass performance at the University of Michigan, where I was lucky to collaborate and learn from many talented peers and teachers, and that pretty much launched me into doing this as my full-time job.
GO: How would you characterize your music? Do you fit into a stock genre or create a fusion of genres? What's something new that you're bringing to the music scene?
RL: The title of the EP says it in its most basic form: Music for Dancing. There's obviously a lot more that goes into it though. I put a lot of heart and thought into what I am making and am always trying to push the boundaries of convention, and as a result I don't think my music fits closely into genre descriptors. I will say though that I think you can hear a lot of influence from house, discco, funk, and even pop.
GO: Who would you cite as your musical influence? How do they reflect in your own music?
RL: Todd Edwards, Miles Davis, Rufus and Chaka Khan, Disclosure, Daft Punk, Dirtybirds Records, Massive Attack, Jamie Lidell, Nightmares on Wax, Sepalcure, Basement Jaxx, to name a few. They're all in my music somewhere, peeking out in strange and obvious places.
GO: What project are you promoting right now? How does this fit into your overall career arc?
RL: Music For Dancing EP is getting the main push right now, and that's my upcoming debut EP. I have a few collaboration projects that are slowly coming to fulfillment and you'll be hearing a lot about next year. One is mostly instrumental and collaboration with a Saxophonist (Johnny Butler), and we call it BLUSHING, and the other is more pop oriented and that with a vocalist named Tanner Walle, and that's called Lovers Of Tomorrow.
GO: Describe your experience of writing, mixing, producing, and even designing the artwork for your EP. What does it mean to be so involved with the creative elements of your work?
RL: I love collaboration, and that is a big part of the writing and performing process for me with the music on this EP, but I also spend a lot of time working with these skills on behalf of other artists and I thought it would be a fun opportunity to apply these for my own project. Normally, I would outsource many of these roles to others, but I wanted to make something that stood for my peculiar and particular tastes and talents in a comprehensive way. Honestly, it has been very rewarding and I think you can expect to see a lot more of this in the future from me. I'm already brainstorming what's next and I think I can say that it is going to integrate different media a bit more, not just specifically be an audio project, and be a bit more conceptual in general, with more of a thesis behind it. I am playing around with some ideas in my mind, so we'll see where this goes. Getting so involved in the visual side this time, and developing a bit of a concept around it has been great though.
GO: What do you hope to communicate to listeners through your music? What does music mean to you? What impact are you trying to create?
RL: Love. The expression, impact, tangible feeling of, fear of, pain from, ecstasy that results from… love. And not just in the individual person to person sense.
GO: What can we expect from you in the future?
RL: Lots! Much of it was mentioned previously. I've got a lot of work to do, and a lot I want to express, so I am figuring out the best and most sustainable way for me to accomplish that. I feel I'm on a good path, and very lucky to be supported by many people in my process, so I myself am looking forward to seeing what's next as well! Big and better things always!
For more information, check out Lux's
Facebook | Twitter | Website | YouTube | SoundCloud