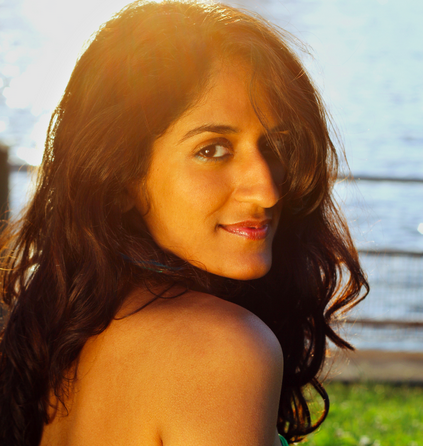 This week's featured artist is local adult contemporary artist, Nita Chawla, a native of Washington D.C. Washington D.C. is on the borderline of both the North and the South and urban and suburban, prompting Chawla to describe herself as "an urban girl with a Southern heart." This dichotomy has transferred to her music, "Sometimes I want to write a dance track with a solid beat and a pop sound, and sometimes it's acoustic and soulful." Take a listen to one of her more acoustic and soulful tracks here and see if you can separate Chawla's two sides in her upcoming sophomore EP, Grace, out soon. Continue reading to hear what Chawla has to say about comparisons to Lana del Ray and more!
Gadfly Online: Can you provide us with some background? Where are you from? What made you pursue a career in music?
Nita Chawla: I'm from the Washington D.C. area and pretty much grew up there (just outside of D.C. in the suburbs). My whole family is actually really musical and growing up we would sing together as a family. My mom and dad usually sang in Hindi, so it was always a thing for us to sing with them or for my sister and I to sing our kiddy songs or pop songs. I just can't remember a time when there wasn't music, live or recorded, playing in our house. But I think it was after I started writing songs in high school that the seed got planted in my head that this was something I wanted to do seriously. For me, writing songs is very cathartic and expressive. Once you start, it's just so hard to stop…it's like breathing! That's what got me started and that's what keeps me in it.
GO: How would you characterize your music? Do you fit into a stock genre or create a fusion of genres?
NC: This is probably the hardest question for me, not because I don't want to fall into a typical genre, I just can't really figure it out! To my ears, I hear different influences on each song. Sometimes it's folky, sometimes rock, sometimes dance-inspired or straight pop. But if I had to pick, I would say adult contemporary. Overall that's the kind of music I like to listen to, and I would say my sound is similarly melodic, yet mature.
GO: Who would you cite as your musical influence?
NC: I have so many influences, from the 90s all the way to now. My older influences definitely include female singer-songwriters like Jewel, Tori Amos, Fiona Apple, Sheryl Crow, and Alanis Morissette. But I also am equally inspired by pop artists like Beyoncé, Lady Gaga, Gwen Stefani, and Shakira.
GO: What project are you promoting right now? 
NC: I'm promoting my sophomore EP, Grace.
GO: How does this fit into your overall career arc?
NC: My goal has always been to have as many opportunities as I can to record my best material and share it with the world, so this definitely fits in with that plan. It may sound simple, but I just go with my inspiration and opportunity, wherever they happen to meet. But I would definitely like to make that happen more frequently (creating songs, albums and videos) and perform at some bigger shows and festivals this year and also to play shows while traveling. It's my ultimate dream to be able to travel the world and play my music 😉
GO: What do you hope to communicate to listeners through your music? What does music mean to you?
NC: I can't say that I'm always thinking about my message in the moment I'm writing. And what I mean by that is that the words are often already there, the mood and emotions take over and I'm just a vessel of expression. But there are definitely some common themes that come up in my music that resonate with who I am as a person and with what I believe, like following my heart/dreams, staying strong, being true to myself, pure love, heartbreak, and the occasional revenge song! Hey, some songs are purely cathartic, but I know that someone else is feeling the same way too 😉
GO: What can we expect from you in the future?
NC: I am working on a lot of collaborations this year. One thing I'm doing is a cover video series with fellow friends/musicians, and the first video should be out in February! I was just so inspired by all these lovely female vocalists that I know and perform with, I thought, why don't we put our voices together for once? Also, I'm working on a new single and a video for one of the songs on Grace. There may be more as well; I'm feeling quite inspired this year!
GO: Whom is your music geared towards? How is it impacting them? In other words, why should we listen to your music and message?
NC: My music is geared for anyone who can relate to it honestly! But if I had to say more specifically, I would say my music could be geared towards younger females (say 12-20s) who may be working through a lot of emotions, who are trying to find their voice and place in the world, and who want to believe in themselves and their dreams. That's what I've been going through honestly, and in some way my songs have helped me with all of the above, so I could see it helping other young women as well.
GO: In the press release, you are described as an urban girl with a Southern heart. Can you please explain what that means and how, if applicable, it has affected your music?
What this means to me is that I love big cities like New York, L.A., and Paris to name a few. I love a lot of what they have to offer like fashion, shopping, non-stop activity, and cuisines from all over the world. I feel comfortable living and traveling to big cities because I'm used to it, but honestly, at heart, I'm actually quite simple. What really fills me up is being in a quiet place, reading a book, and sitting by a fire with my family, close friends, or a cute pet. I'm actually quite a homebody sometimes! I guess that's what I mean by "Southern Heart," the idea of being more simple, sweet, and friendly. I don't mean to stereotype or offend anyone by saying that, but I think that's a part of myself that I appreciate.
I think because of this dichotomy within me, sometimes I feel all over the place musically! Sometimes I want to write a dance track with a solid beat and a pop sound, and sometimes it's acoustic and soulful. I don't force it to be one way or the other though. I just go with my mood that day or that year. I just figure, 'hey I'm either really confused or dynamic.' I guess I'll view it as the latter.
GO: What do you think about the comparisons to Lana del Ray?
I really love Lana Del Ray and see some similarities between us, but I don't know if it's the closest comparison. Some songs (especially songs like "Fantasy") are stylistically similar in that they share that big cinematic string sound that's typical of a lot of her songs. I can also relate to her kind of haunting sound/mood as well, but I think she has got more of this actress quality that I don't think I have. I think she is more melodramatic, moody, and artsy, whereas I'm more earthy and straightforward. In the past, I've compared myself more to artists/songwriters like Colbie Caillat, Sara Bareilles, or even Katy Perry (especially her acoustic songs). At the end of the day though, it's hard to compare. Each song is different…I can only be myself, and I'm not always going to stay or sound the same!
For more information about Nita, visit her