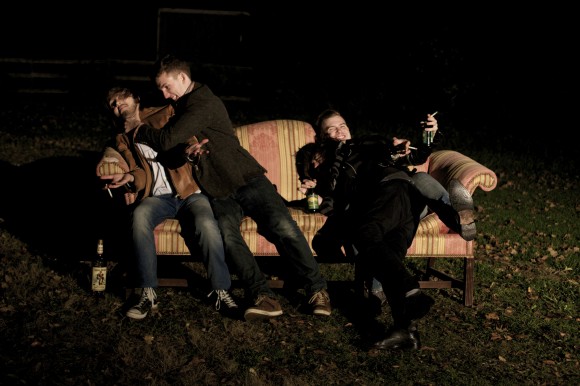 This week's featured artist is rock band, Swanky Tiger, composed of vocalist and guitarist Oliver Myles Mashburn, rhythmist and lead guitarist, Will Rockefeller, bassist, guitarist, and keyboardist Michael Glendening, and drummer and percussionist Connor Crawford. During a time when other boys were fawning over girls, most of Swanky Tiger were fawning over Led Zeppelin and other classic rockers—not out of choice but out of necessity according to Glendeming. Now removed from high school, Glendeming and the rest of Swanky Tiger are promoting a new album, Empires, and Glendeming is even putting to use what he has learned in high school by giving us a short neurobiology lesson in our interview with him. Continue reading to see what Glendeming has to say about the brain, the band's name, and more.
Gadfly Online: Can you provide us with some background? Where are you from? How did you guys meet? What made you pursue a career in music?
Michael Glendening: Oliver, Will, and I met in high school. There were no girls there, so rock music was a good way to relieve frustration. For some reason we decided to take it really seriously, and by the time we left high school, we realized it was pretty much the only interest we had.
GO: How would you characterize your music? Do you fit into a stock genre or create a fusion of genres?
MG: I hate genres. I don't even know what most of them mean. We make Rock of all shapes and sizes.
GO: Who would you cite as your musical influence?
MG: The Strokes and Muse are huge for us, as well as classics like Led Zeppelin, but whom hasn't Led Zeppelin touched—musically not sexually. Maybe sexually. Probably sexually.
GO: What project are you promoting right now? How does this fit into your overall career arc?
MG: All about Empires. We are ridiculously excited to have it out now and the feedback has been great. We've even got a music video for our song "Glamorous." We're trying really hard to get a bigger image and a bigger crowd so we can show everyone what we're all about.
GO: What do you hope to communicate to listeners through your music? What does music mean to you?
MG: Music is a super primal expression, and it seems like the only way to actually feel certain emotions—namely the rock n' roll emotion centered in the pons area of the brain, so we want to touch people in the pons.
GO: What can we expect from you in the future?
MG: I'm thinking shows at MSG. But in the near future, there are lots of new tracks being [recorded] right now so perhaps another album? Come to shows for previews.
GO: Whom is your music geared towards? How is it impacting them? In other words, why should we listen to your music and message?
MG: If you're like us then you want music that just makes you lose it. Hopefully Empires appeals to lots of kinds of people because I want to attract people who aren't really about defining themselves by their musical tastes but instead just want to hear exciting new music, so excitement is a big reason why.
GO: Can you tell us the story behind your name, "Swanky Tiger?"
MG: Swanky is defined as being stylishly luxurious and expensive. So when you picture a swanky tiger in the jungle, perhaps with a monocle, it just seems foolish not to celebrate such an image.