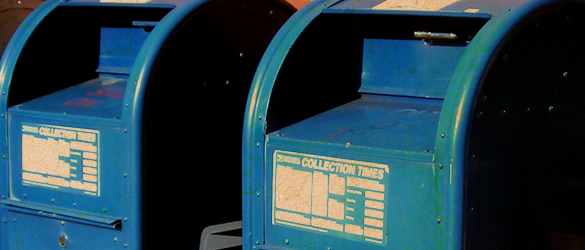 The promise of February was the soft green below my feet.  Cool cement kissed my bottom, and hands fell through air.  Eyes were the sands of time glistening in the brilliant sun, and winter was a second thought.  Spring was here now, but what would that make the summer?  Would it be scorching hot, and as thoughts sifted together gently like a subtle breeze, I waited for the mail truck to pull up on the side of the road and leave me letters to find, more likely bills, or long awaited contest entries, but what if my mailbox remained empty?  And what if the mail truck became a barren, white shell forever out of gas?
A simple piece of paper.  It is the connection to this world.  No matter how heavy its black ink words are, we hold it tight in our hand, connected beyond our glass door, and we respond, slipping a return envelope into the blue, metal mailbox that stands proud outside the post office doors.  We wait, we connect, and we expect that mail truck every day to pull up on the side of the road and leave us letters to find.  But what if that day has come, where all mailboxes around the world are pulled down by the weight of technology, buried under digital?
I'm addicted.  I must check my email, at least once, no twice a day.  I pay more bills online than through snail mail.  I'm a Twitteree, Facebook fan, and Linkedin profiler, and all those writing contest entries have become digital, paid through PayPal.  With a snap of my fingers, a flex of my wrist, I connect and submit and reach out to a world inches from my fingertips, so why do we need the postal system?  Like the dinosaurs and the days of vinyl, maybe their time has come, but can we truly trust the internet to forever connect us to the world?  Or would the plug one day be pulled?
Solar flares are launching.  Winters are melting.  This is no January or February.  Where are the days of ice and snow, tires weaving in and out of wretched roads?  Where are the snow angels and their snow men?  The satellites are spinning, and cell service is echoing.  But what if it takes one giant flare to turn the lights out?  Would the world still be there?
Or would I be sitting on this porch, waiting endlessly to connect to what was once there?  No more postal service.  No more letters.  No more white mail trucks zooming up and down carrying packages of love and kisses and the weight of this world.  No internet service to kill the deafening silence of a thousand mailboxes forever left vacant along the side of this road.