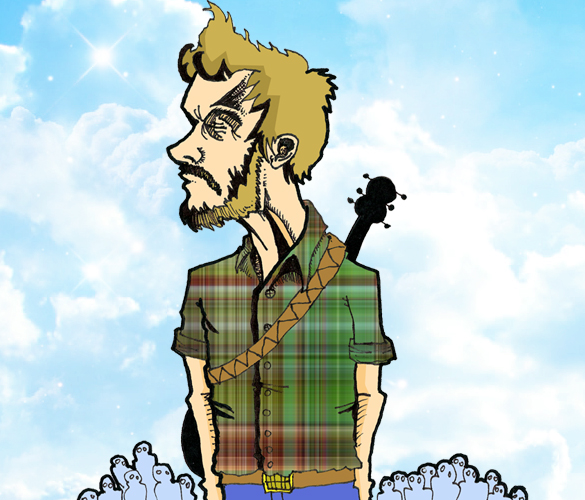 Kristian Matsson first became well-known as the Tallest Man on Earth for the simple power of his performances. He seemed a pure troubadour of the venerable American folk tradition, performing alone on stage with just his voice and guitar. It's a mode that works when the performer exudes an air of prophetic mystery, when the music is beautiful and any apparent meaning gets tucked behind a shroud of symbolic imagery. "I walk upon the river like it's easier than land," declared Matsson on his 2010 single, "Love is All," and I believed him. Two years later, There's No Leaving Now tests that formula.
Critical to the mysterious allure of said folk style, popularized most notably by Bob Dylan, is the utter lack of explanation for what happens in the songs. The surreal images seem to pass straight from the subconscious of the singer to the ear of the listener, without so much of a clue from the rest of the lyrics as to what's being described or any emotional direction from the music. Lines like, "This is wind and walls and weathered leaves and tearing sails / minnows in your pockets when the rapid's on trails / this is not the future but I sense it's right up there" would objectively have to be considered a poor attempt at comprehensible communication. Of course though, that's not why you're listening and that's not why he's singing. Matsson's brand of music seeks out a more direct emotional connection by bypassing a conventional exchange of information to seek out something that will take residence in the listener's head. "I'll be your best when the silence comes," as Matsson sings later in the same song, "Wind and Walls."
These images and lines linger because they are unexplained, and we pay attention in the moment, despite not really knowing what is being said, because it comes off as vital to the singer. With the naked "man and his guitar" aesthetic of his past work, Matsson relied on that perceived vitality to carry his songs, but on this album, he leans, ever so lightly, on other instruments to back his voice and guitar. "Revelation Blues" adds a second guitar and wind section that sounds as if it's been filtered through an AM radio, and it helps keep the track moving and interesting as Matsson ruminates on "roses dying too young."
It's fascinating that the very reflection that his music inspires seems to be what it comes out of. On that same track, the singer finds himself stuck in endless, entrapping self-reflection. He was young, beautiful and self-absorbed enough to not care when "your flood came down," though he calls himself a "coward" in the first line. Much like Dylan, it's impossible to gauge from the lyrics what exactly he's dwelling on, but it passes on its restlessness to the listener by way of that very vagueness. Ultimately he surrenders himself to the chaos of his own mind and just accepts that there's little point in dwelling "in the letters from the lovers in a land gone wrong," as they are "explanations always written late."
"To Just Grow Away," the title of the album's first track, seems to be moral of the album, if you could say it had one. Noticeably, the solution is not to "go away," and Matsson chooses instead to give up his "wish to drown and aimless flee, and simply accept the present state of things. Although he's not giving up and he retains his disdain for doing so ("sighing, that empty howl" from "On Every Page"), acceptance of conflict is simply not as exciting as the engagement of it.
Perhaps this is why some the songs require a little bit of multi-track padding, and almost certainly why the album lags in its second half. It's not that the songs are of lesser quality ("Little Brother" is a beautifully devastating portrait of a character lost to his own wildness), but they seem not so urgent, not as if they need to be heard. While it is certainly a gorgeous record, I wonder if There's No Leaving Now will have the same soul-gripping longevity of its predecessors.
This review was first published at the perennially decent music blog, Pretty Much Amazing.