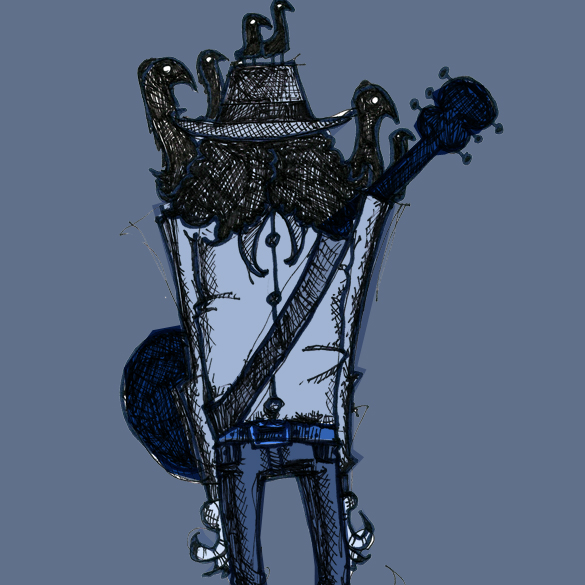 Charlottesville nTelos Wireless Pavilion
Sept 27, 2012
Removing light-blue sheets from various instruments onstage, each roadie at the Jack White concert sported suspenders, a blue tie, and a fedora—despite the inescapable Virginia humidity. Their antiquated outfits clashed slightly with the modernity of the stage backdrop, where three tall rectangles, which would later radiate an electric blue, loomed. One suspendered gentleman, timidly walking up to a microphone, politely asked that the milling crowd "watch the show live," instead of through "those tiny screens" of their phones.
This outdated request caused quite a murmur in the standing section before the stage. Was this small, Amish-looking man being serious, I wondered, or is this part of the old-timey act? Did Jack himself request this? Despite my confusion and my generational twenty-something urge to document all things for social media, I surprisingly found myself tucking my phone away for the remainder of the night. Jack White, known for his eccentricities and nostalgic tendencies, seemed to exert an odd hold on me even before physically stepping on the stage.
The narrative of White's life, crowded with bizarre stories and rumors, runs like creative nonfiction, partially explaining the obedient fascination that seemed to hold me transfixed to White's every move on Thursday night. Born in 1975, White grew up in a Catholic family of twelve (six brothers, three sisters) in Detroit, Michigan, as John Anthony Gillis, and was strongly influenced by music from a young age, especially blues and R&B rock. After declining seminary school for a public school education, White continued on his road of unconventional choices and began an apprenticeship at the age of 15 at an upholstery shop. By the time he was 21, White opened his own yellow, black, and white hued business, Third Man Upholstery. Although he was a founding member of "The Upholsterers", White decided the world of recovered sofas was not for him, and went on to put his talents to good use elsewhere.
As White's personal life becomes difficult to follow, tracking his musical career is probably the most reliable way to get a factual, firm hold on him. Even so, White is not the idle type, and has littered his career with one project after another. He first crawled into the public eye as the singer/guitarist/pianist for The White Stripes with the release of White Blood Cells in 2002. In a review, Rolling Stone initially described The White Stripes as "gothic garage punk." The band, which consisted of White and his supposed sister, Meg White, quickly followed suit with Elephant (2003) and the loud Icky Thump (2007). Perhaps the epitome of the White Stripes, visually and musically, is the music video for the catchy "Seven Nation Army," which hypnotically cycles through black, red, and white images of Meg and Jack to a distinctive guitar riff and solid drums.
By now, The White Stripes had further developed their sound and turned heads with their unique, color-coordinated image. Rolling Stone described White in a review for Icky Thump as, "less a songwriter than a sonic architect […] what his hits have in common isn't anything he stands for. It's instantly enticing musical constructions." Musician or architect, the band grew in popularity until 2011, when a string of cancelled tour dates and vague justifications led to the break up of the band.
During his time with the Stripes, White hardly restricted himself to the doldrums of playing and performing for a single band. Instead, he made good use of his multitasking ability and helped form and play in two other ventures: in 2005 he formed The Raconteurs of "Steady as She Goes" fame, and in 2009 he spawned The Dead Weather.
The Raconteurs, which was composed of three other artists with coinciding projects, toured extensively. The Dead Weather, whose album Horehound was described as having a "murky, humid, southern-gothic ambience," puts White on the drums and occasionally lead vocals. One might think White's eccentric personality, tireless energy, and undeniable songwriting skills seem like the perfect recipe for a successful modern solo artist, but it wasn't until this past April that White released his first solo album, Blunderbuss. Each band that White had been a member of can claim its own sound and personality; however, White's influence can be felt clearly in each. Generally described as "blues-rock" bands, each harshly pulsates with White's volatile energy, whether it be on the drums, guitar, or through vocals. White's energy and odd influence, whether intentional or not, seems to permeate everything it comes in contact with.
However, I got the feeling that the crowd at Thursday's show was just as aware and captivated by White's larger-than-life reputation as I was. When White first strode onstage, wearing dark pants, a long-sleeved, midnight blue button-down, and a fedora, I followed his movements closely. The crowd of all types and fashion persuasions—grey-haired, youthfully blond, dreadlocked, neatly trimmed sideburns, and baseball caps—all cheered wildly as the Tennessean deity merely moved towards a guitar. Not shy about his musical reputation, White threw himself into the music at once, teasing the audience with a taste of the popular, "I'm Shakin'", before a quick shift into a high energy rendition of "Sixteen Saltines." Before the first song was over, White had lost his fedora somewhere near the drums.
As his story runs on, the line between fact and semi-fiction blurs increasingly—sometimes intentionally. During his years with The White Stripes, fans questioned his ambiguous relationship with band mate, Meg White. After occasionally referring to her as a sister, it was later revealed that they were husband and wife. Later in 2005, Meg served as the maid-of-honor during White's second marriage to model Karen Elson, which was apparently administered by a shaman as they drifted down the Amazon River in a canoe. They had two children together, Scarlett and Henry, before they split in 2011, throwing a party to celebrate.
These odd anecdotes, combined with White's musical skills and careful attention to detail, are what make Jack White shows interesting and unique; there pervades a subtle feeling of unpredictability and an insatiable urge to see and hear more. For instance, his band, which Thursday consisted of all guys (his other band is all girls), matched down to the solo cups they all drank from. Even White's sweat, which formed two long stripes down the back of his shirt, seemed to conveniently mimic the three bars in the background, which refer to his preferred title, Jack White III. The regal "III" in White's title may refer to his general preference for the number three, or perhaps Third Man Records. Third Man is White's independent record label, which he established and based in a large, colorful building in Nashville. Guided by White's multi-tasking nature, the building serves as a recording studio, concert venue, office, and party lounge.
White's incessant urge to dictate the smallest details came through onstage, such as when the large "III" of the background was subtly switched to a draped, velvety blue material about midway through the show. This new backdrop felt very southern, oscillating from the modernity of the previous banner. At one point after leaving his guitars (there are three) for the piano, White quipped to the crowd, "My name is John but my friends call me Jack and it's good to be back!" The good old southern state of Virginia, it turns out, seemed to hold a special place in White's heart, perhaps as some of White's bluesier and country tunes (like "I Guess I Should Go to Sleep," and his cover of Hank Williams' "You Know That I Know") seem intended for nights of Southern humidity. However White kept the crowd guessing through the night, playing from his recent Blunderbuss, as well as from the catalogues of The White Stripes, The Raconteurs, and The Dead Weather. Each song gave the band plenty of space to play, with White nonchalantly picking his way around the guitar, before diving into what Rolling Stone so aptly calls, "fireball chords and primal, bent-string scream."[1]
After the last official song of the show, White quickly left the stage, followed closely by the band. A single note from his guitar distorted and loudly wavered from the empty blue stage, until a single roadie came out and abruptly pulled the plug. After some confused cheers, the crowd broke out into more anxious cheers until the maestro returned for an encore, saying, "You want another one Virginia? I thought you would…."
About halfway into his five-song finish, which included "Take Me With You When You Go" and  "Freedom at 21", the single flame of a lighter appeared over the heads of the crowd. Although its orangey hue was at first jarring after hours seeing blue, the wavering flame nicely complemented the show's underlying nostalgia for concerts of decades past. I thought of how cool of a picture this single lighter would make, with Jack White writhing in the background, until the memory of the kind, Amish-roadie stopped me. Wait a minute, I thought, why exactly shouldn't I take a single picture if I want to? As I hesitated, there was a final banner change: a huge white background, this time with three black rectangles, unfurled onto the stage, ruining my metaphor-inspired photo op—almost like it was planned.
The depth of detail at the show along with White's bizarre reputation made me question the third man's motivations. White's careful choreography of all parts of his reputation, from his musical career to his business and personal life, make his life seem like one large performance art piece. Or, to be cynical, one elaborate, carefully plotted gimmick. How are we supposed to determine what to believe? Does it matter at all? When asked about his view on his personal life, White has said, "It's the same thing as asking Michelangelo, 'What kind of shoes do you wear?' It doesn't really have anything to do with his painting." He clearly believes it does not matter.
Why does one feel the need to dissect White's personal life? Can we not enjoy his music to the same extent without knowledge of his personal antics? Pondering these questions, I'm reminded of one seemingly insignificant moment during the show: leading the crowd in singing the final lines of a song, White at one point frantically waved his arms at the crowd to slow the tempo. Although in good humor, I couldn't help being a bit thrown off guard by this.
However, I suddenly realized that, to White, the crowd and I were quite possibly just another detail of the show to artistically manipulate. I couldn't decide if I felt slightly offended, betrayed, or simply bewildered at being unwittingly roped into White's carefully-crafted world. As the peals of White's guitar echoed from the stage and new shades of blue flashed in the lights, I realized that my visit to White's world was temporary; once the concert ended I could return to my fully colored, technology-laden home. To the norm.