One Finger Riot "The Sea"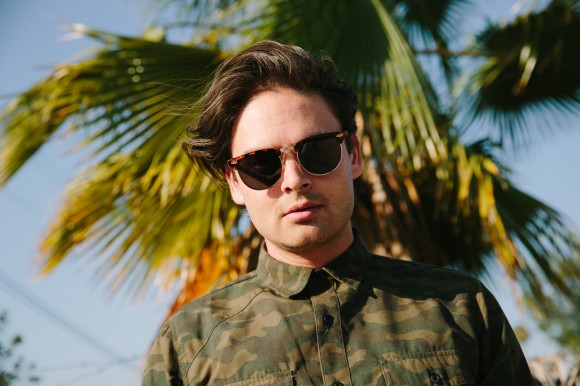 Soothing and gritty, one-man band One Finger Riot releases "The Sea," a beautiful, new single perfect for any wistful day. While Faris McReynolds modestly calls this "just another breakup song," he injects real beauty, hope and maturity to such a situation in shaping the song to be a means "to see failure as evolution instead." He continues, "Few things in life are up to you, others you can't control. As far as I can tell, none of us chose to be here, yet here we are. Born in the sea as single cells, trying for some reason to eventually live in the sky with zero cells instead." The inspiration behind the song, he explains, came, however, from a much less encouraging place: "I wrote the song while I was in Longview TX with my grandpa while he was dying, and my marriage was basically done but not over yet. I guess I kind of hid one story behind another when it came to writing the lyrics." Fueled by the frustration of such a situation, Faris successfully creates a song that is both mournful and supportive; he delivers us to a place as comfortable and reassuring as the sea, and yet as distant, distorted, despairing as the bottom thereof. He offers, "This whole record was written and recorded at the bottom of an ocean of sorts. I like to name an album after a lyric usually. I wanted a name that on it's own meant nothing, … I wanted a name that was kind of bold and simple, visual, expansive." Successful in that vision, One Finger Riot's distorted track delivers an atmospheric, introspective single that will appeal to those looking for airy, distorted and yet raw rock.
More broadly, Faris' one-man music project has been quite an evolution itself. 
"I started this when the band I was in for four years (exdetectives) was taking too long to learn new songs. We were working on a record we never finished, and I made the first One Finger Riot album during that time (2009). I spent two nocturnal weeks on it, and basically put it in a drawer and forgot about it. I figured it had nothing to do with the broader musical landscape, was way too twee, too dour, too clinical. And definitely not selling you wallpaper for a good time in that indie-normative 80s way that has been cool for a while now. My friend Ted Scarlett who I've worked with a lot in the studio was the only person who I played it for, and he convinced me to put it out and make more music. Honestly, I probably wouldn't have bothered otherwise. That first record was made entirely in 2009, but I didn't put it out until 2011." 
Faris McReynolds thus wonderfully unveiled a band that moves beyond the familiar, or normative. Aptly, he calls it "Post-everything" or "No sounds in quotation marks." Maybe this mature, transcendent sound is due to the fact that he is not in music "for anything other than the songs [he] write[s], and the sounds [he] create[s]." In other words, he is simply influenced by "life, love, mistakes, the kids in [his] art class, Texas, India, LA," and ore profoundly, "feeling like a one-person culture;" mostly,  "a lot of art, but no artist in particular." Deciding eventually upon One Finger Riot as the name of this now public project, Faris reflects that it "embodied a certain irreverence that was just 'me.'"
Looking to maintain the practicality of his music and general perspective, McReynolds explains that he wants to focus on the moment: "In a general sense, I don't aspire to anything, and don't really even believe in the concept of aspiration. You are either doing things, or you're not. I've always just done things, and made everything I have lined up to make. It doesn't always turn out to my liking but I just do it anyways. I'm deeply suspicious when an artist or musician never makes a move away from their brand, because I just try to make every idea I have and they don't always fit together. At the current rate I'm working it will take me 30 years to finish the songs I've started. Not all of it sounds like One Finger Riot. I'm also working on some remixes and covers." He concludes, "I don't think I have a musical journey that is separate from any other part of my life. Just going with it, whatever it is."