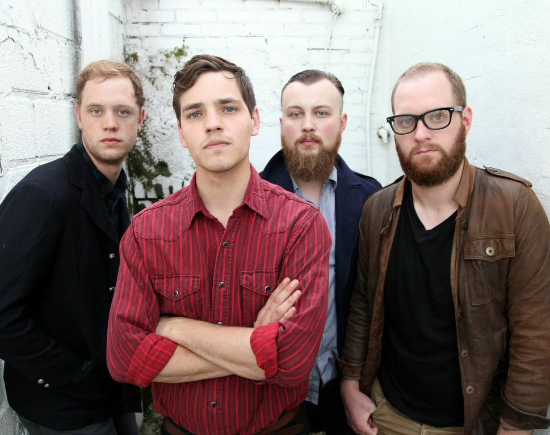 Midnight Pilot is the type of band you want to play loudly, with the windows down and sun on your skin. Their music is full of energy and emotion, and it demands to be heard. The band is comprised of four members who have been making music together since high school. With influences such as Tom Petty and Coldplay, these four guys are producing a blend of acoustic pop rock. It's mellow and lively all at once, and sure to get you up on your feet. You can check out their single Elizabeth for a sneak peek of their upcoming album, and get to know a bit more about Midnight Pilot in the interview below.
Gadfly Online: Can you provide us with some background? Where are you from? What made you pursue a career in music?
Midnight Pilot: All four of us are originally from Holland, MI. We started playing music together in late middle school and that continued all the way through college. Kyle (lead guitar) moved to Nashville and attended Belmont University in an effort to further his knowledge of music and recording. In 2014, Justin (drums), Kris (bass), and Grant (vocals), all decided to move to Nashville to rebrand and pursue a career in music. The time was right for everyone and it worked out that the band could finally all call Nashville home while getting the opportunity to pursue music. Music is one of the only things that is completely fulfilling creatively.  You get to start from square one and create something that will be in existence eternally. In a way it is the legacy we wish to leave throughout our lives and beyond.  Nothing feels better than that.
GO: How would you characterize your music? Do you fit into a stock genre or create a fusion of genres? What's something new that you're bringing to the music scene?
MP: We feel that our genre is hard to classify. One thing that makes us unique is that each individual member brings a different influence to the band. We all like different kinds of music and you can hear this melting pot of genres when you listen to our record. I think the closest thing I could call it would be indie Americana pop-rock. It sounds like Tom Petty and the Heartbreakers meets Coldplay.
GO: Who would you cite as your musical influence? How do they reflect in your own music?
MP: Tom Petty, Coldplay, Jeff Lynne, Ryan Adams. We use a lot of the straight beats and driving rhythm guitars that Tom Petty used. But some of the lead guitar parts and vocal melodies sound more like Coldplay or Ryan Adams. And overall, there is something about the songwriting that rings similar to Jeff Lynne and ELO. We try to pull from all these influences to create something that feels new while still attempting to sound timeless.  We would rather consider ourselves a fusion of genres and voices from the past decades.
GO: What project are you promoting right now? How does this fit into your overall career arc?
MP: We are promoting our self-titled full-length record, "Midnight Pilot." Last year we released a 5 song acoustic EP. This is our second release overall but also our first full-length release as Midnight Pilot. We are super pumped for people to hear it and we hope it will bring us bigger and better things.
GO: What do you hope to communicate to listeners through your music? What does music mean to you? What impact are you trying to create?
MP: The overall theme of this record is to take chances. Sometimes in life we don't know what is coming ahead but there is a moment when you just need to step out and take a risk and see what happens. We want people to feel encouraged and motivated to do what they want to do and be who they want to be. These lyrics are definitely reflective of where we are all at in this current stage of life. Having just moved to Nashville in our mid 20's, it's a reminder that if there ever was a time to try new things and experiences, the time is now. We hope that people find themselves cruising to our record with the windows down on a sunny day and they just feel good. We hope it can make a few people as happy as it makes us.
GO: What can we expect from you in the future?
MP: In the immediate future, we are planning on booking some record release shows as well as some college dates in the Fall. Then hopefully we will get working on another record and possibly another acoustic EP as well. You can certainly expect us to continue making music regardless of popularity or exposure.  We just love to do it.  It's that simple.  Music is in our blood and always will be.  We try everything in our power to always come back to the fact that we're not doing this for money or fame or exposure, although those things would be awesome.  We just want to do it for the pure joy of creation.
Follow Midnight Pilot on their